Printer-Friendly | E-Mail Article to a Friend Go Back

| | |
| --- | --- |
| by Marian Betancourt | August 22, 2012 |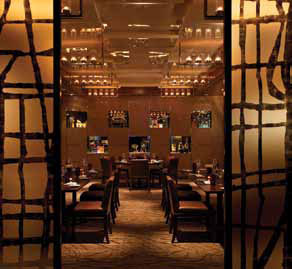 Ca Va, a common French idiom, is both a question and an answer: "How's it going? It's going good," which aptly describes this Todd English brasserie in the InterContinental Times Square hotel. Matt Corbett, who previously cooked at Oceana and Picholine, is an adventurous chef with a sense of fun. A Poached Hen Egg appetizer on a bed of garlic spinach is topped with a Parmesan "cloud" created with whipped cream. Local Fluke Cru with sea beans and pickled ramps is sprinkled with spicy toasted and crushed cashews. If melted cheese makes you weak in the knees, do not pass up the Onion Soup made with five different onion varieties topped with Gruyère crostini and baked to bubbling perfection in a crockery bowl.
Plump and juicy Mussels in Rosemary-Mustard Cream, a popular entrée, is accompanied by pommes frites that you can dip into a tangy red pepper mayonnaise spiked with sherry, paprika, and cayenne. Organic Pepper Crusted Salmon i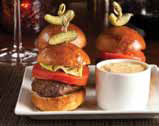 s nested on a bed of fingerling potato salad with baby fava beans and shaved radishes dressed in a dill crème fraiche. Popular sides include the truffle "mac 'n cheese" and faro risotto with sage butter and truffles.
Always on the menu are daily specials such as Friday's bouillabaise and Saturday's Niman Ranch Prime Rib au jus with twice-baked potato and garlic spinach. For dessert, a plate of petite Madeleines with dark chocolate dipping sauce is tres ca va! A Taste of Ca Va, three-course daily specials, are $30 at lunch and $44 for dinner—and theatregoers come in force for these. Lunch Monday to Friday 11:30am to 3pm; dinner daily, 5pm to 11pm; brunch weekends 11am to 3pm.
310 West 44th Street • 212-803-4545 • cavatoddenglish.com
To view the page in pdf form, click here.