Printer-Friendly | E-Mail Article to a Friend Go Back

| | |
| --- | --- |
| by Martin Bernheimer | August 24, 2012 |

The Metropolitan Opera begins the 2012-13 season with three new productions in vastly dissimilar styles, tone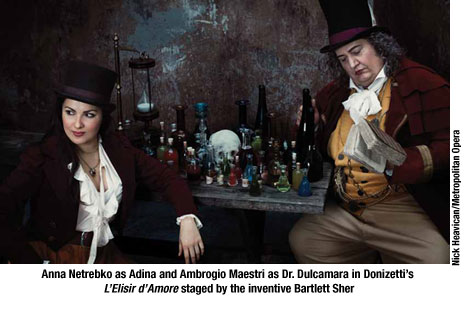 s, and modes. It isn't business as usual at Lincoln Center.
The gala opening-night bill on September 24 is Donizetti's L'Elisir d'Amore, with the glamor-diva du jour Anna Netrebko as the comic-seductive heroine. The company brushes up its Shakespeare, after a contemporary fashion, on October 23 with the New York premiere of Thomas Adès' The Tempest, an international success since its London premiere eight years ago. Verdi gets his due on November 8 with Un Ballo in Maschera in a presumably provocative reinterpretation by the modernist director David Alden.
L'Elisir d'Amore, a.k.a. The Elixir of Love, toys with romantic clichés yet sustains a delicate balance of old-fashioned contrivance and timeless pathos. Performances span Sept. 24, 27, Oct. 1, 5, 10 and 13, plus Jan. 30, Feb. 2, 6 and 9.
The heroine, Adina, is a flip and flirtatious soubrette who eventually reveals a heart of gold. Her suitor, the peasant Nemorino, acts like a dunce until love and luck turn him into a veritable heartthrob. Not incidentally, he gets to sin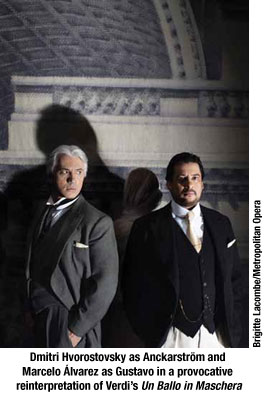 g the hit tune, "Una furtive lagrima." Belcore, his suave baritonal rival, offers the contrast of quasi-militaristic swagger. Doctor Dulcamara, the quintessential buffo interloper, thickens the plot by selling cheap wine in "love potion" bottles.
The Met surrounds the lovely, presumably lovable Netrebko with stellar colleagues. Matthew Polenzani is the elegant and eloquent hero. Mariusz Kwiecien impersonates the smug yet amusing Belcore. At the first six performances Ambrogio Maestri appears as a traditionally plump, pompous, and blustery quack-doctor. For the final four performances, however, he is succeeded by the dapper, young, and handsome Erwin Schrott, who happens to be Netrebko's offstage partner (reports of their official marriage have been contradictory). Chances are, his presence will alter ensemble relationships. Maurizio Benini, a practiced bel-canto authority, presides in the pit.
The production, staged by the inventive though essentially conservative Bartlett Sher, replaces the cutesy candy-box Elisir first seen at the Met 21 years ago (with Kathleen Battle and Luciano Pavarotti) and last seen last season. Obviously the time has come for a new look.
Given its financial limitations and somewhat timid audience, the Met does not pay much attention to living composers. That, of course, intensifies interest in Adès and his Tempest (performances scheduled for Oct. 23, 27, 31, Nov. 3, 6, 10, 14 and 17). The critical reception was decidedly positive when Covent Garden first ventured the opera. Andrew Clement of the Guardian found the score "as orchestrally lush and evocative as vocally varied and articulate." The cumulative effect, he added, "is by turns ethereal, witty, incandescent, often ravishing." Similar approval attended the U.S. premiere in Santa Fe (2006).
Adès' magnum opus reunites the Met with Robert Lepage, the director whose credits include two Cirque du Soleil extravaganzas at one extreme and the Met's sprawling Ring cycle at the other. He describes his latest challenge as "an extraordinary, exquisite composition [that] captures the magic of Shakespeare's last play. It is a box full of magic tricks."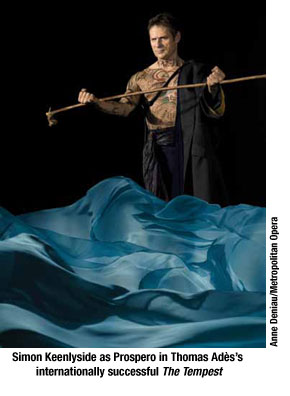 As a point of visual departure, Lepage sets the opera in the historic La Scala auditorium in Milan, complete with 18th-century technical trappings. These include a hidden area underneath the stage where Prospero, the banished Duke of Milan, practices his transcendental craft. Simon Keenlyside, the baritone who made a tour de force of the role when he created it, returns as Prospero. His associates include Audrey Luna as Ariel, a fiendish assignment that, we are told, makes Mozart's Queen of the Night seem easy. Isobel Leonard plays Miranda, with Alek Shrader as Ferdinand, William Burden as Alonso, and Alan Oke as Caliban. With the composer wielding the baton on his own behalf, interpretive fidelity can be taken for granted.
Until now, the Met has always treated Un Ballo in Maschera, a.k.a. A Masked Ball, as a blood-and-gutsy melodic melodrama. The décors have always reflected the conventions defined by Verdi and his librettist, Antonio Somma. The Met's previous Ballo, created in 1990, played everything safe. This year, with Alden's staging, all that is likely to change (performances Nov. 8, 12, 15, 19, 24, 27, 30, Dec. 4, 8 and 11).
The company assures subscribers that the characters still "grapple with life and love, betrayal and death." The setting, designed by Alden's genial collaborator Paul Steinberg, is heralded, however, as "dreamlike." Translation: One should be prepared for some degree of updating, some interpolation of symbolism, some introduction of abstraction. Unlike many champions of aesthetic renovation, however, Alden is too intelligent, too sensitive, too responsive to the musical pulse to entertain gimmickry for its own sake.
Original plans called for the Finnish diva Karita Mattila—remember her Salome?—to defy typecasting as the heroine Amelia. Possibly wisely, she has withdrawn in favor of a Verdi specialist, Sondra Radvanovsky. Her colleagues include the strong tenor Marcelo Álvarez as Gustavo III, the legato king Dmitri Hvorostovsky as Anckarström, and the Korean coloratura Kathleen Kim as Oscar, the pageboy (yes, boy). Two powerhouse mezzo-sopranos plumb the vocal depths of Ulrica, the fortune-teller. Dolora Zajick gets the first five performances, Stephanie Blythe the last five.
The conductor is the versatile Fabio Luisi, who has inherited primary assignments at the Met during James Levine's protracted recovery from spinal injuries. If or when Levine can return to his post as music director remains a painful, awkward mystery.
Metropolitan Opera
metoperafamily.org
To view the pages in pdf form, click here.