Printer-Friendly | E-Mail Article to a Friend Go Back

| | |
| --- | --- |
| by Sylviane Gold | August 24, 2012 |

CLASSICAL
Linc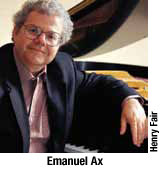 oln Center began its White Light Festival in 2010 to explore the intersection of music and spirit, and to offer frazzled New Yorkers a kind of musical rest stop with post-concert lounges. This year's offerings include the expected – the unearthly music of Arvo Pärt, the sublime harmonies of Les Arts Florissants – and the surprising: country singer Mary Chapin Carpenter and a dance troupe from Latvia. Among the highlights will surely be Emanuel Ax's Song of the Earth concert, which includes piano works by Bach and Schoenberg and the chamber version of Mahler's great Lied von der Erde, on Nov. 4 at the Rose Theater. White Light Festival, Oct. 18 through Nov. 18 at various Lincoln Center venues. whitelightfestival.org
POP
Texas has given the country a number of dubious gifts, but you can't argue with the music it exports. Forget the gimmicky beards and sunglasses: from their earliest days in Houston, in 1970, Billy Gibbons, Dusty Hill, and Frank Beard – the tres hombres better known as ZZ Top – have been crafting a tough, bluesy brand of rock n' roll that regularly sells out their New York concert dates. ZZ Top, Sept. 12 at the Beacon Theatre. beacontheatrenyc.com
ART
In one of the great human dramas of the 20th century, the white rulers of South Africa tried – and ultimately failed – to deny its black citizens an ownership stake in their country. As this history played out, photographers, both white and black, recorded it working as journalists, or artists, or government officials. This show, spearheaded by noted Nigerian-born curator Okwui Enwezor, includes some 500 items documenting over half a century of apartheid. Rise and Fall of Apartheid: Photography and the Bureaucracy of Everyday Life, Sept. 14 through Jan. 6, 2013 at the International Center of Photography. icp.org
DANCE
The impassioned guitarists, vocalists, and dancers of Noche Flamenca, led by the fiery Soledad Barrio, perform flamenco the old-fashioned way.

There's no showbiz, no pretentious artiness; just the percussive power of soles – and souls – striking the floor. As their fervent audiences know, it works. Soledad Barrio & Noche Flamenca, Sept. 18-30 at the Joyce Theater. joyce.org
FUN
When Cotton Club Parade wowed the critics last fall, many wished for a longer run. That wish comes true – for a week, anyway – as this celebration of Harlem nightlife returns with most of its original cast. Songs by Duke Ellington and other Jazz Age composers, jitterbugs and Charlestons by Warren Carlyle, and words from Langston Hughes are all featured in this collaboration between Jazz at Lincoln Center and City Center Encores! Cotton Club Parade, Nov. 14-18 at City Center. nycitycenter.org
THEATRE
It seemed an unlikely idea back in the dark, pre-Disney days of 1977 Broadway: a musical based on a 1920s comic strip about a spunky, pop-eyed orphan in a red dress. But – leapin' lizards! – the skeptics were wrong, and Annie is now a classic. Re-imagining Miss Hannigan, Da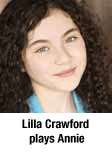 ddy Warbucks, and the orphanage's hard-knock life is James Lapine, the multiple Tony winner who wrote and directed Sunday in the Park With George and Into the Woods. Another Tony laureate, In the Heights choreographer Andy Blankenbeuhler, is setting the dances. Annie starts previews Oct. 3 at the Palace Theatre (opens Nov. 8). anniethemusical.com
To view the page in pdf form, click here.