Don't-miss picks for seasonal giving - or a little self-indulgence.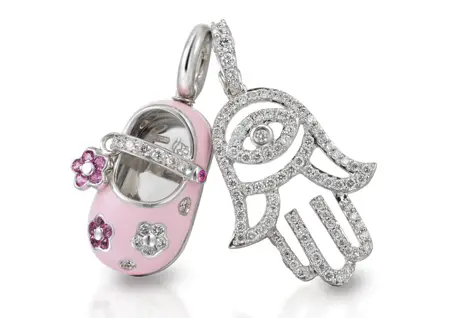 Aaron Basha, known for their playful charms, has set the standard for the chic and fanciful. Their fun, lighthearted jewels have adorned celebs and sophisticates alike. Handmade from 18k gold, diamonds, and enamel, each jewel is created with detailed precision. Basha's charms have reached iconic status and remain at the forefront of modern yet, equally classic jewelry design. 685 Madison Ave. (61st-62nd Sts.), 212-644-1970; aaronbasha.com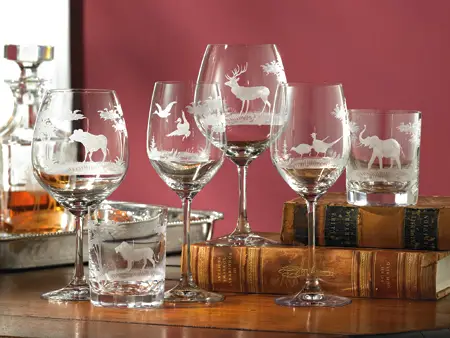 All gift items in the Beretta Gallery are supplied by internationally renowned manufacturers. They are intended to add a touch of class to the setting, whether it be a townhouse or a mountain lodge; the elegance of an item from Beretta Gallery will certainly not go unnoticed. A selection of accessories and furnishings for a lifestyle enriched by good taste, love of nature and the quest for quality and substance. This is Beretta's lifestyle, an unmistakable style that knows no bounds. Pictured here: Selection of hand engraved crystal made in Germany ($135 to $550). 718 Madison Ave. (63rd and 64th Sts.), 212-319-3235; berettagallery.com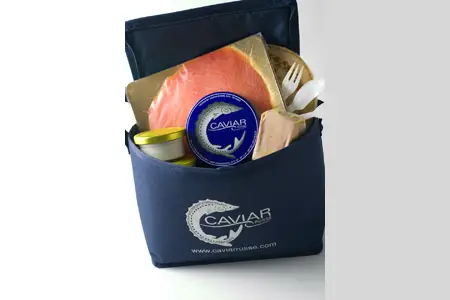 From Caviar Russe: the Artisanal Smoked Fish Sampler, which includes smoked salmon, smoked sturgeon, smoked trout and smoked salmon caviar with house-made blinis and crème fraîche packed in a Caviar Russe insulated gift bag. Starting at $125. Caviar Russe is a leading caviar purveyor, retail and online boutique and luxury restaurant, open from Mon. to Sat., noon to 10pm and on Sun., noon to 4pm. 538 Madison Ave. (54th-55th Sts.), 2nd Floor; caviarrusse.com. For more information or to make reservations, call 212-980-5908, email info@caviarrusse.com, or visit opentable.com.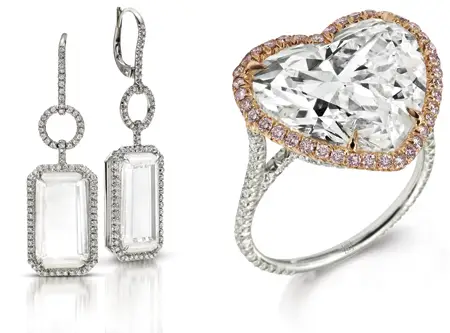 For over 30 years, Cora has been one of the most trusted and revered names in the diamond industry, especially when it comes to special stones in large sizes, fancy cuts, and fancy colors. Their Sweetheart Ring features a 10ct heart-shaped colorless diamond surrounded by .69ct of round brilliant cut pink and white diamonds. Set in 18kt pink gold and platinum. Their one-of-a-kind Vitrail Pendant Earrings, dazzle with over 15cts of table cut colorless diamonds, suspended from 1.05ct of round white diamonds. Set in platinum. For more information please contact their Fine Jewel Salon at 212-781-2672; corainternational.com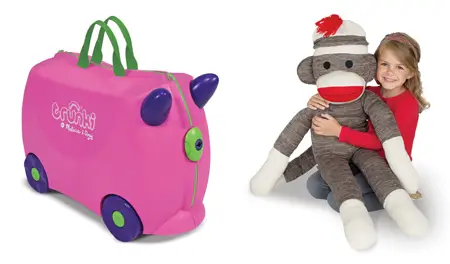 Since 1862, FAO Schwarz has delighted generations of children with beautifully crafted toys. Over the years, FAO Schwarz has evolved from a simple toy store into a must-see destination, enchanting customers through its flagship location in New York City. Pictured here: Melissa & Doug Trunki Ride-On Suitcase, a durable, lightweight suitcase that doubles as a riding toy. Features include tow strap, carry handles, integrated wheels and stabilizers to prevent toppling over. Supports up to 100 lbs. $39.99. The 42" stuffed pal Sock Monkey is both a cuddly charmer and a great conversation piece, suitable for nursery to college dorm, and beyond. $99.99. 767 Fifth Ave. (58th St.), 800-426-8697; fao.com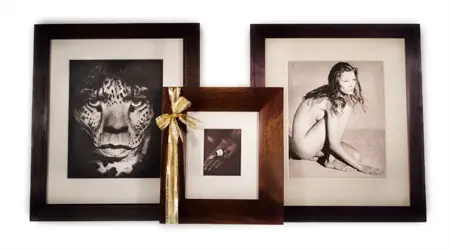 Rare and unique vintage photographs by world-renowned artist Albert Watson—including images of Mick Jagger, Keith Richards, Kate Moss, Alfred Hitchcock, and many others—are available at Hasted Kraeutler. This selection of works celebrates Watson's finest images, spanning 40 years of the photographer¹s career. Each of these important photographs are available for sale exclusively at their gallery at 537 W. 24 St. Please visit hastedkraeutler.com for more images, or call 212-627-0006 for further information.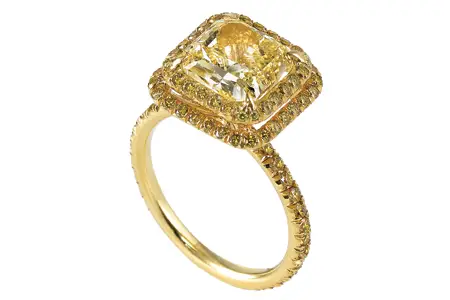 Say "I do" to a stunning fancy yellow radiant-cut diamond engagement ring from Jacob & Co., featuring 3.19ct center diamond, surrounded by 1.13ct of micro-pave set yellow diamonds. Handcrafted in 18K yellow gold. 48 E. 57th St., 212-719-5887; jacobandco.com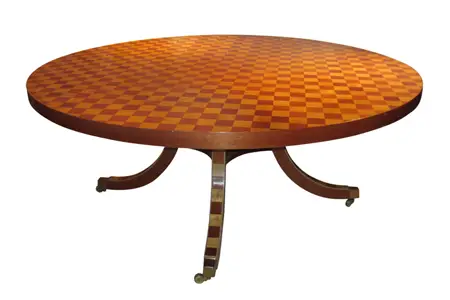 Lerebours Antiques offers an eclectic mix of antique, vintage, and modern styles. Those seeking to beautify any interior will find treasure in this diverse collection of fine furnishings, lighting, and fine art. Available at their shop conveniently located on the Upper East Side or visit lereboursantiques.com. 220 E. 60th St., 212-308-2275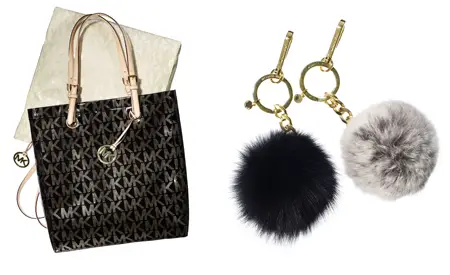 The oldest department store in America, Lord & Taylor has a reputation for attentive customer service and high-quality merchandise focused on apparel and accessories. Pictured here: Tote bag with logo from Michael Kors ($198) and Pompom Key Chain from MichaelKors ($38). Available at lordandtaylor.com. 424 Fifth Ave. at 39th St., 212-391-3344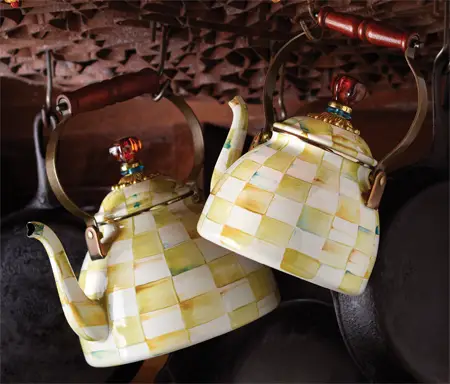 MacKenzie-Childs' iconic enamelware tea kettles have made their debut in Parchment Check™. Ample bodied, exquisitely detailed, and just plain gorgeous, you may find yourself leaving this charming piece on the stovetop for kitchen beautification, or place it on display filled with fresh-cut flowers or greens. A perfect gift. 20 W. 57th St., 212-570-6050; mackenzie-childs.com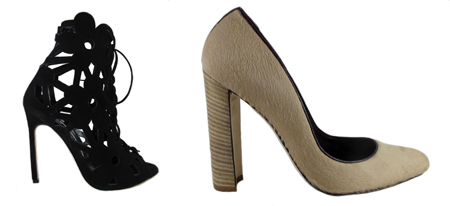 Over the last 30 years, Manolo Blahnik has become one of the most influential shoe designers in the world, and his winter collection is as stylish and innovative as ever. Pictured here: the Neurotica ($795) and the Kahikalow ($1065), both available at their store in midtown. 31 W. 54th St., 212-582-3007; manoloblahnik.com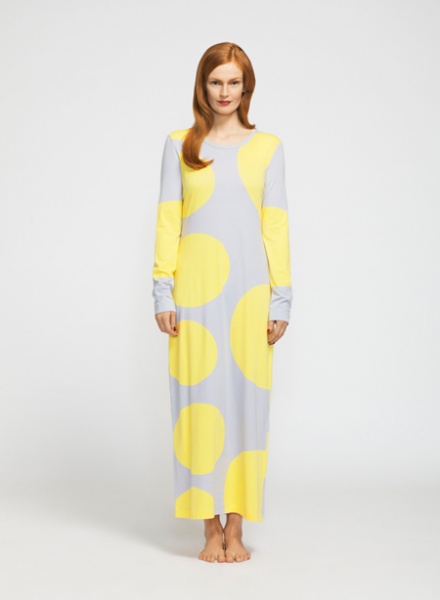 Marimekko, the Finnish design house known for its bold use of color, prints, and patterns, has an array of products available ranging from apparel to interiors, bedding, ceramics, stationery, and more. A perfect holiday gift to cozy up to this holiday season is the Kajo Nightdress in a beautiful light gray adorned with bright yellow circles of various sizes. Made of soft cotton and elastin, it is the sophisticated and stylish way to stay comfortable during the colder months. $135. 200 Fifth Ave. (23rd-24th Sts.). See marimekko.com for a list of stores.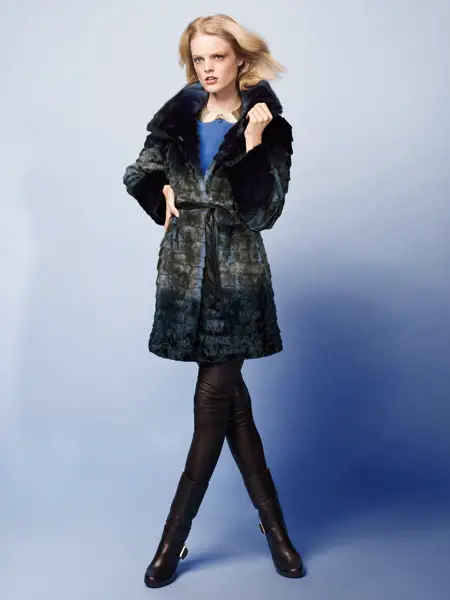 Maximilian at Bloomingdale's features an extensive collection of premier designer furs of the highest quality and design, including this exclusive: a Christian Cota azure degradé dyed patchwork coat ($2,395). 1000 Third Ave. (60th St.), 4th Floor, 212-705-3335; maximilian.com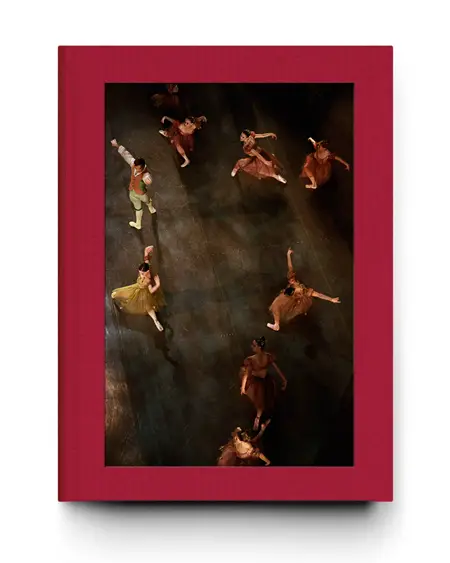 This book by Henry Leutwyler provides a rare, behind-the-scenes look at The New York City Ballet, one of the world's greatest ballet companies. This 488-page clothbound hardcover book, from renowned publisher Steidl, offers nearly 300 stunning photographs, providing an abstract portrayal of a world that is experienced first-hand by few. Available at nycballet.com.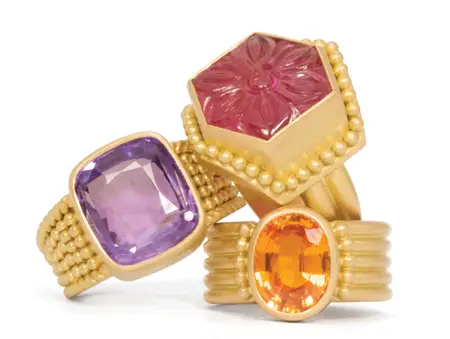 Candy-colored for the holidays! Reinstein/Ross, Goldsmiths is the ultimate holiday shopping destination. Pairing vibrant precious stones and beautiful shades of high carat gold, Reinstein/Ross jewelry is designed and hand-fabricated in New York City, in their Madison Avenue shop. Distinctly contemporary, but timeless, their collection ranges from simple hoop earrings to fabulous rings, from exceptional wedding bands to signature show pieces that find their way onto fashion runways and red carpets around the globe. Pictured here: Jaipur Ring with carved ruby, granulated Archer Ring with cushion-cut lavender sapphire, and Penta Ring with orange sapphire. All in 20k Peach Gold. 29 E. 73rd St., 212-772-1901; 122 Prince St., 212-226-4513; reinsteinross.com
Wempe Jewelers presents its latest creation: The Wempe Chronometerwerke Glashutte wristwatch in 18K yellow or steel limited special edition. Calibre CW3 offers hand-wound manufacture movement with a stop seconds function and small seconds sub dial and a 42-hour power reserve. The yellow gold is limited to 20 pieces and steel to 60 pieces worldwide. Complete with officially tested German chronometer according to DIN 8319 standard. Available exclusively at Wempe. Open Mon.-Sat., 10am-6pm, Sun., noon-5pm. 700 Fifth Ave. (55th St.); 212-397-9000, 800-513-1131; wempe.com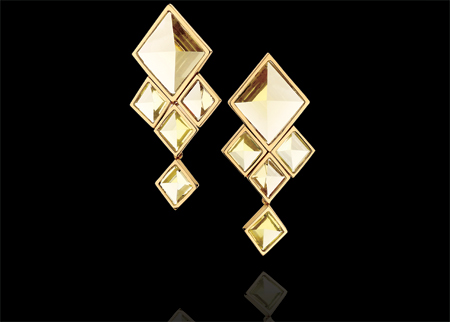 The Kite Earrings (pictured here in 18K yellow gold with lemon Quartz; available in various gemstones and white gold by special order; $6,800) by Yael Sonia, are one of the latest additions to her Kite Collection. The delicate and airy collection, inspired by children's toys, includes uniquely cut gemstones that create an amazingly luminous and sophisticated quality to each piece. Yael Sonia's creations are timeless, and her ingenious designs have gained her public acclaim and international awards such as the Tahitian Pearl Trophy Award for her "Spinning Wheel" necklace. Yael Sonia's fine jewelry is all handmade in her studio/showroom in Sao Paulo, Brazil. In addition to her studio, Yael Sonia Jewelry can be purchased currently in Rio, Paris, Hong Kong and New York City. 922 Madison Ave. (73rd-74th Sts.), 212-472-6488; yaelsonia.com