Frequent, beleaguered road warriors, worn out by the sameness of hotel after hotel, often amuse themselves when they land in new lodgings by checking out the room's amenities. I cop to the guilty delight in discovering a nifty sewing kit, or an unexpected, sleek mini-flashlight, or even laundry soap in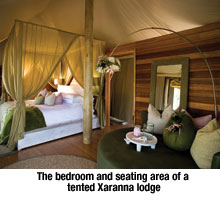 the bathroom, for hand-washing delicates. (Note: It's not for nothing that I mention these three items, as this trio was among the thoughtful amenities in the lavish Cape Grace Hotel in Cape Town [see sidebar, page 85]). Imagine my wonder, however, after checking into my sumptuous "bungalow" at & Beyond's Matetsi Water Lodge in Zimbabwe, when faced with a rather curious set of matching white-cotton sacks, each about 12" x 10", hanging from two hooks near the doorway to my patio. (Outside there was a shower, plunge pool, and lounging deck, all overlooking the grand Zambezi River.)
Clearly they were meant to take outside. But why? Each was smartly embroidered in light-blue thread, one reading "Monkey" and the other reading "Business." One contained little pebbles! Huh? And the other, a slingshot. So, off to dinner I went with them, to discuss with my friends. But first, we unwound with sundowners (the technical African term for cocktails) on the lowest-level terrace, adjacent to the river, where we were shaded by waterberry and mangosteen trees. The boma (Swahili for homestead) is generally the place where people meet, greet, and eat, and it is here that we feasted on the chef's delicious, bountiful repast, and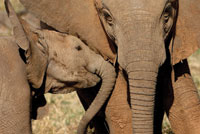 as night fell, we could hear the occasional, cacophonous crashing racket of frolicking hippos.
But, back to Monkey Business: Although Vervet monkeys are diurnal, our early-ish dinner hour could still, nonetheless, be on their dance cards. They are pawky bandits, clambering up onto a table in order to steal, well, just about anything! Days later, at & Beyond's Xaranna Okavango Delta Camp in Botswana, I came face to face with the commander of the Brazen Simian Thievery Ring, Mr. Cheeky, dubbed thusly (somewhat affectionately) for obvious reasons by the camp staff. So, to put two and two together: The slingshots and pebbles are used just to startle the Vervets, to create a sudden distraction nearby, so they will flee, without filching your wallet. (In East Africa, a Vervet actually stole the money we left on our table at an outdoor restaurant!)
Colorful as they are, Vervets might be the least thrilling creatures who await you during your & Beyond adventure-as you are really in the outback here, without fences. Remember, this is their land; you're the guest, and as such, you may be "trapped" in your lodge for 10 minutes, as a memory of elephants saunters by. (Yes, that happened.) So, in addition to the expected or hoped-for sightings-lions, cheetahs, leopards, hyenas, giraffes, elephants-you may also observe more "exotic" wildlife, like red lechwes, roan antelopes, and sitatungas.
The Matetsi Water Lodge (there are actually three Matetsi campsites) is nestled in the middle of a 123,600-acre private game reserve; each camp has six beautifully appointed cottages and they are
a stone's throw (ahem) from Victoria Falls, which should not to be missed. Our very knowledgeable & Beyond guide, who also supplied gigantic hooded poncho-raincoats for our jaunt to the Falls, educated us: The indigenous name of the Falls is Mosi-oa-Tunya, or the Smoke that Thunders, and that it does. Shockingly, he tells us, that these are not the highest falls in the world (Angel Falls in Venezuela is); these are not the widest (Iguazu Falls in Brazil is); and they don't unleash the greatest volume or velocity (Niagara Falls does). But all three criteria considered, this is without parallel, the mightiest cascading sheet of water on Earth, whose mist can be seen for 30 miles! After your drenching adventure, savor a cup of warm tea on the Stanley Terrace at the 100-year-old, Edwardian-style Victoria Falls Hotel, where the flavor of colonialism's proper British lifestyle still lingers. ("Dr. Livingstone, I presume?")
There is plenty to do at Matetsi, even without a visit to the Falls. The plains and bush here are a birdwatcher's paradise, with over 300 aviary species recorded. There are nine miles of Zambezi River frontage, so the three campsites offer an unparalleled opportunity for picturesque mokoro (dug-out canoe) and riverboat excursions. There is also the rare opportunity to take a nighttime game drive, when you just might view the nocturnal stalking and hunting practices of lions and leopards.
From Matetsi, we ventured to two other & Beyond properties, Xaranna and Xudum, in Botswana. They are both fairly new and began hosting guests over a year ago. Both have, for good reason, landed on the "best" lists of magazines like Travel & Leisure and Condé Nast Traveler. If you have an opportunity to take a helicopter over the Okavango Delta (as we did on our way to Xudum from Xaranna), do it. Yes, it's exciting to stare in awe as a journey of giraffes strides by your lodge (yes, that happened, too), but it's all the more electrifying to see a dazzle of zebras moving at top speed, from above.
The Xaranna Lodge, on 60,000-plus acres of a wildlife concession, is lavish (furnished with natural and nature-inspired materials-even the Scrabble set is stored in a faux-croc box), and amenities are not overlooked, including laundry service. (The wonderful staff draws a hot bubble bath for you each night in your colossal soaking tub.) There is even gym equipment in your private lodge, in a giant "Slim Gym" bag. And if you are not interested in a game drive, there are plenty of places to lounge, read, or watch the Technicolor reed frogs or follow the flight of iridescent dragonflies. There is catch-and-release fishing and picnics on Delta islands. (Many islands, our guide tells us, started as termite mounds.)
Since Xudum is perched on its own Delta island, we arrived by mokoro for the last leg of our journey. We were greeted by the ebullient staff, singing welcome songs and distributing hot towels, and by the general manager of the lodge, standing knee-deep in the Delta waters, with a bar set up for mimosas. We did two safari drives each day, and for the early morning drive you've got to be ready by 7 or so; that is easy, though, as the staff serves as your alarm clock, gently tapping on the door, and bearing a tray of fresh juice and steaming coffee. Late afternoon drives follow 4pm tea. And then there are the "rangers' breakfasts," in the outback, where your guide-trackers will prepare a hearty breakfast and even teach you to start a fire by friction. At Xudum, you also have the option to sleep outdoors, on the upper deck of your split-level lodge. You just do not get any closer to Mother Nature than this.
the details
& Beyond changed its name from Conservation Corporation of Africa (CC Africa), to reflect its ever-expanding and far-flung lodges, now numbering nearly 50 in seven countries. At Matetsi, prices (all inclusive, per person/per day, based on double occupancy) can start as low as $270; at Xudum and Xaranna, $595. Rates are seasonal; summer (the rainy season) lasts from November through March. The highest rates at Xudum and Xaranna in-season are $1,480.