Exploring 8 Mediterranean Ports of Call
Tulip, Lily, Rosa. No, these are not the appellations on garden seed packets, but rather the soubriquets of quaint, private domiciles on the island of Malta, where conferring a moniker on a home is a conventional charm. It's a mere hint to the appeal of the island, the first among eight equally captivating ports of call on a leisurely, luxurious journey on Silversea Cruise's new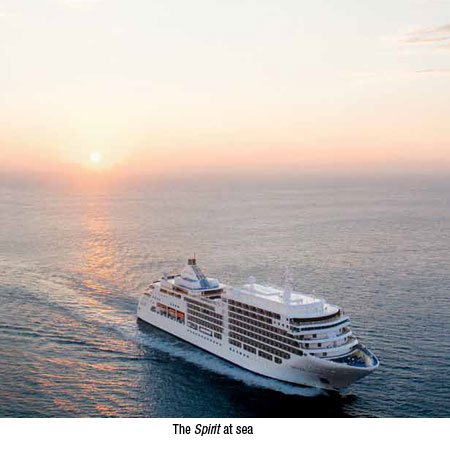 est ship, the Spirit, christened in 2010.
If you've never traveled with Silversea, then consider making it a non-negotiable item on your bucket list. You'd be hard pressed to find, anywhere, a more considerate, attentive staff (the guest-to-crew ratio on the Spirit is 1.4 to 1, tough to beat in the industry); more tasty and tempting fare; and more well-appointed, glamorous vessels afloat. It is no wonder that for nine years, Condé Nast Traveler has voted it the Best Small-Ship Cruise Ship Line and for seven years, Travel + Leisure named it the World's Best Small Cruise Ship Line; the Spirit stylish spa was also voted by Condé Nast Traveler as the top spa at sea this year.
This remarkable spa, with its secluded aft deck (tricked out with obscenely oversize, languor-inducing chaises longues) and its sybaritic treatments may entice you to stay on board when you anchor dockside, but don't be lazy. Each of the stops on my 14-day journey was so fascinating that it would have been a sacrilege to have skipped one.
Which brings me back to Malta: It is strategically situated to the mainland, and has been, therefore, a desirable foothold by waves of occupying conquerors from the Phoenicians, Carthaginians, and Normans, to the Order of St. John of Jerusalem. (The 60 kilometers of fortification walls around the island attest to it.) Inhabited for over 7,000 years (current population is about half a million) it is a delicious mélange of cultures, boasting narrow, cobbled stone streets, limestone cliffs, and bucolic countryside, not to mention nine UNESCO World Heritage Sites. Valletta, the capital, offers many sights, but the single, do-not-miss destination is the ornate, baroque St. John's Co-Cathedral, with its famed Caravaggio, The Beheading of St. John. For uber-adventurous thrill-seekers, Silversea can even arrange an electrifying abseiling session, rappelling off the island's rocky outcroppings.
For the more sedentary who favor shopping over scaling mountains, my Mediterranean meanderings included a trio of Greek isles—Rhodes, Crete, and Santorini—which did, in fact, offer impressive bargain-hunting, but also presented history, culture, and exciting outings. Rhodes' Old Town is a UNESCO World Heritage site, and is rife with Medieval architecture, churches, a superb Archaeological Museum, and the Museum of Decorative Arts. You'll want to see Lindos, where the famed Acropolis is perched on a bluff. As you navigate the final ascent to it, look for the celebrated relief of a Rhodian trireme (warship), dating from 180 B.C., etched into the mountain. Whitewashed Santorini is the remains of a massive volcanic caldera and has several cities worth a look-see: Oia, a storybook town, is punctuated with winding streets, lined with galleries and craft emporia; Pyrgos is a village of lovely homes an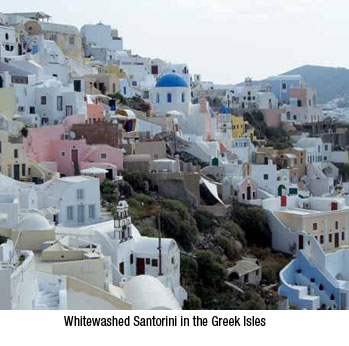 d the remains of a Venetian castle; Fira presents an overwhelming view and exotic treats. Crete, the fifth- largest island in the Mediterranean and the biggest of the Greek isles, was home to the ancient Minoans who flourished for about four hundred years, from 2000 B.C. to 1600 B. C., and it is here, not surprisingly, that there is a gem of an archeological museum. The island was also the birthplace of El Greco.
A veritable cornucopia of sightseeing came with our stop in the Naples area, where an excursion to Pompeii is de rigueur. Buried in 79 A.D. by fierce Mount Vesuvius, and preserved under 20 feet of pumice and ash for nearly two centuries, the city is compelling, from its Stabian Baths to its brothel to its theatres and shops. There is even evidence that the Romans had streetside stalls with fast food.
And if the idea of ancient, Classical vittles gets your salivary glands stirring, remember that on board the Spirit there are so many choices for round-the-clock fine and casual dining, that you can feast whenever and on whatever your heart craves. In the main dining salon, The Restaurant, many signature dishes were designed by Relais & Châteaux, but if you hanker for succulent steak-house fare, say, lamb chops or lobster tails, just ask. One of my favorite spots for a hearty breakfast was La Terrazza, aft on deck seven, with its 180-degree panoramic view, and its bountiful buffet. There is Asian cuisine at the specialty eatery, Seishin, and haute cuisine (with impressive wines) at Le Champagne, and food nearly all day long poolside (stay away from the make-your-own sundae bar!).
If you feel the need to work off calories, there are limitless on-board activities (yes, shuffleboard) and a gym, of course. Even with the ship at capacity (540 passengers), you'll never stand in a queue for a StairClimber or treadmill. Nighttime shows are entertaining, the video library is extensive, and the daily enrichment lectures, enlightening. But you may just want to chill out on deck with a tantalizing drink, and allow the staff to pamper you. Hailing from dozens of countries—Croatia or the Czech Republic, Montenegro or Morocco—the crew makes each and every guest feel like a crowned sovereign, and that is worth every penny. n
[ the details ]
Expect to pay about $550 per person, per day; tipping is not permitted and cruises are inclusive, save for things like spa treatments or a small up-charge for a specialty restaurant. 877-215-9986; silversea.com.
Cruising the Mighty Mississippi in Style
So what did I come home with from my enchanting idyll lollygagging around the Mississippi on board the American Queen Steamboat Company's magnificent vessel, the American Queen, the largest paddlewheel steamboat ever built? Lotsa' heartwarming memories—and a few coveted bottles of Fat Mama's Knock-You-Naked Margarita Mix. (Don't ask about how effective it is.) Sure, you can probably buy the mix—but certainly not the reminiscences—on Amazon, but it just won't taste the same as when you acquire it in the Big Easy.
My journey began and ended in the renewed Crescent City, and in between were absolutely delightful stops in Vacherie, St. Francisville, Natchez, Baton Rouge, and Darrow. But before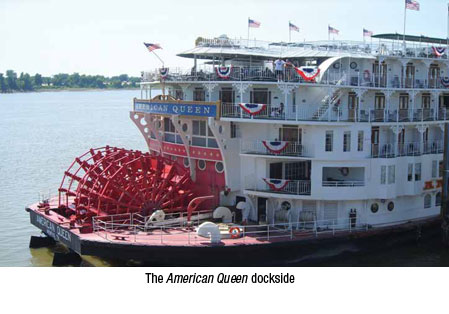 we set sail, I had an opportunity to perform a little on-board recon, and discovered the vessel's most evocative rooms on deck two—the Mark Twain Gallery, Ladies' Parlour, and Gentlemen's Card Room, where the fairer sex has been known to crash the figurative gatekeeper. These three chambers are soberly furnished with exquisite period-style pieces and each room is so inviting, you'll want to stake a perch in each on different days, for snoozing—or preferably, reading Mark Twain, accompanied by a mint julep. When the vessel was ready to push off, fanfare began—music everywhere!—and a thrilling, jolly calliope emitted tuneful favorites.
Our first stop was the breathtaking Oak Alley Plantation, the grande dame of the illustrious River Road. This Greek-revival, antebellum manse is reached through a regal allée of twenty eight 300-year-old giant oaks, meeting celestially, and forming a canopy of wild, untamed branches. The setting is majestic. You'll learn a great deal of history just touring a home like this: Its 16" solid brick walls kept residents cool in summer, warm in winter; to facilitate air flow, windows are positioned for cross ventilation; antebellum air conditioning consisted of ice blocks, positioned in piles of straw with ceiling fans constructed of a single board, perpendicular to the ceiling, on a pull cord. Chairs are shockingly low, as are doorknobs, but your guide will explain that the average man and woman were just 5'4" and 5' respectively. Rolling pins near each bed were used to beat down lumps in the horsehair/straw mattresses. (You can also garner much background from the on-board riverlorian, who lectures daily and is also available in the ship's chart room.)
After a half-day touring Oak Alley, I returned to the American Queen and spent a guilt-free, languid afternoon reading on deck three, where America's Front Porch proffers big, ol' rockers. In between chapters, I helped myself to tidbits of frosty soft ice cream, freshly baked cookies, beignets; you get the idea—the 24-hour buffet here is plentiful.
Food on board in general was dee-vine, courtesy of e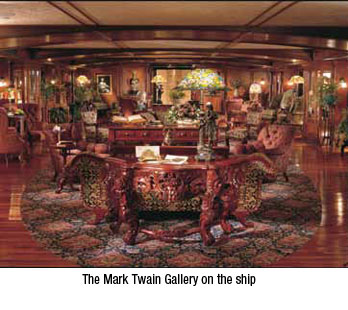 xecutive chef Regina Charbonneau, a renowned cookbook author and teacher, as well, whose menu design might include grilled catfish or shrimp po'boy or parchment-encased pompano, topped with julienne of spinach, sweet red peppers, carrots, lump crab meat and caper-lemon butter. (At breakfast, stock up on the homemade biscuits—you'll not find better anywhere in the South.) Parenthetically, a highlight of our stop in Natchez was a visit with Charbonneau (a seventh-generation Natchezian), who opened her handsome home (a bed and breakfast), Twin Oaks, where she had prepared an extravagant feast. Natchez was a flourishing commercial center and in 1860, when there were 21 millionaires in the States, and 11 of them were here!
Another interesting stop was St. Francisville, a charming village with a lovely historic district around Royal and Prosperity Streets, a landmark synagogue (one of the state's oldest), and the interesting Grace Church Cemetery, where a lone Yankee, Lieutenant Commander John E. Hart, the master of the Union warship, Albatross, is buried. Every June, his interment is re-enacted, during a commemoration of the "Last Day of the War." No matter what city you explore with the American Queen, the ship arranges for a hop-on-hop-off bus, and I would strongly suggest riding it at least for one loop to get a sense of each town.
The last stop was the Houmas House Plantation, a crown jewel of the River Road, which is owned today by a visionary New Orleanian, Kevin Kelly, who bought the property in 2003, determined to revive this special plantation (that once had 300,000 acres!); the stately estate now reflects the best parts of each period of its rich history and currently there are various venues on the property for events, strolling, idling, dining, or shopping (the improbably grandiose gift shop will blow you away).
Evening activities usually include a stage show, Broadway- or Sinatra-themed, or—a voyage highlight—a delectable conversation with "Mark Twain." After the evening's program, if you still crave action, there's soulful jazz or Dixieland music somewhere on board. I usually just hung out on the deck outside my cabin, heady with the sight of the Mississippi snaking by, contemplating the South of yesteryear and Twain's world, prompting me to remember the bard's apocryphal comment that Old Man River is "too thick to drink, too thin to plow."
[ the details ]
A typical seven-night voyage starts at $2,395 inclusive, per person; the ship has itineraries in the Upper and Lower Mississippi. 888-749-5280; americanqueensteamboatcompany.com.