As I made my way across the tarmac and eagerly entered the Arrivals building for international flights to Turks & Caicos (just off the southern tip of the Bahamas, some 1,300 miles south of Gotham), I knew that I wanted to stay there. It wasn't just the weather, which caresses your flesh with an average temperature of 83 degrees, tempered by gentle, easterly trade winds. (T&C can boast, on average, 350 sunny days a year.) No, it was the sign at Immigration that made me envious of T&C citizens with special status: "Belongers and Returning Residents" were directed to one queue, wh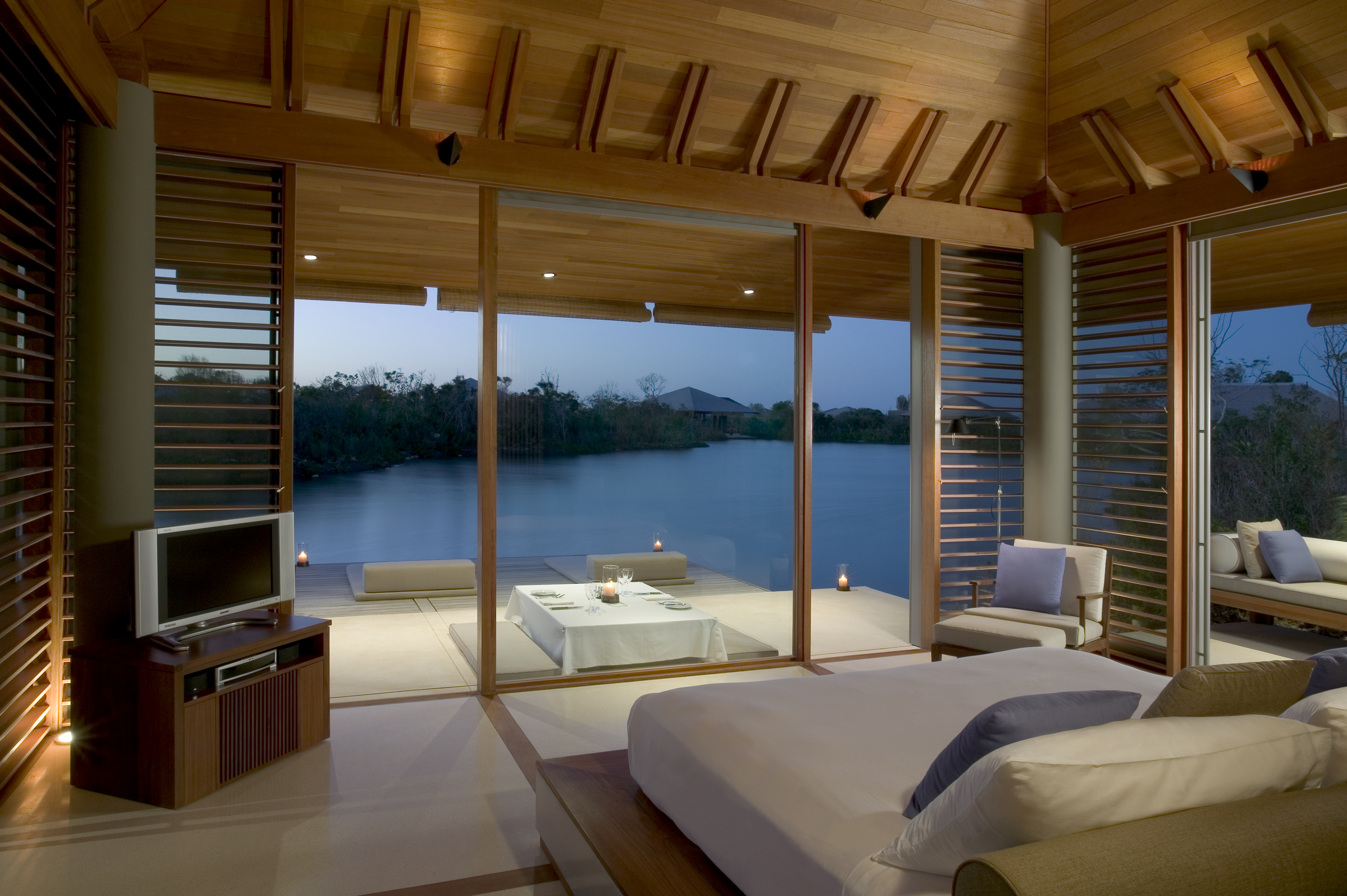 ile tourists were sent to another. So...there were people here who were actually called "Belongers"?! I was eager to be one. And once I arrived at my destination, the Amanyara resort, and once I had spent a few days there, I was beyond eager--desperate!--to be one.
While Belonger is a legal status--and many descendents of British Loyalist families who fled America in the late 1700s have that status--there is at least another way to be an "emotional" belonger: At the sybaritic Amanyara there are three villas for sale (the other nine are already spoken for, but are in a rental pool, which the resort leases to guests), that could be yours, the most costly of which is about $12 million--it even comes with a recording studio. And if you are a careful reader of the New York Post, then you probably saw that over the New Year's holiday, music sensation Prince was at Amanyara and gave an impromptu concert to guests, which included many bold-face names, as reported by the tabloid. So I am surmising that His Royalness was in that very villa with the recording studio. But it's just a guess....because the staff at Amanyara are super hush-hush about the celebs who frequent this nirvana. But then, again, that is what people come here for -- the privacy and the chance to chill out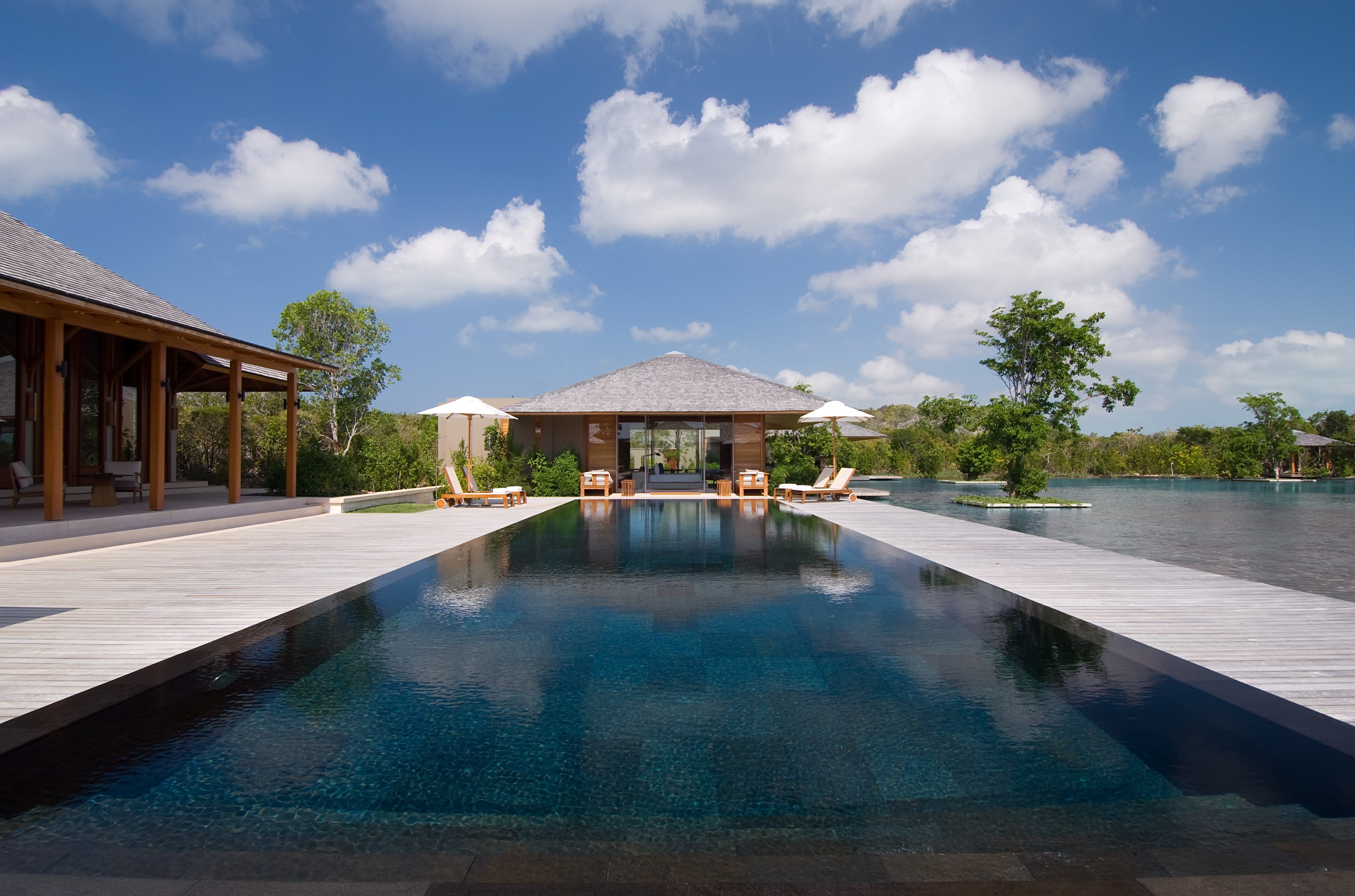 .
Lazy. Yes, that is what you'll become if you spend a handful of languid days here. Spend a whole week in this serene refuge and "languorous" may apply. But that is precisely what developer-mastermind hotelier Adrian Zecha intended in the late '80s, when he dreamed up the concept...and 24 properties later, he has perfected the recipe: secluded, majestically landscaped havens in glamorous destinations (Bhutan, Laos, French Polynesia, you get the idea); wall-to-wall, unobtrusive service; exquisitely simple villas with all of life's amenities at your fingertips (don't even ask me about the size of my outdoor soaking tub); star-quality cuisine.
Aman means "place" in Sanskrit and the names of all of Zecha's retreat-hideaways are a combo of aman, followed by a second syllable culled from local patois--in this case, the yara is from the Arawak Amerindians--and it means "peace." Built on the Northwest Point of the island, adjacent to the 18,000-acre Frenchman's Creek Nature Reserve, the resort turns its back on the lovely (but, alas, popular) Grace Bay area...and offers, instead, a "peaceful place." But, if you're up for activity, then it's yours: Take a kayak on a nature tour. There are Hobie cats and boogie boards for the ocean. A guided snorkeling adventure? Golfing? Fishing? Diving? (Some of the world's best dive spots are here.) And do not forget the spa--you'll relax so thoroughly that your blood pressure will drop during an indulgent treatment.
Accommodations are basically identical throughout the resort--environmentally friendly structures, generally surrounded by lots of water--ocean or manmade lakes and a pool--and lush greenery, with patios and floor-to-ceiling glass on three sides. Inside, there is every state-of-the-art amenity you'd want. There are "villas," which are more or less hotel rooms--40 of them. But they are so private, you won't see another soul until you use the common areas--restaurants, library, beach, spa, fitness center, and so on. The pavilions are complexes of villas (each villa is a bedroom) with a central dining/lounging area, pools, patio, and a staff--a housekeeper and cook--who are always willing to do just about anything you need done. Villa complexes are available with three-, four-, and five-bedroom configurations, and some even have an additional room for children and a nanny. Most villa complexes also have separate offices, for those obsessed with their computers and work. The tariff for peace and privacy: pavilions, from $1,250 to $2,650/night; villas, from $4,500 to $17,200/night, depending on the unit and the season. For more information: amanyaravillas.com