Inside a barn, two white men are listening to a youth, also white, play his fiddle. Just outside, a black man, unseen by the others, leans against the open barn door, also listening, entranced, to the melody.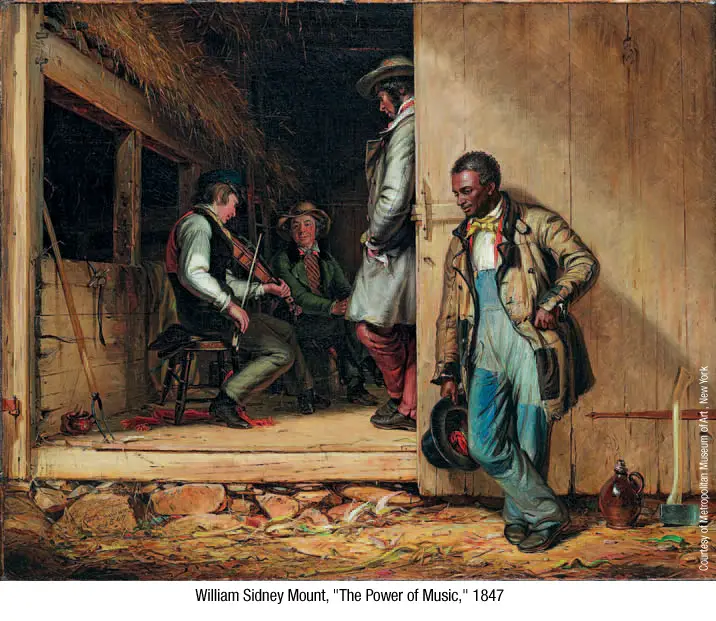 What happens next, we want to ask, about this 1847 painting of Long Island life by William Sidney Mount? Called "The Power of Music," it's one of more than 100 works in "American Stories: Paintings of Everyday Life, 1765-1915," at the Metropolitan Museum of Art through Jan. 24. Some raise similar questions, others don't -at least at first glance.
Given its title, "The Power of Music" was clearly intended in part to show that certain pleasures unite us all, regardless of race. But still....Would the black man be welcome inside the barn? Why does he keep to the sidelines?
We don't necessarily know the answers, but the narrative pull of Mount's work puts it squarely within the tradition of American mid-19th Century genre painting, with its often genial depictions of lower and middle-class folk at work and at play.
Genre painting was the seed of this show, "but we thought it might be interesting to push the envelope a little bit-to start with the pre-19th Century as sort of a preamble and then to explore what happens in the period after the Civil War," said Met curator Carrie Rebora Barratt, whose scholarly focus is on early American painting.
Barratt, now the museum's associate director for collections and administration, assembled the largely chronological exhibition with fellow Met curator H. Barbara Weinberg, a scholar of post-Civil War paintings. (Outside experts Bruce Robertson, profe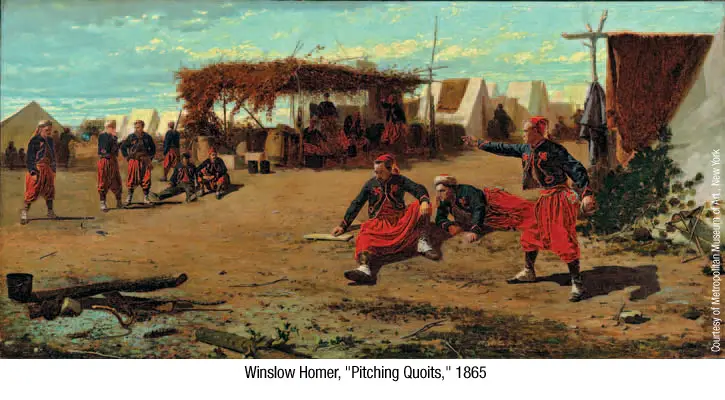 ssor of art history at the University of California, Santa Barbara, and Margaret C. Conrads, of the Nelson-Atkins Museum of Art in Kansas City, also contributed to the show. )
While the curators expanded the time frame, "we decided we would still keep our focus on scenes of ordinary American life," Barratt said. So, expect no grand historical or mythological scenes. This show is chock full of less elevated subjects: People peddling wares, manning forges, guiding boats downriver, voting or gossiping about politics, selling newspapers in the East, encountering Indians and bears further West. More leisurely moments are captured in scenes of music-making, dancing, courting, shopping, picnicking, even eating in a Chinese restaurant.
If the surface narrative of certain images seems obvious, "all of them have texts and subtexts," said Weinberg. In John Singleton Copley's 1768 portrait of Paul Revere, for example, the silversmith holds a silver teapot, a seemingly apt symbol of his craft. But at the time of the painting, "the British were levying taxes on tea -Americans pretty much stopped drinking tea, in protest," Barratt said. In fact, "Revere only made one teapot" that year - "so it becomes a political story."
Portraiture gives way to scenes by such artists as Mount, George Caleb Bingham-whose 1846 "The Jolly Flatboatmen" makes you want to hop on board to enjoy the revelry-and Winslow Homer, with no less than nine paintings in the show--"almost a mini-retrospective" Weinberg calls it.
The focus later often shifts to the upper classes in works by the likes of John Singer Sargent, Ma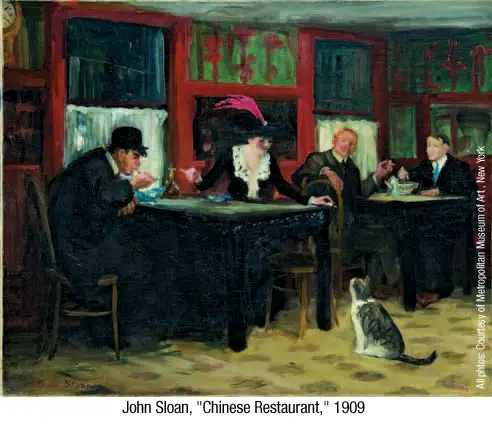 ry Cassatt and William Merritt Chase. If Ashcan artists John Sloan and George Bellows capture something of the rough-and-tumble of life, the seamier side of the American story, for the most part, doesn't surface in these "American stories."
In fact, many of the artists seemed to share a "cheerful, optimistic outlook," Weinberg noted. While the paintings' marketability was undoubtedly a factor (cheerful often trumping dour in art sales), they may also reflect an inherently "upbeat" attitude in American society, she said.
For all that, Weinberg noted, "these paintings tell many stories, depending on who's viewing them," so, a diverse group of outside commentators chimes in on the show's audio guide. The African-American artist Kara Walker, for instance, gives her take on Mount's "Power of Music" ("almost too sweet," given the racial ferment of the period); historian James McPherson comments on two Civil War-era scenes by Homer; restaurateur Danny Meyer and food writer Mark Bittman talk about Sloan's raffish 1909 "Chinese Restaurant."
"This is where I want to be," says Bittman of Sloan's eatery, with its noodle-slurping man, flamboyantly-dressed woman, and well-fed cat. "I mean, it's funky."
Now, how often are paintings at the Met called funky?
Metropolitan Museum of Art
1000 Fifth Ave., 212-535-7710; metmuseum.org
Karin Lipson, a former arts writer and editor for Newsday, is a frequent contributor to The New York Times. Her last article in Promenade was on Jane Austen at the Morgan and Kandinsky at the Guggenheim.