In the mystifying, lottery-like jumble of dating and mating-determining who gets which double helixes of DNA-I didn't, alas, strike the genetic jackpot. If I had, I assuredly would have been blessed with Anthony Kaguathi as a brother. Tonnie, as he is known, was my guide on a recent trip to the majestic, magnificent Serengeti National Park (a UNESCO World Heritage site) in Tanzania. One couldn't ask for a more perfect leader-exactly the kind of older brother you'd want to be your scout and shaman thr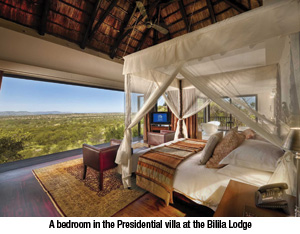 ough life.
Tonnie and his cohort, our wonderful driver Maulidi (Simba) Ifuja, both surely have eyes in the backs and on the sides of their heads. What you will not see with binoculars, they will espy with the naked eye: There, under a tree, camouflaged in the high sward grasses, a rare cheetah and her cubs, languidly lolling on their backs; on a tree limb almost completely obscured by foliage, a powerful leopard, lazing serenely, paws dangling.
It is no surprise that Tonnie and Simba are the sine qua non guides to the mysteries and marvels of the Serengeti, as they are employed by Micato Safaris (founded by Jane and Felix Pinto, whose family settled in Africa over 100 years ago). The company strives to exceed the many accolades its services have garnered: From 2003 to 2008, Travel & Leisure magazine dubbed Micato the world's best tour operator and safari outfitters-and outfit you, it will. Prior to departing for the bush, the company provided the most comprehensive information-not to mention a safari hat and multi-pocketed vest-I have ever received for a trip. A well designed duffel bag arrived, too, with the persuasive recommendation to use it ("...bush pilots may offload any excess weight...").
Micato's striking pre-trip package is all dressed up in animal-print tissue paper, and contains a handsome passport/document holder; a DVD of Out of Africa (to get you in the mood); and comprehensive paperwork, checklists, glossaries, maps, and nuggets of advi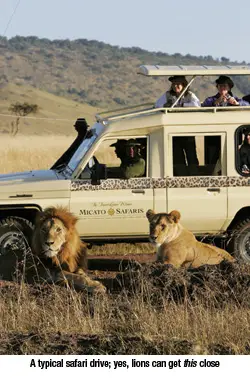 ce. (For example, do not wear black or navy blue, colors that attract mosquitoes. Indeed, when tooling around the dirt roads in the savannah, you'll see curious-looking, navy-and-black cloth "flags" hanging incongruously in trees; they are there to do just that: to lure and trap mosquitoes.)
Tonnie and Simba are fonts of information: The fleet cheetah can move at 60 miles an hour to catch prey, but he can do it for barely 75 yards before his engine tires; the much slower Thomson's gazelle is "fast food" for the sprinting cheetah. The darker the mane on a lion, the older he is. If a new male lion becomes the dominant honcho of a pride, he will likely eat any newly born cubs who were sired by his predecessor. The mortality rate of lion cubs is 80%; the newborns weigh about 10 pounds, compared to the 250-pound baby elephant. The guides tell us, sadly, elephants will die ultimately from malnutrition, as they will lose their sixth set of teeth, and that last-and largest-set is not replaced; unable to eat, they perish.
We pass an area with strangely ravaged acacia trees, broken limbs akimbo. Tonnie informs us that elephants have just recently stalked through this turf. And so it is, we soon see the parade of pachyderms on its lumbering rampage ahead of us, dining on more trees. We discover, too, that the Serengeti (to the native Masai, the Siringitu, or "the place where the land moves on forever") is home to controlled burns once a year. These fires are a vital tool to prevent overgrowth; if too many trees are allowed to get too tall, they will eventually shade the vital grasslands, preventing new growth, which could have dire consequences: That grass is imperative to the native herbivores, the greatest herds of grazing animals in the world.
We learn from Tonnie that the "clean-up crew" of the land comprises jackals, vultures, hyenas, and maribou storks. And of course there is a hierarchy of who eats what and when. Darwin lives. He tells us that the so-called Big Five (African elephant, leopard, lion, cape buffalo, and rhino, the latter not found in the velt here) did not earn their soubriquet because they are the strongest or most fleet, but rather, they are the hardest for a human hunter (on foot) to track and take down. My traveling companions and I become fascinated by the collective nouns used to describe each animal "pack" and learn a few for giraffes: When standing still, they are a tower; when moving slowly, they form a journey; and when gracefully gamboling along, they are a stride of giraffes.
Game drives are in the early morning and late afternoon, when there is animal activity. In between, we spend our days at the most elegant of lodges, the one-year-old Bilila Lodge Kempin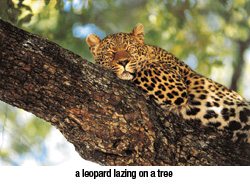 ski, nestled handsomely among the grassy woodlands and kopjes. (Dutch for "bald heads," these formations are rocky outcroppings created by volcanic activity.) To the Bilila, it's a 50-minute flight from Arusha to Seronera and then a 45-minute Jeep trip. Look outside the plane during flight and you'll spot signature Masai rondavels, or "round homes." Weather permitting, your pilot will circle the awesome Ngorongoro Crater, the floor of which is dense with wildlife. The crater is the world's largest unbroken volcanic caldera, a cauldron-like formation.
The lodge is exquisitely designed, with the generous use of natural textures and local artifacts. The gracious guest rooms feature floor-to-ceiling glass walls overlooking the plains, with plunge pool and deck, outfitted with a telescope for "hunting." The hotel provides countless amenities (computers, satellite TV, sumptuous marble baths); the rooms are all exquisitely appointed, each with a very Out-of-Africa-feeling mosquito net around the four-poster beds. (Some suites even have "closets" made out of mammoth leather trunks and leather belt-buckle-style tie-backs on the lush draperies.) Along the raised boardwalks and walkways that connect the hotel's buildings, you'll be greeted by red-plaid-garbed Masai sentries, living up to their legendary warrior ancestry. One night, experience a feast in the lodge's boma (Swahili for "homestead") structure, where an endless array of meat is grilled and the native-inspired accompaniments are cooked in heavy kettles.
A must-have indulgence awaits you at the hotel's sybaritic Anantara Spa, with each treatment "room" a handsomely tricked-out, private rondavel house. While you succumb to the pleasure of a 210-mintue-long "Safari Adventure" treatment, you may eye a dazzle of zebras meandering past your open (and terraced) porch. The hotel can also arrange for another must-do extravagance-a thrilling balloon safari, providing a bird's-eye view of hundreds of thousands of migrating animals.
And if that is not enough, every morning you'll see a clutch of elephants or graceful gazelles flock to the drinking pools created around the perimeter of the lodge. So close, you think you can reach out and touch them...but it is your spirit and your soul that will ultimately be touched, as this is as close to nature as it gets.
[ the details ]
Micato Safaris are priced at about $1,000 per day, per person; for more information: micato.com; serengeti.org; kempinski.com/serengeti