As the blustery winter air settles over New York, city dwellers cozy up and yearn for moments of sunshine. Exciting, unconventional lamps from a variety of origins, curated by some of the city's best antiques dealers, can bring back the warmth.
From art deco designs to poignant, eye-catching shapes, here is a selection of antique and vintage lamps that will even brighten your outlook on a chilly Manhattan day. Even better, these breathtaking lighting options will make a style statement long past the final frost.
Ethereal Art Deco
Appropriately titled, "The Wave," this etched glass lamp is a divine art deco option by Erté (Romain De Tirtoff). The round glass shape highlights a delicate, yet striking etched tempest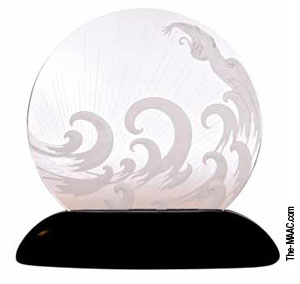 uous wave pattern that effortlessly sweeps into the portrait of a woman. From the late 1980s in America, this piece is inscribed and numbered "51/99" and rests on a bakelite base. Price upon request. Available at Paul Stamati Gallery (#90).
The Manhattan Art & Antiques Center, 1050 Second Avenue, 212-754-4533; stamati.com
Vintage 1970s Duo
Two's company with this duo of 1970s American vintage table lamps. The bodies of the lamps alternate gorgeous chrome and brass, offering a reflective quality, and added dimension to a room's design. This mid-century set leaves a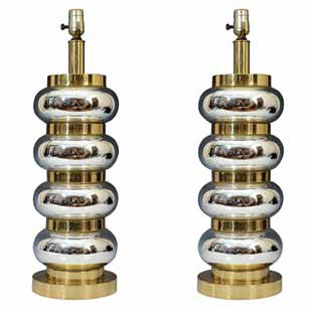 lot of creativity in the hands of the buyer when it comes to choosing lampshades. Pair together on a surface or spread the two pieces around a room to create a cohesive look throughout a space. $2800.
Showplace Antique + Design Center, 40 West 25th Street, 212-633-6063; nyshowplace.com
Opaline Oeuvre
Hailing from France, circa 1920, these blue opaline glass lamps feature a bold color pop, combined with refined detailing to bring the right amount of spark and elegance to your lighting concept. Each lamp holds two light fixtures for maximum glow to play against the rich blue bas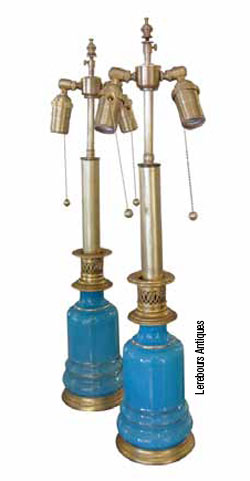 e. $5400.
Lerebours Antiques, 220 East 60th Street, 212-308-2226; lereboursantiques.com
Rare Japanese Plique-a-Jour
From the Meiji Period in Japan, this exceptional and rare globe-styled lamp is decorated intricately in the plique-a-jour (French for "letting the light in") cloisonné style. The fair blue and green glass features exquisitely detailed chrysant
hemums. The blue cloisonné base showcases delicate kiku flowers at the neck and a scrolled wave design that matches flawlessly with the lamp's design. Price upon request. Available at Flying Cranes Antiques (Gallery #55, 56, & 58).
The Manhattan Art & Antiques Center, 1050 Second Avenue, 212-223-4600; flyingcranesantiques.com