With its signature Courtly Check, a symbolic pattern incorporating black and white check, and subtle hints of whimsical color, MacKenzie-Childs has established its place as a frontrunner of inventive, refreshing home décor, and is now enlarging its real estate in their new midtown location on 57th Street.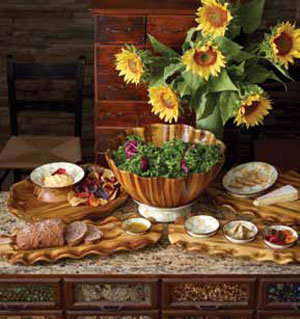 In mid-November, MacKenzie-Childs left its existing location and moved just down the street, trading up to bigger digs to showcase their growing brand. Rebecca Proctor, Creative Director of MacKenzie-Childs, explains the transition: "We've had a wonderful time in the current space," she says, "but [MacKenzie-Childs] was ready for change and something bigger, and we needed more room to tell our story. We love the idea of theatre in retail and [the new store] is a bigger theatre piece. It gives us a little more freedom."
As MacKenzie-Childs switches up their New York flagship, the company is also emphasizing its newest design venture, Parchment Check. It plays off of the success of Courtly Check, but focuses on the intricacies of a delicate, golden cream-colored pattern sans iconic black, while still pulling in an array of classic colors that add to the brand's handiwork technique. Parchment Check is featured on a variety of goods, from serving bowls and tea kettles to photo frames and hanging lamps.
Proctor also noted that MacKenzie-Childs just revealed their largest holiday collection to date, which will be prominently highlighted during the height of the holiday season in the new flagship space. The new MacKenzie-Childs is now open at 20 West 57th Street. For more information, visit mackenzie-childs.com or call 212-570-6050.