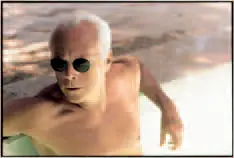 "Vanity Fair: The Portraits" (Abrams, $65). From its start in 1913, Vanity Fair had its eye on celebrities—more precisely, it set the eyes of photographers from Edward Steichen to Annie Leibowitz on icons and trendsetters. Juxtapositions add wit: A bow-tied Rudolph Valentino faces a bare-chested Brad Pitt. Sisters Jackie and Joan Collins, sporting sunglasses and décolletage, are matched with Lillian and Dorothy Gish, demure under an umbrella. Siblings Adele and Fred Astaire look pensive while, on the opposing page, Ashley and Mary-Kate Olsen make silly faces. Group portraits go from President George W. Bush with his war council to 10 curvaceous stars, including Nicole Kidman and Uma Thurman, in clingy clothes. Individually, Kim Basinger and Demi Moore go bare.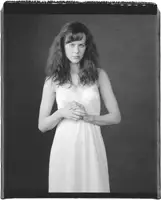 "Seen Behind the Scene: Forty Years of Photographing on Set" by Mary Ellen Mark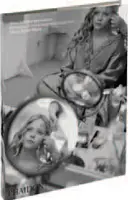 (Phaidon, $59.95). Famed photographer Mary Ellen Mark often roams among street kids and prostitutes. But for the past 40 years, she's also wandered unfettered on more than 100 movie sets, snapping candid shots of stars like Katharine Hepburn and Johnny Depp, and capturing directors like Federico Fellini at work. Besides 250 black and white photos, most never published, the book contains writings by Mark and some of her subjects, including Jeff Bridges, John Irving and Sofia Coppola. phaidon.com.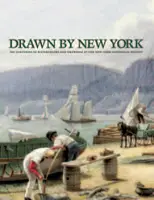 "Drawn By New York: Six Centuries of Watercolors and Drawings at the New-York Historical Society" (Giles, $85). How the city changes: A 1650 view of New Amsterdam (as New York was called then) features sailing vessels and windmills. By 2003, artists Edward Andrew Zega and Bernd H. Dams, asked to celebrate the beauty of Central Park, drew an elegant "Wire Trash Basket." Like many works in this handsome volume, these illustrate the city's transformation from wilderness to urban center. They often "reflect America as it saw itself," curator Roberta J.M. Olson writes in her illuminating text. One poignant panorama shows the World Trade Center under construction. Willem de Kooning, quoted by Olson, called the artists "a team writing American history.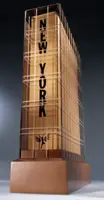 "New York" (Gloria, distributed by Abrams). This giant volume comes encased in a lucite tower, making the volume itself a reminder of soaring New York. Inside are 1,500 images by such famed photographers as Diane Arbus and Alfred Stieglitz, and historical essays by such astute observers as Ric Burns, Tom Wolfe and John Updike. The books include 16" by 20" archival prints: one print in a $2,500 edition, two for $4,500, five for $15,000. A slimmer version in a gold-embossed case, with no archival print, costs $150.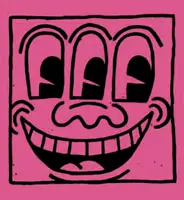 "Keith Haring" (Rizzoli, $100). Don't be fooled by Haring's cartoon style: His drawings are edgy and sometimes naughty, befitting an artist inspired by subway graffiti who often chronicled East Village gay life. Haring writes that he "had to go to New York because that was the only place where I was going to find the intensity that I wanted" in art and life. This comprehensive book contains 600 images (not all from New York) and essays by Jeffrey Deitch, Suzanne Geiss, Julia Gruen and others who knew him.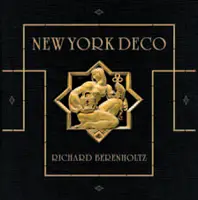 "New York Deco" (Welcome Books, $125). Richard Berenholtz's photographs, whether they zoom in on a figure of Mercury on Rockefeller Center or display the Gotham skyline at sunset, emphasize the streamlined style of New York's deco landmarks, including the Chrysler Building and Empire State Building. Each volume has six four-page foldouts and a signed print. The text, by jazz-age icons like F. Scott Fitzgerald, "infuses the pictures with the astonishing energy of the time," Carol Willis writes in her introduction.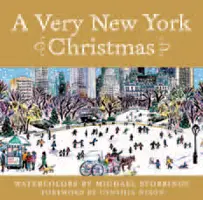 "A Very New York Christmas" (St. Martin's Press, $19.95). Michael Storrings' jewel-tone watercolors depict a joyous New York: skaters whirling in Central Park, holiday-bedecked homes in Brooklyn, dancing penguins in the Bronx Zoo, fireworks exploding over Times Square. In a foreword, actress Cynthia Nixon recalls growing up in a city that "would positively twinkle with magic." Storrings also makes tree ornaments, sold along with his books in Saks, Bergdorf Goodman, Bloomingdale's and other stores.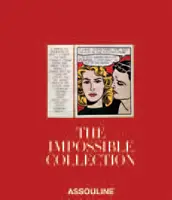 "The Impossible Collection: The 100 Most Coveted Artworks of the Modern Era" (Assouline, $500). Imagine that you have limitless funds and no barriers: This is how you'd dress your walls. It's also a good art history lesson, chosen by Philippe Segalot and Franck Giraud and introduced by Joachim Pissarro, greatgrandson of Camille. It starts with a 1901 self-portrait, "Yo Picasso," and continues chronologically through works by Monet, Matisse, Chagall, Klee and others. Toward the end, steel, Styrofoam and other materials trump oil or watercolor.