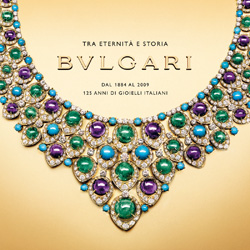 ELIZABETH TAYLOR and Richard Burton made splashy tabloid headlines regularly-what with a steamy affair during the filming of Cleopatra and with two marriages and two divorces-but perhaps some of the more unforgettable comments Burton made about La Taylor involved, not surprisingly, jewelry. Specifically Bulgari jewelry. Burton once quipped, "I introduced Liz to beer, she introduced me to Bulgari." And even more memorable than that remark was Burton's observation that the only Italian Taylor knew was "Bulgari."
Not a bad word to know if you fancy sparkly things. Bulgari's jewelry has been mesmerizing generations of loyal, international devotées-deep-pocketed big spenders, the demimonde, celebs, and debs-for a "mere" 125 years. To mark this momentous anniversary, the company has mounted an astonishing exhibition in Italy (that with luck, will travel around the world) highlighting the art, splendor, and workmanship that are synonymous with the design firm's treasures. Over 500 pieces are on display, many of which have never been on view previously, but have been tucked away in the company's vaults, part of its historical archive.
When patriarch Sotirios Boulgaris (Sotirio Bulgari in Italian), a Greek silversmith, emigrated to Italy, he was looking for opportunity; well, he certainly found it and his heirs have carried on the tradition. The show in Italy is now over, so the next best thing is to buy the wondrous catalogue-a substantial coffee-table tome-which you can also use to perform biceps curls, given its heft.
Between Eternity and History, Bulgari 1884-2009, 125 Years of Italian Jewels is a ravishing volume, and will be available at Rizzoli (31 W. 57th St., 212-387-3400) starting in a few weeks. It is well worth the $80, for the hundreds of pages of pictures and riveting history...because it's not just about bijoux: As Andy Warhol was reported to have said-claiming he visited the Bulgari salon whenever he was in Italy-"it's like visiting the best exhibition of contemporary art." - RJK