Mid-August, 2011: Melbourne-born Rachel Griffiths and her assistant are riding around Los Angeles running lines in preparation for her Broadway debut in Jon Robin Baitz's Other Desert Cities while simultaneously seeking out an auto repair place to "get rid of the dings in my car." Being in multi-task mode, she's also freely sharing her thoughts on the play, her career, and assorted other Rachel factoids with me - roughly 2500 miles away in New York - via cell phone.
Her conversation is peppered with a mix of actorly insecurities and exhilaration about stepping into a high-profile cast, most of whom - Stockard Channing, Stacy Keach, and Thomas Sadoski - originated their roles earlier this year to stunning reviews at Lincoln Center's Mitzi Newhouse Theatre.
"I'm freaking terrified," Griffiths confesses. "Honored, humbled, and terrified. My mission is not to screw it up."
Not even close to a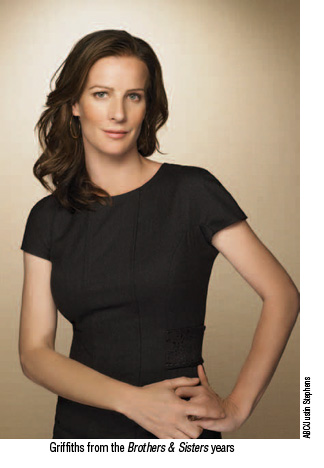 n issue considering her professional track record, starting with raves for her work at the Melbourne and Sydney Theatre Companies in such delectably diverse works as The Sisters Rosensweig, The Grapes of Wrath, The Doll House, and Proof (Best Actress Green Room Award) and overlapping her budding film career, jump-started with her portrayal of Rhonda in Muriel's Wedding (1994) that crystallized with her Oscar-nominated performance in Hilary and Jackie in 1998.
While Griffiths acknowledges she knew she wanted to act when she was "young young," she also admits her stage and screen aspirations weren't all that much of a top priority during her school days. "I got sensible, because I was cursed with being analytical," she says-a trait inherited from a family that includes an art-consultant mother and an uncle who's a Jesuit priest.
"So I learned to put one's childish dreams aside." The upshot was a post-high school year riddled with unhappiness. "Until I decided a life spent only in the library is not worth living," she says.
Her solution was to audition, but just for one school: Victoria College in Melbourne. "I figured if I didn't get in, I'd go off and join a kibbutz in Israel," she says, well aware that her not being Jewish might prove a stumbling block.
But she did get in and graduated in 1990 with a Bachelor in Education degree in drama and dance.
As for winning the adoration of U.S. audiences, that breakthrough came in 2001 when she landed the role of Brenda Chenowith, the recurring love interest of Nate Fisher (Peter Krause) in the hit HBO "dramedy" Six Feet Under (2001-2005). This was followed three years later by ABC's Brothers & Sisters - another acclaimed, borderline cult favorite, in which she played the pivotal role of Sarah Whedon, née Walker until the show closed up shop earlier this year. Both roles netted Griffiths Golden Globe and Emmy nominations.
It was while working on Brothers & Sisters that Griffiths and Baitz, the show's creator, honed a multi-layered relationship that lies somewhere between creative compatibility and Vulcan mind meld.
"The DNA of Brothers & Sisters was always Robbie... his humanity, and his belief in the resilience of the American family," she says, adding that Baitz's ability to create a viable nuclear unit (albeit fictional) which has, even after the series was cancelled, managed to retain a kin-like closeness. "We have phone trees, text each other and generally keep up with what's happening in each other's lives," Griffiths says of her on-screen siblings Calista Flockhart, Dave Annable, Balthazar Getty, and Matthew Rhys, as well as other members of the cast. "We're all terribly close and will be forever."
With Other Desert Cities, Griffiths visceral link to Baitz's familial sensibility is once again positioned to enter high gear. She is, after all, joining the emotionally maimed Wyeth clan as one of two newcomers to the cast: she replaces Elizabeth Marvel in the pivotal role of Brooke, the author daughter on the brink of blowing the Palm Springs roof off her family homestead, while Judith Light takes over the role of Silda Grauman, Brooke's outspoken aunt, played Off-Broadway by Linda Lavin.
"I saw the play at the Mitzi Newhouse during one of those lightning trips to New York. I flew in with my son and we saw Wicked and Billy Elliot together," she says. "And then I went to see Other Desert Cities." She adds, "I walked out with tears in my eyes and laughs in my pocket."
Griffiths' infatuation with the play came full circle when Baitz phoned her several months later. "I asked him if was calling to offer me the Australian rights," she says. "But no, he told me he was thinking about my going into the American production. So I said to my husband, 'Honey do we want to go do Robbie's play in New York?' And he said, 'Hell yes!'
"Of course, we had to go through Joe [Mantello, the director] and then work things out union-wise...but the U.S. is so generous about making things happen for foreign actors - much more so than other countries - so everything came together."
And now that it's a fait accompli, "What could be better? This job, despite the pressure, is the greatest gift ever. Robbie... just the way he has of working with his imagination and the vernacular, well doing this play is like returning to the genesis," says Griffiths, who equates reading Other Desert Cities for the first time with being catapulted "...into the zeitgeist of the moment.
"And to work with Joe, Stacy, Tom, Stockard and Judith...I feel like I'm in a crazy dream... and I'm loving it." n
UNDER THE RADAR:
A Few Random Rachel Asides...
On Acting Influences:
"I'm kind of weird in that the actors that excited me when I was younger were of a certain generation of British actresses that showed no fear - Judy Dench, Vanessa Redgrave, and Maggie Smith - all the ones who didn't think twice about going to the edge, of taking on the danger of the moment."
On Other Desert Cities:
"Someone decribed it as American melodrama delivered wearing a resort collection. Plus it's a nail-biting, psychic thriller-not a dud line, not a dud thought, just elegant. And while it's definitely infused with the feeling of the West [Coast], it is just as cool as New York... only with a different color scheme."
On Two Things She & Her Family Plan On Doing While Living In New York:
"First, the Big Apple Circus: I just love the scale of it and the energy; and second, visiting the High Line. I'm such a fan of architectural innovation so I've been looking forward to going there more than life itself!"
... and a Little Bonus Rachel Trivia
Family Matters:
Married noted Australian artist Andrew Taylor in Melbourne on New Year's Eve 2002.
Their three children are son Banjo Patrick, age 7 (named after the poet Banjo Paterson who wrote the lyrics to "Waltzing Matilda," Australia's unofficial national anthem); Adelaide Rose, age 6; and 2-year-old Clementine Grace.
Acting Awards:
Australian Film Institute Award for Best Supporting Actress in the independent film Beautiful Kate: 2009
Best Actress Award from The Australian Film Institute for her portrayal of Brenda Chenowith in HBO's Six Feet Under: 2006
Proof, leading role of Catherine, Melbourne Theatre Company: Green Room Award for Best Actress: 2002
Film Directing Awards:
Griffiths' first film, Tulip (1999), netted her two Best Short Film awards, from the Toronto Film Festival and the Palm Springs Film Festival.
After completing Roundabout, her second short film, in 2002, she took both the Best Short Film prize from the Australian Film Critics Circle and the Melbourne Film Festival.
To view the pages in pdf form, click here.