Sensational St. Martin
Everyone walks on water at the über-luxe resort, La Samanna, in St. Martin (or in Dutch argot, Sint Maarten, since this island is divided between French and Dutch possession). The astonishing staff walks on water because they are such virtuosi at pre-guessing your whims and wants. And you'll walk on water if you experiment with the resort's latest water-sport fun-gizmo, called Flyboard. (More about this later.)

Baie Longue at La Samanna provides a private, sheltered beach
La Samanna, built in 1973, has recently undergone a far-reaching renovation, and among the changes is the addition of four drop-dead-gorgeous, lavish villas, a second pool, additional dining facilities, and a beach bar and private, Balinese-style, beach cabanas, which are virtually like second homes away from your rooms or suites, replete with showers, towels, lounging sofas, Wi-Fi, fine skincare products, champagne, a loaded iPod, and even TV — where you might just want to watch the Super Bowl kickoff!
If the resort weren't already among the firmament in hotel lore (with passels of international awards to prove it), it certainly would be now, post-renovation.
Strikingly sited on 55 glorious acres on Baie Longue, a crescent of sun-bleached sand and azure, La Samanna is a mere 15 minutes from Marigot, the capital of the French side of the island, and a lure, along with the town of Grand Case, for extraordinary cuisine. Philipsburg, a Mecca for retail, is the capital of the Dutch portion. In between are just over 35 square miles (population just over 75,000) dotted with riots of tropical color, especially in the ever-popular flamboyant flowers (painted opulently by the island's celebrity artist, Sir Roland Richardson), and history—whether Apocrypha or gospel, Christopher Columbus is said to have discovered the island, naming it in honor of Bishop St. Martin of Tours.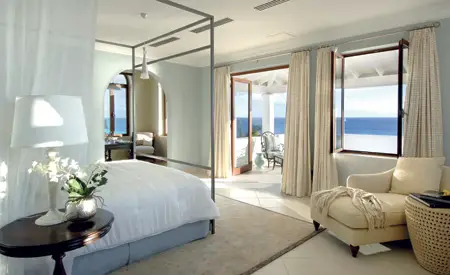 A luxurious bedroom in one of the newly built villas
If you opt to lounge sur la plage, you can punctuate your languid sunbathing with many complimentary water sports, including kayaking, snorkeling, and sailing. (Also available are kite- and wind-surfing, parasailing, fishing, boating, diving, and so on.) There is also a colossal trampoline anchored just off-shore, and it's really entertaining to bounce and splash into the water and then climb back up to do it again. In fact, Spa Finder's Readers' Choice Awards voted La Samanna "Best for Water Sports" in 2009. And that was before the novel walk-on-water Flyboard was introduced to the resort. This amazing "toy" consists of a suit and magical boots anchored to — and propelled by the power of — a jet ski with a sort of umbilical cord uniting ski and human. The propulsion of the power lifts the boots, with you in them, off the water; when you're skilled at it, you'll be able to do acrobatics and fly above Orient Bay, not merely walk on it! I have never seen any water activity that looked more diverting. But, truth in journalism, I was too much of a coward to try it. (My indulgent aquatic activity was the blissful, al fresco, tropical-garden shower in the spa.)
However, I was keen on hopping on board one of La Samanna's motorized crafts to take a short, balmy ride to nearby Pinel Island, where more sun and fun exist, along with a sumptuous, seaside lobster feast at Le Karibuni restaurant.
And that brings us to food: The pinnacle of dining at La Samanna is underground, in La Cave, reserved for private dinners, where extraordinary repasts are savored amidst the 12,000 hand-picked bottles of rare wines. Outdoor dining in Le Réservé is a delightful treat, too; this restaurant has garnered Wine Spectator's 2011 Award of Excellence. I would go back just to eat Chef Vincent Wallez's fresh garden salad, laced with a marinated turnip that simply must be relished to be appreciated.
But then, everything at La Samanna should be treasured. It is a destination for deliberate enjoyment, profound relaxation — one of the Caribbean's ultimate experiences. And it's not too soon — now — to think of your winter getaway. "The best-kept secret of the Caribbean is that in November and early December, when it's gloomy in the Northeast, with shorter, colder days, the weather in the Caribbean is gorgeous and the rates do not reflect it," according to Ed Wetschler, the Caribbean editor at Recommend magazine. "So you get a really good value. Moreover, the longer you wait to book a winter holiday, the less likely you'll be able to nail down premium winter weeks, especially at much-in-demand resorts."
More info: lasamanna.com; stmartinisland.org
---
Agreeable, Unhurried Antigua
Cultivating chili peppers, guava, and mango was once among the mainstays of the economy of the Leeward Caribbean island of Antigua in the West Indies. If you ask me, however, I'd tell you the only thing I want to cultivate here is a dawdling day. Comfortably settled in at the seductive Carlisle Bay resort in a well-appointed ocean-facing suite (with a huge balcony, outfitted with a double-wide lounging chaise-bed), there wasn't much else I craved, other than enjoying the beach and the bay by day and the crackle of the fire pit's bonfire by night. In between, I sandwiched in a little kayaking in the tranquil mangroves and snorkeling among the vibrant fish. (There is also opportunity for scuba, deep-sea fishing, and a jaunt on a Hobi cat for a picnic on a nearby isle.)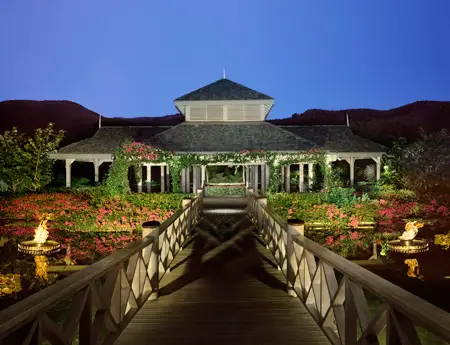 The beckoning entryway to Carlisle Bay's nirvana

Yes, there is the verdant rainforest to explore with its lush vegetation; another outing, traversing Antigua's most picturesque route, Fig Tree Drive, as it snakes its way through the volcanic hills, will reward with vistas of steep farmland groves of coconuts and bananas as well as old sugar mills and quaint churches. Indian Town National Park at the eastern tip of the island is another attraction worth a detour.
With a population of just over 80,000, Antigua is 108 square miles, a limestone and coral paradise with countless bays and over 350 silvery-white beaches bordering sapphire waters. Throw a stone in any direction, and you'll hit Montserrat, Guadeloupe, Nevis, St. Kitts, St. Barts, and St. Martin; the sister island of Barbuda lies 27 miles northeast.

Antigua's annual regatta is a colorful and exciting event. Photo: Antigua and Barbuda Department of Tourism

On Antigua, explore the two main "metropolises": The capital, St. John in the northwest, where the island's history surfaces, most notably in the snowy-white, baroque towers of St. John's Cathedral, built in 1845. For additional distraction in town, there is also the Museum of Antigua and Barbuda and the Museum of Marine Art. English Harbour, with Nelson's (as in Horatio) Dockyard National Park, features the only Georgian dockyard in the world. And for a panoramic view of the island, drive up to Shirley Heights; go on a Sunday, when there is authentic, flavorful BBQ, devious rum punch — that will pack another kind of punch later!—and local entertainment. English Harbour and nearby Falmouth are internationally renowned as yachting and sailing destinations; the highlight of Antigua's annual spring Sailing Week is the nearly 50-year-old regatta, which brings together more than 100 yachts from over 35 countries.
But enough sightseeing. Hurry back to the 17-acre resort so you can do...well, nothing. The most compelling enticements at the beach, to my mind, are the hammocks anchored in the snowy sand; adjacent to every chaise is a small cooler, stocked with frosty water, so you never have to think about hydrating. After a day or two of this relaxed lifestyle, you'll understand why the likes of Giorgio Armani, Eric Clapton, Timothy Dalton, and Ken Follett (among the many bold-faced names) have all chosen Antigua for their second (in some cases third or fourth) manse.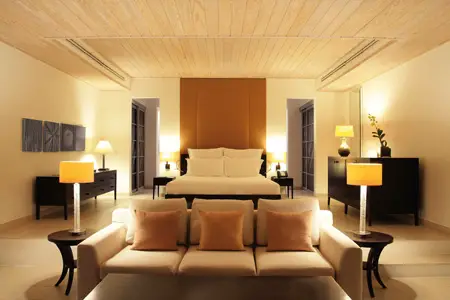 A stunning Ocean Suite accommodation at the resort

Carlisle Bay, a Campbell Gray hotel and a member of the Leading Hotels of the World, is nestled on the south coast of Antigua (pronounce it like a native with a hard g, not with a "gw" sound). So well thought out is the resort, that it even boasts a private, 45-seat screening room, which probably gets a major workout during high season for the Academy Awards (toasty popcorn and munchies included). For families, Carlisle Bay provides engaging activities for the six-months-to-under-twelve crowd at the Cool Kids Club, with a wide range of entertaining classes, including mocktail- and pizza-making. There are even four mini tennis courts.
For grownups, there are nine tennis courts (one grass), four flood-lit at night. Tennis pro Gloucester St. Ville will give you a workout you'll never forget. Daily yoga in the serene outdoor exercise pavilion is a must for pre-breakfast, and for post-beach, visit the Blue Spa (voted Best International Spa in Condé Nast Traveler's Readers' Choice Awards, 2013). The library is well stocked with enticing coffee-table volumes and page-turning beach-reads, and there is a computer room, should you feel the need for something bigger than your iPad.
As for the highlight of the day, dining is it! The resort's Indigo on the Beach serves up a marvelous breakfast — do not miss the sambal omlette — and later on, grilled seafood and fresh-as-can-be salads. At the pool, there is the Italian favorite, Ottimo!, with its wood-burning pizza and oven homemade pastas. But it is East — the Japanese, Thai, and Indonesian restaurant — that will seduce your taste buds. Sushi, sashimi, and Balinese specialties also dot this remarkably diverse menu. And if you're just too sated to do much else, head home to your balmy digs, where you can cap off the evening with a cup of espresso or cappuccino, since each room is equipped with its own Gaggia machine. They have, indeed, thought of everything here.
More info: carlisle-bay.com; antigua-barbuda.org