While offering a feast of photographic portraits-displayed in the exhibit Cecil Beaton: The New York Years, at the Museum of the City of New York-of Greta Garbo, Cole Porter, the Duke and Duchess of Windsor, Mick Jagger, Marilyn Monroe, Truman Capote, Cole Porter and all manner of fabled glitterati, what unexpe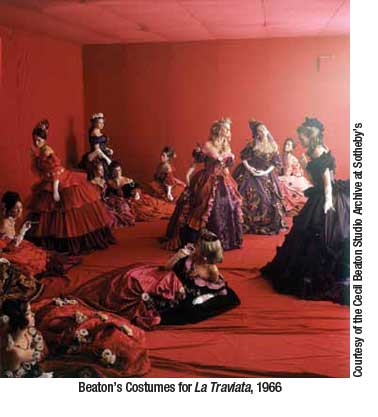 ctedly stands out is the way Beaton's myriad creative roads veer towards the theatrical. So while the show is rich with photographs and artifacts culled from Beaton's Manhattan heyday-the Jazz Age through the 1980s-it also dips liberally into the intriguing range of scenic and costume sketch designs that earmark his portfolio of work for the New York stage.
According to Donald Albrecht, Curator of Architecture and Design at the Museum and the creative force field behind the exhibition, when Beaton was shooting fashion-mostly for Vogue from the 1930s through 1950-"he always injected a layer of theatricality." Conversely, adds Albrecht, "If Beaton was photographing theatrical costumes, his fashion sensibility never failed to come through."
Which is why, one assumes, Albrecht positioned Beaton's actual costumes from the Metropolitan Opera's productions of La Traviata (1966) and Turandot (1961) in the center of main gallery, to serve as the exhibit's centerpiece.
Theatre lovers, however, will no doubt gravitate to the area behind these silk-and-velvet wonders-the back wall showcasing Beaton's ink-and-watercolor drawings and production photos for everything from Swan Lake at the New York City Ballet to Bro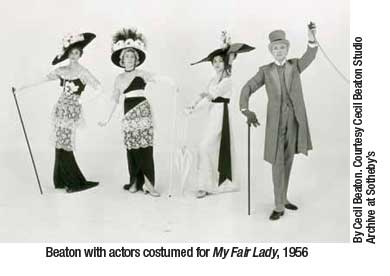 adway's original 1956 My Fair Lady with Rex Harrison and Julie Andrews, to a short video offering a costume parade from the film version starring Audrey Hepburn. And speaking of Hepburns, Katharine, too, is well represented in a series of studio shots and contact sheets from the 1969 Beaton-designed Broadway production of Coco. Even more vintage: a priceless souvenir program coupled with photos from the 1946 American production of Lady Windermere's Fan.
Also included in the retrospective: quotes from "C.B." and Albrecht's erudite commentaries providing personal insights into Beaton's relationships with his subjects, his art, and his own formidable ego. And do take everything in, including the hallway vista leading to the exhibit featuring oversized Beaton-inspired drawings (interpreted by New York-based artist Milree Hughes), several "prelude" photographs, and a stunning "end wall" papered in one of Beaton's own designs.
[ the book ]
The exhibit is accompanied by Donald Albrecht's breathtaking companion book, available at the Museum Shop. Also entitled Cecil Beaton: The New York Years, it features 200 images and illuminating insight into the British-born photographer's life in the Big Apple and his amazing roster of friends, acquaintances and subjects. [Published by Skira Rizzoli; hardcover only; $65].
The Museum of the City of New York
1220 Fifth Ave. (103rd St.), 212-534-1672; mcny.org