"She looks fabulous," a stranger whispered in my ear as he exited the closed-off room at the historic Friars Club where Lily Rabe and Richard Thomas were sequestered prior taking the podium to announce the Annual Outer Critics Circle Awards nominees.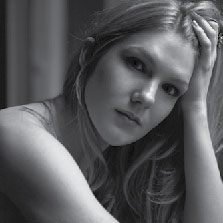 It was Monday morning, April 23rd, which is significant because: A) Rabe had arrived early and, after one or two drawn-out delays (inevitable at these events), did indeed emerge looking quite fabulous in a free-flowing Botticelli hair sort of way; B) it was the first day of As You Like It rehearsals, set to include Steve Martin and his bluegrass posse playing a sampling of what Rabe calls the "feel-good music" he'd written for the production; and C) all of this took place in the middle of a spring that, weather-wise, was, to put it kindly, fickle.
I mention the latter because when Rabe and I finally spoke we were both in the throes of loathsome seasonal colds, meaning our in-person meeting was switched to a phone interview that began with her telling me how much she hoped "the worst of it" was over so she could get back to rehearsin
g with director Daniel Sullivan.
"It's no secret he's a great director and genius," she says of Sullivan, who had never seen her do Shakespeare prior to their working together on Merchant in 2010, but felt compelled to cast her as Portia because he instinctively knew she was perfect for the role.
"What I especially love about him is this wonderful shorthand we have when we're working together… sort of our own language, which is tremendously comforting, especially during the first month of rehearsals when I find it hard to hold onto my thoughts and tend to get terribly tongue-tied." But with Sullivan, no matter how discombobulated her words come out ("I'm the queen of fragments," Rabe confesses), she knows he's getting it. "It's so wonderful to have someone on your side like that, someone who makes you feel safe and brings out the best in you."
Sullivan has set the Delacorte production of As You Like It in America's rural south during the 19th century – a lovely fit for the storyline and characters, including Rabe's spirited Rosalind who, for the majority of the play, goes undercover in the guise of young man named Ganymede. ("It helps that I'm tall," she says.)
Compared to Portia's male persona in Merchant, a resolute courtroom lawyer who delivers the play's famous "Quality of Mercy" monologue, Rosalind's "breeches role" is a cross-dressing romp that has her trotting about Arden forest on a romantic fact-finding mission. Notes Rabe, "I've done a lot of tragedies so it's great getting to do a play that is so deeply full of joy for everyone."
Family Ties
"I had two amazing parents," says Rabe of her famous playwright father, David Rabe, and celebrated actress mother, Jill Clayburgh. "Both of them were incredibly passionate, focused, and driven artists," she continues, recalling what it was like growing up in a home where "…the arts were always around us; they were the language we spoke around the dinner t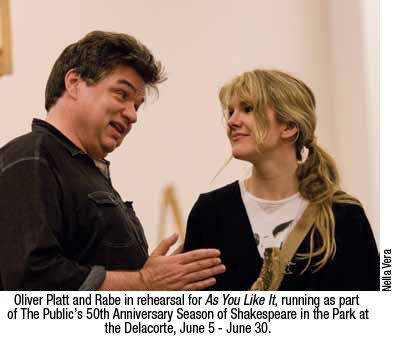 able. And I took it all in – I was such a sponge as a child."
Yet, even though her mother and father had incredibly productive, busy lives, what Rabe remembers most fondly is the great love they had for her and her brothers. "As focused as they were on their work, they were always there for us—helping with homework, driving my brother to soccer and me to ballet—they gave us a wonderful childhood."
While much has been written about her loss of her mother in November of 2010 to leukemia (Rabe was in Broadway previews for Merchant at the time), more than a year and a half later she prefers to steer her reminiscences to the "inseparable" relationship she had with Clayburgh, not the least of which being their shared loopiness: "My mother and I had a total giggling problem. Countless times I remember having to leave a public place with her [because we were] convulsing with laughter."
Similarly, when talking about her siblings—older half-brother, musician Jason Rabe, and younger brother Michael Rabe—she gravitates to the hilarity: "The two of them are the funniest. They would tortuously tease me all the time because they knew it would make me laugh."
And then there's her Tony-winning dad, whose prolific theatrical legacy [Streamers, HurlyBurly, In the Boom-Boom Room, Sticks and Bones, et al.] is still expanding with his latest play, An Early History of Fire, having had its world premiere Off-Broadway this past May. It was this work, incidentally, that was to have marked the first official collaboration between playwright father and actress daughter. Unfortunately, scheduling issues—including Rabe's longtime commitment to As You Like It—took over and the show went forward with another actress in the role written for her.
"Yet as heartbreaking as it was for me to let it go, we both felt it was important for it to be seen," she says. Still, they haven't given up on one day doing a project together. "We're always looking to find that right thing," she says, "throwing ideas around and so forth."
Savoring the Bi-Coastal Life
Rabe's last Broadway venture—which ended for her on April 1st—was Theresa Rebeck's black comedy Seminar, in which she played Kate, a novice novelist who, along with three other aspiring young authors, signs up for private writing classes with a world famous, jugular-lacerating literary figure played by Alan Rickman. Her other costars in the five-character cast were Jerry O'Connell, Hamish Linklater, and Hettienne Park.
"We all bonded very quickly," she says, still awed by the show's 90-minute running time that had the group out and hanging out at their favorite watering hole by 9pm every night. "Everything about that show just flew by, with everything from my first rehearsal to last performance being over in about seven months."
Even her pre-show preparation was a walk in the park. "I was wearing jeans and a ponytail and doing my make-up in like five minutes," she marvels—definitely a far cry from her run in Shaw's Heartbreak House, the lavish period production she costarred in on Broadway in 2006.
As laid back as Seminar was, it overlapped with filming the brilliant supernatural cult series, American Horror Story, in which she played the ghost of Nora Montgomery, who died in 1926. To make everything work, she would fly out of New York after the Sunday matinee, shoot in Los Angeles on Monday, and return in time for the Tuesday night performance.
"I don't mind going back and forth in the least; in fact, I head back to LA to film the new season right after finishing As You Like It," Rabe concludes. "I'm such a New Yorker but I love being in LA—my brothers are both there and I have so many friends on the West Coast. And being able to work in both cities—always with such amazing people—is truly an embarrassment of riches."
Random Rabean Observations...

Lily graduated from Northwestern University in 2004.

She made her professional stage debut alongside her mother in Speaking Well of the Dead by Israel Horovitz at Massachusetts' Gloucester Stage Company.

Her first roommate when she moved to New York to pursue her acting career was her mother, whom she recalls being very forgiving of things like her being late with the rent or failing to unload the dishwasher. "What can I say, she loved me unconditionally."

She is one of her father's biggest fans, describing his scripts as "profound, devastating, and funny" and his use of language as "beautiful and specific and complicated."

Her Broadway debut came in 2005's all-female Steel Magnolias, alongside a cast of stage and screen stars that included Delta Burke, Christine Ebersole, Marsha Mason, and Frances Sternhagen. The production, in which Rabe played Annellle (Daryl Hannah's part in the film version), was her first professional acting job after graduating college. "Here I was with all these generations of dynamic, strong, and incredibly funny women who could have treated me like the annoying little kid sister, but I never felt that way, even for a second. They were wonderful to me."

Her first major film (in which she played the minor role of "Tess") was the 2001 romantic comedy Never Again, starring her mother and Jeffrey Tambor.

In her most recent film—2012's Beyond Redemption (currently in post-production)—she plays the lead role of Anna; also in the cast is one of her Seminar costars, Hamish Linklater.

While she has made several films over the past 11 years, her guest television credits during that period are also impressive and include all three Law & Orders, Nip/Tuck, Saving Grace, The Good Wife, and a Medium two-parter with Anjelica Houston.

The mastermind behind American Horror Story, Ryan Murphy, created the role of Nora for Lily after seeing her in the Nip/Tuck episode.

And for fans of American Horror Story a news flash: In the new season, Rabe will be playing a different role, but you'll have to tune in to see who—or what—it will be.