Should you happen to be a friend, critic, close acquaintance, or family member of Richard Schiff, here's a tip: DO NOT tell him in advance when you plan on going to see him in Glengarry G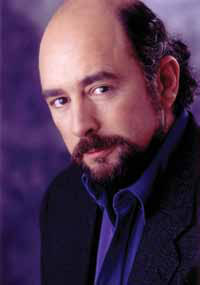 len Ross at Broadway's Schoenfeld Theatre. Better you should opt for a post-performance ambush backstage, as the Emmy-winning actor has a pronounced aversion to even a hint of audience disclosure before the final curtain.
"I don't want to know who's out there—I much prefer to say afterwards, 'It's so cool you came,'" he says.
In Schiff's case, this is not so much shyness as it is personal preference—a recurring theme throughout his career as well as his life, even when the subject turns to what inspired him to go into acting in the first place.
Early On…
"All along, I really just followed a curiosity. When I'd see a movie or a play when I was young, they would take me on a kind of journey, and now and then the path would move me to do something proactive," he says, adding that the curiosity aspect led to his "sort of fall into the City College of New York, where I was lucky to be invited into the acting program."
After graduating in 1983, Schiff landed his first professional job: the role of Lyle Britten in James Baldwin's Blues for Mr. Charlie. "It was at the Masonic Temple in Fort Greene [Brooklyn] and I was paid 35 bucks a shot," he recalls. Still, his performance received notice from a number of New York theatre groups—attention that, oddly, managed to dull his passion for appearing on stage. "I guess I felt it was too high a mountain to climb every night. I didn't act again for 10 years."
In lieu of performing, he founded Off-Broadway's Manhattan Repertory Theatre, where he served as the company's artistic director, successfully directing and producing until the politics of running things began to disillusion him and he slowly considered drifting back to acting. But not without coercion from his instructor at the time, celebrated New York drama teacher Bill Esper.
"He insisted everyone get up and work in every c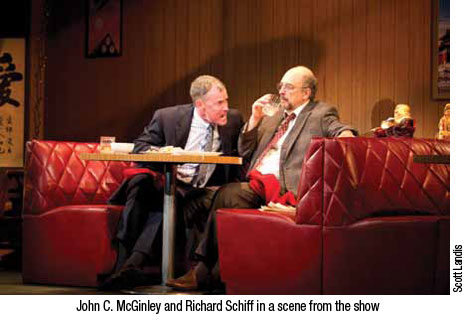 lass," Schiff says. "It was nerve-wracking for me. I lived in terror for two years, until Esper challenged me to do a Shaw one-act and for the first time I committed to every aspect of the performance." His hallelujah moment? "When I realized I finally, completely, got it."
This led to a series of Off-Broadway roles but no agent, so in 1988, in the aftermath of a divorce, he headed to Los Angeles. And it was there he found himself taking part in the first table read of Glengarry (the film) with Al Pacino as Ricky Roma. The role Schiff read was David Moss, which eventually went to Ed Harris. Nevertheless, he made an impression: a chance encounter with Pacino and producer Harold Becker led to a key role in the 1996 Pacino mpvie City Hall.
Reluctant Breakthrough: The West Wing
A couple of years later, when he was offered the part of White House Communications Director Toby Ziegler in Aaron Sorkin's politically heady new series The West Wing, "My dominant feeling was, 'This is great'—but how long can you play one role? My film career was upwardly mobile at that time so I had mixed feelings about taking on Toby… but obviously it was something I couldn't turn down."
The show's scripts, in particular, proved especially seductive to an actor of Schiff's artistic leanings. "The material elicits Odets, Sturges, Capra, and Shakespeare all at once, so as an actor you're always reaching… and challenged to bring your best. It's exhausting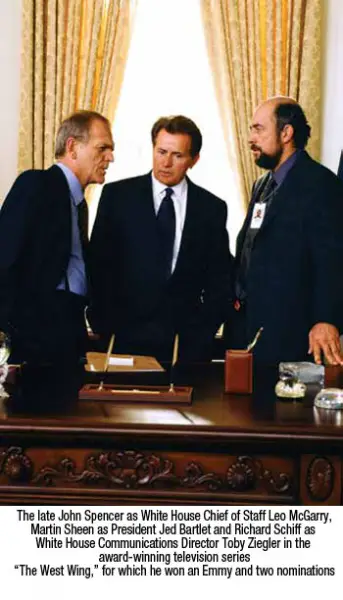 and exhilarating." As for his overall tenure with the groundbreaking series, he says he now realizes how very special the experience was. "It will never be replicated."
Homecoming: New York, Pacino… Glengarry
Fast forward to present day and his return to New York to start work on Glengarry. After years on the West Coast, he admits to having no real emotional ties to La La Land, viewing it as a rather relentless cul-de-sac of show biz banter. He credits taking up golf with the preservation of his sanity out west.
"I just prefer New York and getting that sense of city, even if does mean a tiny apartment," Schiff says. In fact, as soon as he arrived in Manhattan he got a bike off of craigslist so he could ride to work and troll the city at his own pace. "Since we've been here I've seen plays, films, and interacted with people not in show business. And when I talk to people in the coffee shop it isn't about what I do for a living."
Which is not say he isn't having the time of his life in Glengarry, playing the role of George Aaronow, a mild-mannered real-estate salesman on the downturn who runs the risk of being steamrolled by his fast-talking colleagues. "My character isn't as colorful as the others," states Schiff. "He comes across as though he might be a little lost, like he's in the wrong play. So as a character he was hard to find because he doesn't tell you what he's thinking."
And of course, there's the fun of sharing a project with Pacino, who Schiff calls "a walking funny museum," something that audiences have picked up on over the years in the clownish aspects he's brought to a number of roles. "He loves actors and what he does… something I'm just getting to myself."
And if he's just coming around, it doesn't hurt that he has great respect for every one of his fellow cast members. "I'm working with this amazing bunch of guys," he concludes. "This level of quality in a single cast… unbelievable."
SCHIFF EXTRAS
Did you know that Richard Schiff…
…was born in Bethesda, Maryland on May 27, 1955 and grew up in New York.
…attended Bronx High School of Science in New York but left to drive a cab so he could start college early (he took night classes at Washington Irving High School).
…in addition to winning the Primetime Emmy for Outstanding Supporting Actor in a Drama Series for The West Wing in 2000, also shared two Outstanding Performance by an Ensemble Emmys for the show in 2001 and 2002.
…is a recipient of the "Townsend Harris" medal for post-graduate achievement from the City College of New York (an award also bestowed on James Cagney, Paddy Chayefsky and Zero Mostel, as well as 11 Nobel Laureates).
…attended the White House Correspondent's Association Dinner in D.C. in May, 2010.
…received a Peace Award from the Coalition for a Livable World.
…has contributed to The Independent in London, his specialty being U.S. politics.
…has costarred in over 50 films including Stephen Spielberg's The Lost World: Jurassic Park, Spike Lee's Malcolm X, David Fincher's Seven, and Danny DeVito's Hoffa.
…will be seen playing Dr. Emil Hamilton this coming June in the latest Superman flick, Man of Steel, directed by Zack Snyder.
…and wife Sheila Kelley have been married since 1996 and have two children, Ruby and Gus.