Google "Boyd Gaines" and the usual sources for professional actors – IMDb, IBDb, and Wikipedia – are front and center with his date and place of birth (May 11, 1953; Atlanta, Georgia), spouse (Kathleen McNenny), and a rundown of his unrivaled Tony Award status as the only actor to: a) have won in three different categories; and b) to have been nominated in all four acting categories. Still, aside from a fairly comprehensive laundry list of credits, Gaines' remains a bit of mystery – except, of course, to his fans and colleagues, who know an actor's actor when they see one and would not dream of missing one of his performances.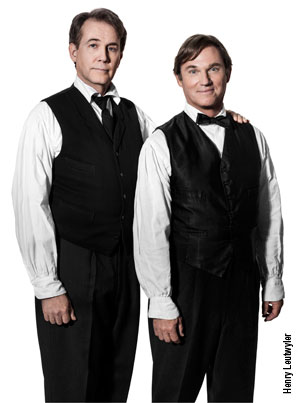 Apparently he considers his ability to fly just under the celebrity radar a good thing. "I can have a life offstage—I can ride the subway and not be recognized," he says.
This certainly cannot be said about the gallery of high-profile actors he's costarred with in recent years: James Earl Jones, Vanessa Redgrave, Patti LuPone, Claire Danes, Hugh Dancy, and, most recently, John Lithgow in The Columnist.
And while he loves the challenge of working with big-name stars, he's even more pleased with the eclectic trajectory his career has taken since he landed his first Off-Broadway role in 1978 (Melchior in the play Spring Awakening). "I feel I've been incredibly lucky when it comes to how people have thought of me in terms of casting," he says, using the freedom he was given by Contact creators Susan Stroman and John Weidman as an example. "They allowed me to have some creative impact as to how my role was put together," he recalls, admitting that that sort of input was invaluable in a choreography-driven musical where his contribution relied more on acting and character than outright dancing.
He was amazing in She Loves Me in the mid '90s, performing with an intelligence and grace that seemed effortless. Since then his many roles – including his TV and film work – have cut a wide swath of diversity that has been incredible to take in. When asked how he approaches the parts he plays, he says, "Everything is based on the text and detective work: what the author intends; what the character wants. As an actor, I'm always looking for inroads."
Which brings us to his current role – Dr. Thomas Stockmann – in Rebecca Lenkiewicz's vibrant new version of Ibsen's An Enemy of the Peop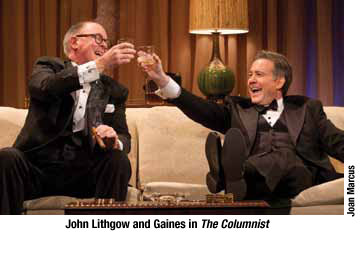 le, mounted by Manhattan Theatre Club. During the course of the play, Stockmann emerges as a vilified pariah within a community in denial about his findings that the baths – the town's main source of revenue – are dangerously toxic.
"Exploring the character, I came to the conclusion that the guy is quite brilliant, but naïve – almost childlike – when it comes to the workings of politics and society," he says, citing Ibsen as his favorite playwright "as a youth," although his admiration came largely from reading. "There were so few opportunities to see, or perform, his plays at the time."
This production, no doubt, is making up for any disappointments he experienced back then by giving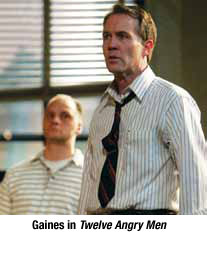 him a chance to sink his teeth into one of literature's most challenging roles, while acting alongside McNenny (who plays his wife, Catherine, in the play) and Richard Thomas (as his brother and the town's mayor), whom he's known socially ("We have an enormous number of mutual friends") but never acted with before.
In addition, Gaines is totally impressed by Lenkiewicz's new adaptation, which almost defies the play's staid reputation, regardless of the version. "This one is livelier than, say, Arthur Miller's 1950 version – there's humor, and even though it remains topical and on point, you don't feel you're watching it because it's 'good for you,'" he concludes. "I think this production will be a fun ride."
Gaines Insight: Nostalgia, Trivia & Whatnot

Unlike some parents, who question their kids' desire to go into acting, Gaines' parents were highly supportive, their mantra being, "Do what you love."

Wayback Machine Alert: From 1981 to 1984, Gaines played Mark Royer, Valerie Bertinelli's boyfriend/husband on the long-running sitcom One Day at a Time.

He first met wife Kathleen McNenny in 1991 on the set of the mini-series A Woman Named Jackie: she played Ethel Kennedy while Gaines played Yusha Auchincloss, Jackie's stepfather. [Notably, Gaines says the two didn't get to really know each other until a year later, while doing in A Comedy of Errors at the Delacorte.]

His career training was bi-coastal: Juilliard in Manhattan and the Pacific Conservatory for the Performing Arts in Santa Maria, California.

Gaines's Tony awards are for: Best Featured Actor in a Play (1989's The Heidi Chronicles); Best Actor in a Musical (1994's She Loves Me); Best Featured Actor in a Musical (2000's Contact and 2008's Gypsy). His fifth nomination was for Best Actor in a Play for 2007's Journey's End.

His little-known nickname is "Bird."

Gaines is officially six feet tall, but feels obligated to add the caveat: "On a good day, with the wind behind me."