Inspired by similar green spaces in London and Paris, Central Park first began as a pet project by wealthy Americans to advance the country's standing abroad in 1853. Six years later, the park opened to the public. Over time, playgrounds and other attractions were added to the park, with the ever-popular zoo debuting in 1871. Today, the United States' first landscaped public park attracts 38 million visitors annually, and some of Manhattan's most sought-after real estate overlooks its 843 acres. Here are two luxury properties that view this spectacular site.
The Time Warner Experience

On the city's Upper West Side, Time Warner Center offers a variety of luxury condominiums known for floor-to-ceiling windows that spoil residents with vast Central Park views in all directions, as well as the Hudson River and New York City skyline. The so-called trophy building sits at 25 Columbus Circle placing theatergoers five minutes from operas like Rigoletto at Lincoln Center and shoppers ten minutes from Valentino's evening gowns at Bergdorf Goodman. Those who would prefer not to leave the building have access to the Shops at Columbus Circle on the fourth floor concourse, where they can find luxury items from stores such as Coach and Tumi and gourmet products at Godiva and Whole Foods.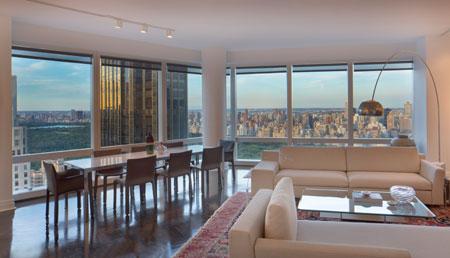 An open layout on the 63rd floor allows residence to enjoy expansive views of Central Park, the Hudson River and the Manhattan skyline from the living room and master bedroom
"Time Warner offers a lifestyle that is close to perfection if you can get it," says Sybille Novack, a Senior Vice President and Associate Broker with Sotheby's International Realty. "I tell people it is the most East/West Side location you can get. It is very special."
Sometimes referred to using its One Central Park address, the building's South Tower boasts a private lobby. Homeowners also have access to the facilities at the wonderful Mandarin Oriental next door. The hotel's many amenities include a concierge, maid and turndown service, a valet, the park-facing state-of-the-art fitness center and a spa. Each buyer has the option to customize the amenities package and avoid paying for superfluous perks. On-site in the South Tower's Club 51, residents enjoy an exclusive home-theater screening room, a massage room with shower, a professional chef's kitchen and dining room and a garden terrace with a spectacular view of the Hudson River.
"I don't think there is any other building with so many add-ons," Novack says. "You are spoiled in this building, and you decide to what degree."

Opulent Homes in the South Tower
Nearly two decades old, the Time Warner Center condominiums continue to look brand new. Classic architecture keeps the building from looking outdated. Maintaining the high-quality construction is a top priority, and the same attention to detail is reflected inside.
"The building has everything from a $7 million pied-à-terre to someone's $85 million private castle," Novack says. "Before I show a home, I always come to the lobby early to get a feel for how people in the building conduct themselves. This is a crowd that appreciates quality and is willing to pay for it."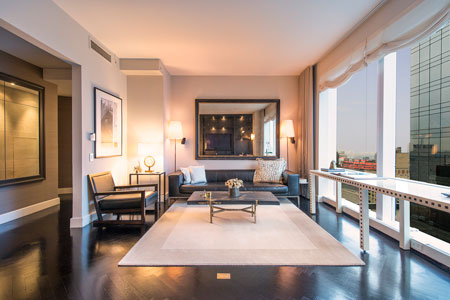 The residence at 52G offers plenty of wall space for art collectors to display their favorite pieces in the living room and bedroom, alongside windows that let in tons of natural light and a breathtaking view
The residence at 52G in the South Tower offers one affluent example of an ideal second home for international travelers or an intimate space for born-and-bred New Yorkers who prefer the convenience of hotel-style living. For $6.65 million, the newly renovated four-and-a-half room space includes two bedrooms and two-and-a-half marble baths. Perfect for storing extensive shoe collections and designer apparel, the space has five closets in addition to a walk-in closet off the master bedroom. Custom, built-in window treatments let in tons of natural life. Flat-screen televisions and an upgraded sound system allow for maximum entertainment. The building's fully equipped kitchens contain Varenna cabinetry, dual Miele ovens, wine storage and Sub-Zeros.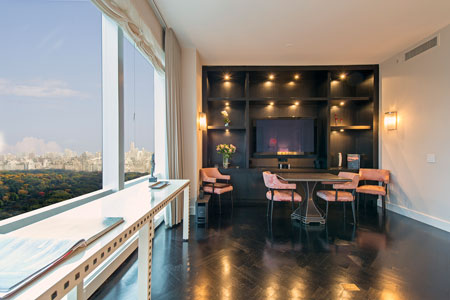 For those who desire a more lavish space for weekend entertaining, look no further than the condominium 11 floors up at 63A. This $21.5 million property spans six rooms with three bedrooms and three-and-a-half marble baths. At more than 2,600 square feet, the home has an expansive master bedroom suite, a 600-square-foot great room and a gourmet eat-in kitchen with hardwood floors throughout. The 10-foot ceilings are a signature Time Warner feature, and floor-to-ceiling windows showcase East, North and South Central Park views.