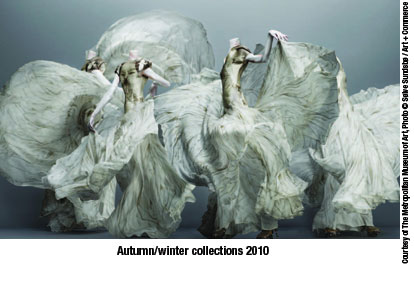 Mud, razor clam shells, glass medical slides, balsa wood, contoured leather, resin antlers. These are all materials used in garments-yes, clothing, and couture fashions, at that-designed by the late Lee Alexander McQueen. On view at the Metropolitan Museum of Art's Costume Institute, the show that lauds him, Alexander McQueen: Savage Beauty, chronicles and deconstructs-much as he, the maestro, did, with a needle, a pair of shears, and a bolt of cloth-his far-too-short-lived career; McQueen died at 40. Featuring over 100 garments and 70 accessories, and accented by carefully selected quotes and anecdotes from the designer's 19 years in the field, the exhibition is a window into the soul, mind, and dazzling genius of this British-born craftsman and fashion visionary.
The youngest of six children, McQueen left school in his teens and apprenticed in London's legendary Savile Row, home to arguably the world's most gifted in the haberdashery arts. This experience taught him the finer points of exquisite tailoring; he was later to note when he created bizarrely and intricately deconstructed garments, "I spent a long time learning how to construct clothes, which is important to do before you can deconstruct them." McQueen moved on to work for a theatrical costumer, and it was here that he developed an even keener knowledge of how to "build" clothes, embellish them opulently, and create startling garments that are head-turners-no opera glasses would be needed to appreciate the theatricality of his larger-than-life apparel. This led to a year as an assistant to Milanese fashion designer Romeo Gigli, himself a majordomo of the grand, the glorious, the glamorous. It was at this point the die (or should one say dye) was cast, and McQueen returned to London, entering the venerated Central Saint Martins College of Art & Design (among whose esteemed alumni are boldface names like Bruce Oldfield, Zac Posen, and Alice Temperley), ultimately leaving with a masters degree in fashion design.
And design he did. McQueen's genius is apparent in the very first room of the Met's exhibit. The lights are dim, the mood is somber, and the designs are seemingly sober until, upon closer inspection, the viewer realizes that this is a grouping of highly deconstruc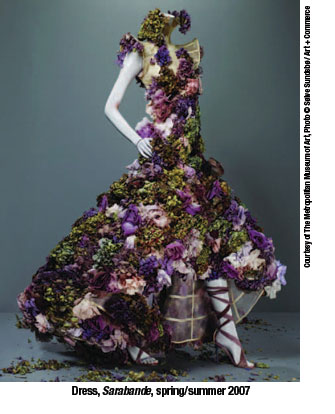 ted garments-traditional clothing, but realized with a twist on a conventional pattern. "You've got to know the rules to break them. That's what I'm here for, to demolish the rules but to keep the tradition," the designer said, and it's clear in this chamber that he is quite familiar with the means to fracture those guidelines. The gunmetal-gray, steely, smoky, and black jackets, coats, and dresses are all a tribute to the accomplished hand that knows how to produce detailed, punctilious tailoring. But look at the asymmetric collars and lapels, akimbo coat tails, and oddly placed buttons; there is the celebrated, three-point origami frockcoat and those legendary "bumster" trousers that ride so low, as to expose, well, a bit of the bum. Here is an agglomeration of not only McQueen's graduation thesis collection, but also many of his earliest efforts, all striking in their iconoclastic deconstruction, and some quite startling, from the enigmatically named Nihilism, Jack the Ripper Stalks His Victims, and the Highland Rape collections. The music accompanying this presentation, Tony Hymas' Ascent of Intrigue, is a brooding, classical piece with a pulsating, portentous heartbeat, hinting of things to come, perhaps.
The second and third rooms fulfill this promise, and they are aptly dubbed Romantic Gothic and the Cabinet of Curiosities. Here McQueen draws on the Victorian Gothic, which combines elements of horror and romance. These collections often reflect paradoxical elements, such as life and death, lightness and darkness. "I oscillate between life and death, happiness and sadness, good and evil," he said. The second chamber presents a masterful display, with the walls lined in oversize, patinaed mirrors, embellished with murky, marbled gilding. The shadowy lighting and the background music, Mekon Disco Bloodbath, both contribute to the eerie and ominous ambience. The mostly ebony clothing is exciting and shocking at once. Constructed from leather, fleece, cashmere, parachute silk, silk faille, chiffon, organza, taffeta, tulle, and mesh, almost every garment is somehow emblazoned or embroidered with some other texture-fox, horsehair, pheasant and duck feathers, metals, and the most luminous jet beading. "People find my things sometimes aggressive. But I don't see it as aggressive. I see it as romantic, dealing with a dark side of personality."
Playful elements of McQueen's personality are abundantly apparent in the third installation, where the walls are lined with dozens of fantabulous accessories, each housed in a jet-black cubbyhole, part of an imposing architectural grid. There is an assault on the senses-with video above, below, all around, a tape of techno-speak in the background, and a plethora of merchandise to drink in. Here one can view McQueen's collaborations with accessory designers like the famed milliner Philip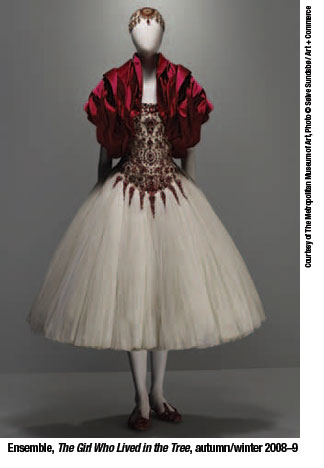 Treacy (who designed hats and fascinators for 100 guests at the recent Royal Wedding) and the jeweler Shaun Leane. There are "body bracelets," and marvelous shoes (not meant for walking, clearly), restrictive but elegant corsets, astonishing hats; the "Butterfly" chapeau appears to be a swarm of poppy and black wings, but in reality, each is carved from a turkey feather. There is an oversize egg pocketbook (created like a Fabergé jewel), an aluminum corset, an etched-glass headpiece, and a dress of black duck feathers. The multimedia video installation shows McQueen's spring/summer 2005 runway show entitled "It's Only a Game," featuring a life-size chess board, with models hopping around it. Although McQueen had established his own brand, he was also, from 1996 until 2001, the chief designer of the couture house of Givenchy, succeeding John Galliano, and in this room there are many designs that are the result of his collaborations with other designers during those years.
By this time, the viewer is probably on overkill, soaking up the striking, the outlandish, the dramatic. But there is much more in this show. Perhaps the two most "important" themes that are explored throughout are McQueen's sense of nationalism-both exotic and romantic-that is evident in many of his collections-among them, the Widows of Culloden, Highland Rape, and The Girl Who Lived in a Tree. His deep interest in English history is perhaps most apparent in the latter (autumn/winter 2008-9). It explores a dreamy, quixotic fairy tale inspired by an elm tree in the garden of his country home in East Sussex; it is one of McQueen's most romantically nationalistic collections, awash in regal scarlet and snowy-white, with heavy satins and other luxe fabrics, lavish ornamentation, and masses of tulle and laces. The former two collections explore Scotland's turbulent political history, and it is Highland Rape that introduces his use of tartan, a noteworthy element of the designer's Scottish ancestry. Presented originally on semi-naked, blood-spattered models who staggered down a runway strewn with heather and bracken, the clothes were intended to counter romantic images of Scotland. And yet it was that very idealistic feeling he put forth in the latter collection.
He was, if nothing else, a brilliant designer, and a man of extremes, perhaps a tortured soul, who ultimately ended his own life in February, 2010, but not before garnering countless awards and accolades: He was a Commander of the Order of the British Empire (CBE); he was named-four times!-the British Designer of the Year by the Council of Fashion Designers; and was the CFDA's International Designer of the year in 2003...and on and on.
"Alexander McQueen was best known for his astonishing and extravagant runway presentations, which were given dramatic scenarios and narrative structures that suggested avant-garde installation and performance art," observed Andrew Bolton, the curator of the Costume Institute. "His fashions were an outlet for his emotions, an expression of the deepest, often darkest, aspects of his imagination. He was a true romantic in the Byronic sense of the word-he channeled the sublime."
[ the details ]
For more information: 212-535-7710; metmuseum.org/alexandermcqueen; extended now through August 7. Throughout the run, there are gallery talks and special events scheduled. The exhibit's catalogue, Alexander McQueen: Savage Beauty ($45) by Andrew Bolton, is available at the museum's bookshop.
Because of the high demand, the Museum will also introduce Met Mondays with McQueen-a program offering new, additional hours that the exhibition galleries will be open-beginning on June 6. Visitors may purchase tickets for special viewings on upcoming Mondays when the Museum is closed to the public. Monday access will be available from 9:30 a.m. to 2:30 p.m. The special viewing rate will be $50 per person with entries on the half hour, and will include a free Audio Guide to the exhibition. Tickets will be available in early June on-site at the Met as well as on the Museum's website at www.metmuseum.org/alexandermcqueen. (Met Mondays with McQueen will not be offered on Monday, July 4, because it is a Met Holiday Monday, one of the annual series of Monday holidays when the Museum's galleries are open to the public.)
To view the pages in pdf form, click here.