If the English countryside proffered a brush with fame with "Doc Martin," then the French pays was not to be outdone by the Brits. Having left the magnificent Georges Blanc Parc & Spa in Vonnas (more about that anon), where innumerable headshots of bold-face-named celeb-guests dot the wall—including a glam picture of Catherine Deneuve—I headed toward Evian-les-Bains. En route, I stopped at one of those typically vast European comfort/gas stations; it was abuzz with activity (a movie!), and suddenly, who should waltz onto the parking lot, but Catherine Deneuve herself?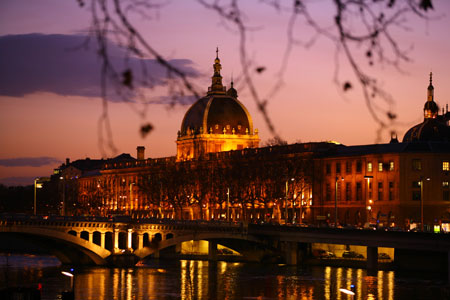 Le Pont Wilson in Lyon. © Atout France/Franck Charel
Given that my trip to the Rhone Alps was all about luxury and a sybarite's pursuit of pleasure, I had struck it rich in this province. In 2000, there were 36 spas in the region, in 2008, 160, and in 2012, a staggering 175. There are 73 Michelin-starred chefs in the Rhone Alps; in the Coursheval ski resort alone there are 15 five-star hotels; and in the Beaujolais region, there are 173 wine-tasting cellars—and get this: The Rhone Alps hosts the only marathon in the world with a route straight through a wine cellar (at the Château de Pizay)!
It's no wonder that France's second-largest region is the third most-visited region in France (Paris, first, then Provence) since it has it all: The skiing at Chamonix and Grenoble, and the regal Mont Blanc; Beaujolais' vineyards; breathtaking lakes—Geneva, du Bourget, d'Annecy; eight natural parks; over 60 golf courses. And dare I mention that the crossroads of distinctive French cuisine is plum in the middle of Lyon (home to Paul Bocuse and Michel Troisgrois), a fact most foodies would agree to.
And so, to eat: The relaxed, homey kitchen, Daniel et Denise (red and white checks dominate), is presided over by chef Joseph Viola and his wife Françoise. He serves up local fare, and you cannot possibly be in the region without sampling his Bresse chicken. Viola has held the title, since 2004, of Meilleur Ouvrier de France, as noted by his distinguishing red/white/blue collar.
Another husband-and-wife team, Romain and Delphine Barthe, are at the helm of the remarkable restaurant, Auberge de Clochemerle, recently rewarded with a Michelin star; tell the chef what you crave and he'll whip up your personal menu. The village, Vaux-en-Beaujolais, is a tiny hamlet with an appealing view of the countryside. After your satisfying meal, stroll through the narrow lanes and half-way up the hill from the restaurant, you'll find a wacky "living plant" outside a private home; sit on the side of the planter and put your ear to the old-fashioned-looking Gramophone-style ear piece and listen to a classic novel! Then settle in for a night at the Auberge, where rooms are comfy, though not lavish.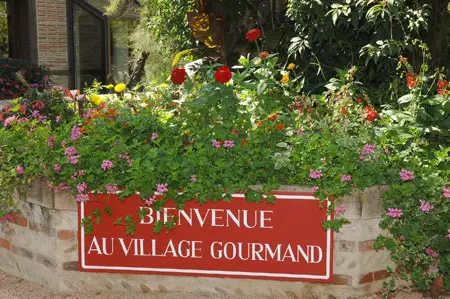 A welcome sign in Georges Blanc's charming village of Vonnas
For more grand—in fact, heartbreakingly sumptuous—accommodations, venture to Georges Blanc's Parc & Spa, where the three-Michelin-starred chef presides over several restaurants and, well, the entire town! The rooms are amenity-laden and utterly stunning, and the meals, wherever you choose to dine, top the charts. Do not leave here without a trip to Blanc's elegant and dreamy Mosaïc Spa.
Other spas in this region will also take your breath away and one that will tickle your fancy is at the Château de Pizay. There are 18 various hydro activities/therapies here, each massaging a different ache or pain. The showers also delight, with "experiences" that include Pluie Tropicale, Tempete des Caraïbes, Brume Blanche, Polaire. The treatment products are from the Paris-based brand Rose & Pepper, awash in botanicals and spices.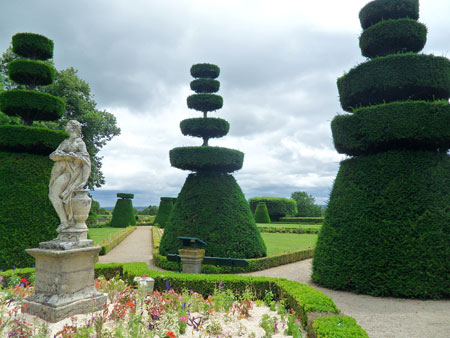 The grounds at the Château de Pizay
In the resort town of Evian-les-Bains, the Royal Resort comprises several multi-starred hotels and I visited the Hôtel Royal and Hôtel Ermitage where, at the Spa Quatre Terres, the muscle spasms of a lifetime will be coaxed out of you. One other indulgent spa can be found at the Evian-les-Bains Hilton, with its Asian-inspired Buddha-Bar Spa, featuring relaxing treatments like the Buddhattitude massage.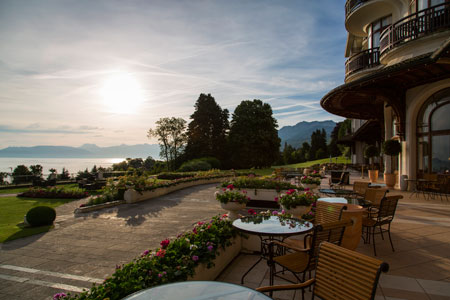 Hôtel Royal in the Evian Resort enclave
You cannot enjoy a sojourn through this territory without relishing its spectacular wine; the Beaujolais region is located north of Lyon, and covers part of the north of the Rhone Alps and part of southern Burgundy. Many wineries accommodate, but you'll generally need to make appointments. Two outstanding wineries I visited were Château de La Chaize and Château Montmelas. At de La Chaize, there are also imperial-looking gardens designed by the grand master André Le Nôtre, landscape architect/gardener to King Louis XIV; today there are over 1,300 species of plants on the estate. At the Château de Montmelas, the main building is a 10th-century castle, with walls nearly nine feet thick. In the library, or petit salon, a torchère lamp is made from a giant winepress screw, and there is a rare, diamond-shaped parquet floor, one of only 10 in all of France. On a clear day you can see eight regions of France from the castle ramparts, but you'll be so blissful in the Rhone Alps, you won't want to explore the other seven for a while.

franceguide.com; rhonealpes-tourisme.com; rhonealpes.tv; en.lyon-france.com; aubergedeclochemerle.fr; georgesblanc.com; fly direct to Lyon on Air France, airfrance.us