Spanish couturier Cristóbal Balenciaga was a genius, pure and simple. Couturiers who are masterfully cut of an exceptional cloth--as was he--are just not minted any longer; he was in a rarefied stratum. He and a select group of confreres were geniuses when it came to draping; they could take a bolt of cloth, fashion it "just so," and ingeniously, a dress materialized, a garment that swayed and moved, that had "hand" and a distinctive look. And now, we have a rare opportunity to see first-hand some of that virtuosity, at the stunning show, BALENCIAGA: Spanish Master, on view through Febru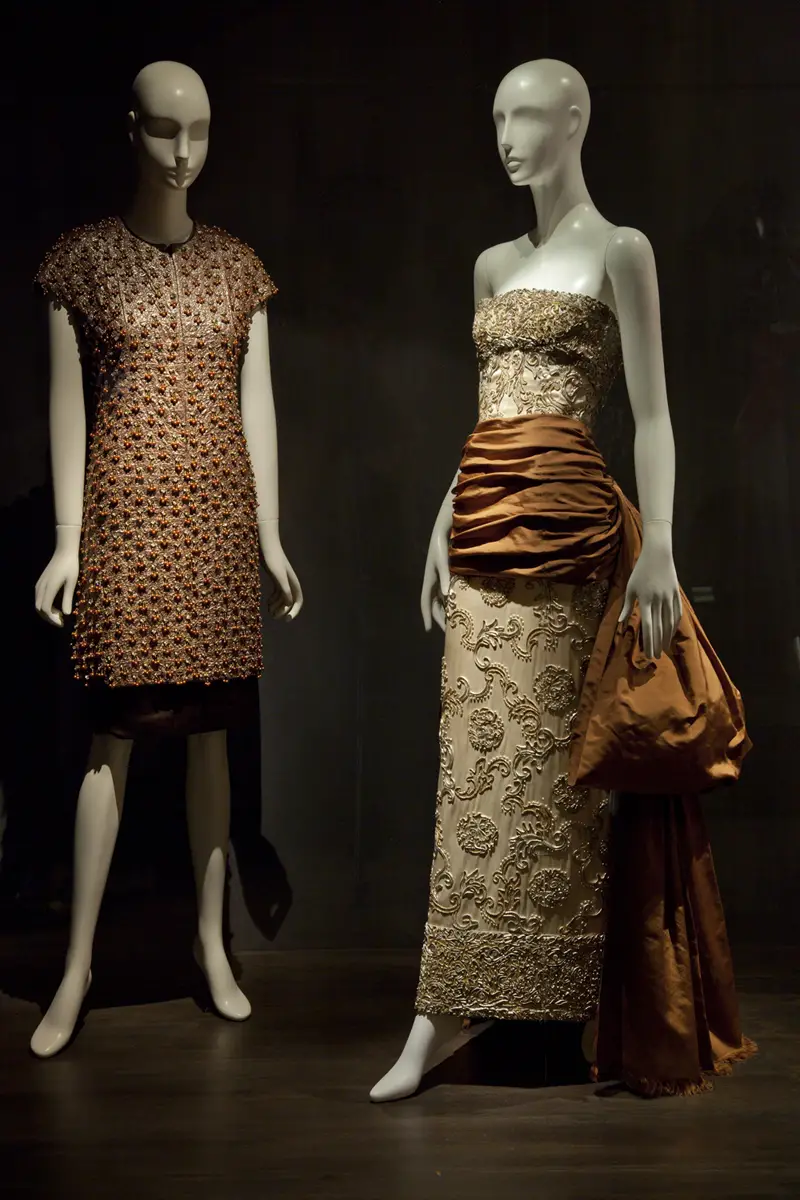 ary 19, at the Queen Sofia Spanish Institute.
It was Balenciaga's native Spain that probably had the greatest influence in his life. He was born in 1895 and lived in a small fishing village; after his father died at a young age, it was his mother's exceptional dressmaking skills that put bread on the table, and her influence cannot be underscored strongly enough--so important was it, that later in life, he actually named one of his workshops (and dresses), for her. At a tender 13, he was apprenticed to a tailor and spent nearly two decades in Spain, plying his acquired trade. His talent and skill were readily recognized and within no time, he had opened and maintained couture salons in several cities in his native land. But when the Spanish Civil War interrupted quotidian life in the Iberian peninsula, the maestro decamped to Paris, where he opened his atelier (1937) and it was there that he remained (until his retirement in 1968), building a vast battalion of ardent devotees.
Among other weighty influences in his life were the church, art, and culture (especially bull fighting). References to these inspirations are echoed throughout his oeuvre: The famous "Infanta" dress, with yards of ruched black silk gazar enveloping the head and upper torso in a sumptuous cocoon, echoes and exaggerates the lavish lace mantillas worn by Spanish grand ladies. His boleros were often haute couture interpretations of the short, cropped and highly festooned jackets of the matadors. Plain black ensembles often were high fashion versions of nuns' habits, and some of his evening capes and flashy scarlet frocks could easily have been lifted from the Pontiff's closet. It was Cecil Beaton who dubbed him "fashion's Picasso."
The exhibit features about 70 of Balenciaga's creations, including the crisp hats that echo toreros' velvet and silk tri-corner caps and their other rounded, bulbous toppers (manteras); graceful silk and gazar evening jackets that are embellished with the tassels and gewgaws of matadors' bullfighting outfit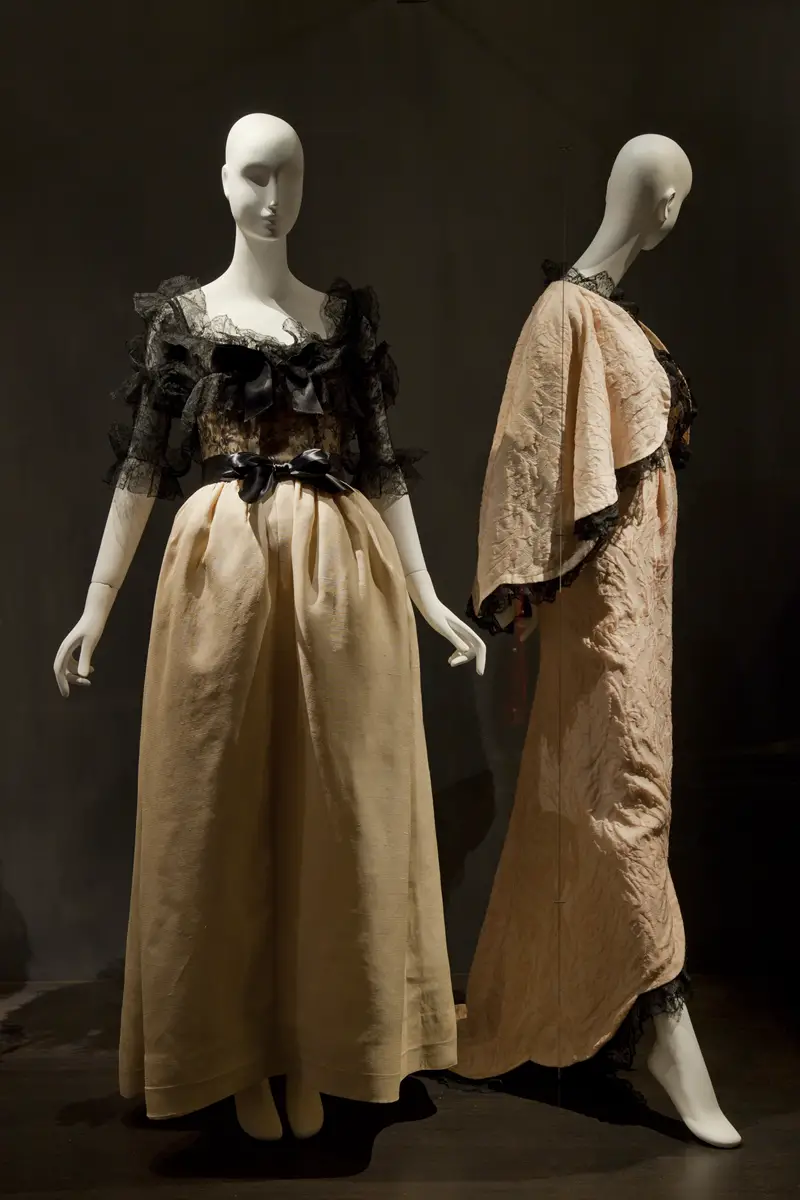 s; a crimson silk ottoman evening coat bears a striking resemblance to a cleric's formal dress; a heavily embroidered evening gown reinforces the flamenco costumes of Seville merrymakers. One garment after another astonishes and delights. This wondrous assemblage comes from countless resources, including private collections, the Metropolitan Museum of Art, the Museum of the City of New York, the Texas Fashion Collection, and many other less well-known sources. Because many garments are displayed against photographic backgrounds in situ, their heritage (and Balenciaga's inspirations) is even more meaningfully conveyed. Additionally, there is a highly informative film shown in the second-floor gallery.
The exhibition was conceived by the talented designer-icon, Oscar de la Renta, chairman of the Institute's Board of Directors; he worked closely with the exhibition team to develop the show, and his input was invaluable, as he himself began his career in fashion, working in Madrid at Balenciaga's Eisa atelier (named for his mother). The exhibition was curated by the renowned Hamish Bowles, Vogue's European editor-at-large, and something of a fashion dandy himself. (Many of the garments in the show were culled from Bowles' private collection.) He is responsible for the exhibit's catalogue ($45.00, currently available at the Institute), as well as for a 256-page, sumptuous Skira-Rizzoli book-catalogue on Balenciaga ($65.00), which will be released in April, featuring nearly 220 color and black-and-white illustrations.
Gallery Hours: Monday and Tuesday, 10 a.m. to 6 p.m., and Wednesday to Saturday, 10 a.m. to 8 p.m. Admission is $15.00 for adults; $10.00 for students, seniors, and Institute members. The Institute is located at 684 Park Avenue; 212-628-0420. The show is open through February 19th; after that, it will be on view at the de Young Museum in San Francisco from March 26 through July 4.