Late last October, just prior to rehearsals for the world-premiere play Close Up Space at Manhattan Theatre Club's New York City Center, David Hyde Pierce was spending time in New Brunswick, New Jersey at George Street Playhouse, checking out his directorial handiwork in It Shoulda Been You, a new musical-written by Brian Hargrove, his companion of 28 years-that starred, among others, Tony winners Tyne Daly and Harriet Harris.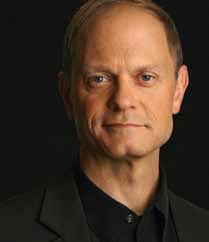 Being a black belt multi-tasker, Pierce would no doubt find it difficult to pass up the challenge of tackling two first-rate theatre projects within weeks of each other. Nevertheless, It Shoulda Been You's limited run ended in early November and Pierce began dedicating himself to one of the smartest, funniest American plays to hit Manhattan.
Written by Molly Smith Metzler, Close Up Space centers on Paul Barrow, an obsessive New York book editor in the throes of multiple crises triggered mostly by Vanessa, a high-strung best-selling author (Rosie Perez) who has issues with his editing, and his estranged/outspoken daughter (Colby Minifie), who re-enters his life to eviscerate him-frequently in Russian.
After an initial reading last spring, Pierce was sold on pretty much every aspect of the play-and Metzler. "For a young playwright, she's got great wit and reveals a lot of heart and understanding of human relationships," notes Pierce, who was immediately drawn to Barrow, whom he refers to as "compelling."
"I tend to pick characters who are not Niles [Crane, the neurotica aesthete/psychologist he played on Frasier]. For one thing, he's an editor," he continues, noting that to prepare for the role he set up a meeting with legendary Random House editor Bob Loomis to explore aspects of his character not shown on stage.
In a similar vein, being an actor who values bringing reality to his roles, Pierce is currently studying proofreading signs. "I want to have that in my system," he notes, "since my character works with them in the play."
As it happens, the production reunites Pierce with Perez, who was once a guest star on Frasier. And if ever there were two contrasting personalities bringing different comedic currents to the stage, it has to be these two, a juxtaposition that pleases Pierce to no end. "I adore her-she's so amazing on stage, and a great person to work with."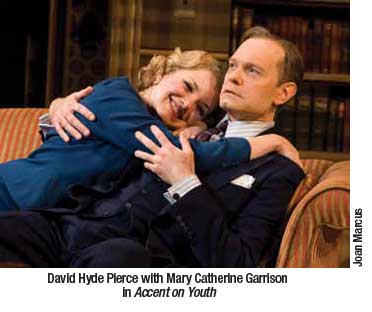 If all roads seem to bring the Saratoga Springs native back to Frasier, in New York theatre circles that is definitely not the case. "The thing about New York audiences is they're used to seeing actors play different parts," says Pierce. "I suspect that if I continued in TV, I would find myself playing more of the same [Niles-esque] characters. But Spamalot changed all that." The initial reading for the spectacularly successful musical comedy by former Python Eric Idle took place during the last season of Frasier. "It was nice to go into it immediately and not face the [what-to-do-next] void."
Now, after a string of Broadway shows spanning the last six years-Curtains (for which he won a Tony; pictured below), Accent on Youth, and last year's Molière homage, La Bête-Pierce is delighted to return to his Off-Broadway roots, especially at New York's prominent Playwrights Horizons company, where he recalls honing his comedic style-including his trademark deadpan delivery-in plays by Christopher Durang and Richard Greenberg. "Their plays tended to verge on the absurd," he concludes, "much like Close Up Space."
A Smattering of Background Trivia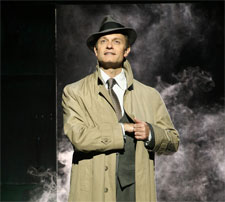 Pierce started out studying classical piano at Yale (he plays both the piano and organ), but his passion for theatre won out and he graduated in 1981 with a double major in English and Theatre Arts. Jodie Foster was one of his classmates.

Arriving in New York as the prototypical struggling actor, he supplemented his income by selling ties at Bloomingdale's and temping at a law firm.

He's a former kickboxer.

In addition to playing Kelsey Grammer's brother on Frasier, he also played brother to Grammer's Sideshow Bob on two classic episodes of The Simpsons. Notably, actor John Mahoney played the father of both pairs of characters.