The winter chill that pervades the planet's most dynamic cityscape melts into radiant warmth this time of year at Manhattan's most talked about day spas. Two of these oases - one in a re-imagined Midtown classic, the other a striking addition to a cutting-edge new downtown hotel - are booking (and re-booking) the rich, the famous, and the savviest of spa goers.
Vinotherapie Spa by Caudalie at the Plaza
The Plaza Hotel, home to Kay Thompson's uninhibited tyke Eloise, the place for afternoon tea, and a familiar backdrop for countless movies, is delivering the crème de la spa goods in its recently revamped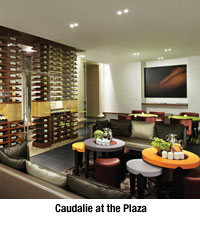 incarnation as a tony Big Apple hotel with adjoining private residences. Which brings us to the property's new concept spa, Caudalie - aptly subtitled "paradise on the 4th floor."
During a tour of the spa - a gracious study in vines, stones, wood and, in the lounge, walls that could double as an upscale wine cellar - spa director Heather Hanning pointed out that pretty much everything at Caudalie, from products to treatments to pre- and post-refreshments (available by the bottle or glass), embrace the fruit of the vine. As a result, facials have names like "Vinoperfect" and "Vinopure" while signature treatments involve massages dubbed "Fresh Grape" and "Wine Makers." There's even a "Merlot wrap" and "Friction Scrub," as well a "Red Vine Barrel Bath."
"You want to match - and exceed - people's expectations," explains Hanning, who reveals that people with a passion for, and knowledge of spas, tend to make a day of it, booking three or four different treatments, and even a wine tasting for friends. Caudalie Vinotherapie SPA at the Plaza, One W. 58th St. (at Central Park South), 212-265-3182, plazavinotherapie@caudalie.com
The Spa at Trump SoHo New York
It's posh beyond belief, with exquisite Middle Eastern design details, and impressively expansive at 11,000 square feet over two floors, including a glorious wraparound terrace/deck offering a panoramic view of the downtown vista. As one would expect, the treatments are positively opulent, like Trump's signature "Gemstone Massages" and the otherworldly "Hammams," which are exclusive to the Spa at Trump SoHo.
Inspired by hotelier Ivanka Trump's travels to Istanbul and based on cultural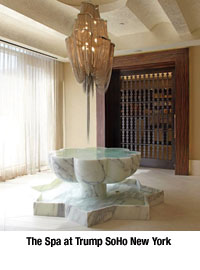 bathing rituals, the two Hammam experiences - Turkish and Moroccan - reflect their traditional genus. "Hammam" in Arabic means "to heat." The Turkish ritual - a revitalizing personal indulgence - involves lying on a heated marble belly stone while a "Hammam Attaché" exfoliates/detoxifies you with creamy castile soap and a handmade Kesa mitt. This is followed by a mind-blowing cleansing technique in which suds are squeezed onto your body. The last stage involves the pouring of hot and cold water over your skin. The Moroccan treatment differs insofar as it employs Moroccan black soap, a full-body application of warm Ghassoul clay, and a scalp massage.
According to spa director Leigh Smith, "We wanted to make the Hammams here five-star experiences, which differs from the ones in the Middle East which are more community-oriented and less luxurious." Trump SoHo New York, 246 Spring St. (at Varick St.), 212-842-5505, trumpsohohotel.com
Sharing The Wealth
The best of the best... the hottest of the hot... the coveted of the coveted are suddenly in the holiday limelight - spanning Christmas, Hanukkah, New Year's and, yes, Valentine's Day - signifying those spa must-haves are now spa must-gives. So, in the spirit of the season, here are a couple of my favorite spa-inspired presents for Winter 2010-2011. Cheers!
The Gift Certificate
For the love of your life with back, muscle or ligament issues, I propose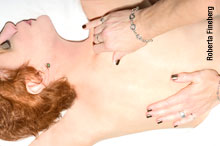 giving a session or two with one of New York's premiere massage therapists, Laurie Towers. Her "Anti-Spa" (i.e. healing) approach has made her savior to innumerable dancers (Broadway, ballet and dance companies throughout New York), as well as high-profile pro athletes who rely on Towers for post-game injury rehab. Her Physical Advantage Massage Studio, tucked into a laid-back cocoon of a space just a couple of blocks from Bloomingdales, is perfect, too, for post-shopping achiness. Penthouse, 139 E. 57th St. at Lexington Ave.; 212-460-1879; Physical-knead.com
The Gift of Fabulous
The skin gurus at Kate Somerville have come up with an anti-aging product that doesn't discriminate against skin types and works (dare I say it?) wonders. Just out this year, Kate Somerville CytoCell Dermal Energizing Treatment - a cream that actually goes after those nasty little lines and their insidious sidekick wrinkles with a gusto that comes with a viable payoff. Best bestowed on a good friend you know wants to turn back the clock - or yourself. $150 for 1.7 oz. at katesomerville.com or select spas, including The Spa at Trump SoHo.
To view the pages in pdf form, click here.