Adieu long summer days, beach weekends and definitive tan lines: Autumn has arrived. Yes, we have sinned, seduced by the sun, the sand and pina coladas (mea maxima culpa!). But true bliss - not to mention epidermal salvation - is but a few transcendent spa treatments away.
Remede Spa at The St. Regis New York
Three words define a spa experience at The St. Regis New York: luxury, intimacy and customization. On the luxury side there is the spa itself; intimate, exclusive, welcoming: from the relaxation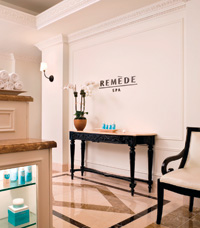 area's décor (overstuffed velvet club chairs, subdued lighting, simple floral arrangements, floating candles), to flutes of vintage champagne, to the subtle strains of classical music, to the sensually soft throws in the treatment rooms. Intimacy, on the other hand, is a given by virtue of the spa's size: four upscale treatment rooms (two that accommodate couples), and well-appointed changing areas with steam rooms and amenities.
As for customization - this is clearly what gives Remede its reputation. The staff - skilled and wonderfully accommodating - hone in on the uniqueness of their clients' preferences and physical needs.
Such elements of service are further reflected in the treatments offered, from customized facials and massages to such "locale-inspired experiences" as the Big Apple Recoup (facial), Big Apple Recoup Wrap, and Big Apple Recoup Body Polish - all designed to rejuvenate the over-stressed and travel-weary. Of course, should you require an in-suite treatment any time of day, The St. Regis Spa will provide. As senior spa consultant/therapist Danny St. Fleur observes: "It's not unusual for a guest to arrive after a long flight from a different time zone, so a 1am massage can be a necessity." St. Regis New York, 2 E. 55th St. (at Fifth Ave.), 212-753-4500; stregisnewyork.com
HaloAir Salt Rooms
Nirvana has arrived in America and its name is HaloAir. Unlike traditional spas, this unconventional, totally intriguing concept spa invites its clients to escape from the madding Manhattan crowds into a pristine contemporary version of an Eastern European salt cave replete with sumptuous leather recliner, salt-framed flat-screen TV and whatever personal techno-toys you wish to bring along.
In this comforting white cocoon, the walls and floors are covered in import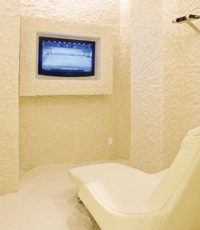 ed Ukranian salt, while invisible air particles of salt circulate throughout. And while all this may sound a bit sci-fi, I can assure you that curling up for an hour in this mellow sanctuary is far more tranquil and therapeutic than it is otherworldly.
According to Israeli-born Ron Rofé, Halo's president and founder, salt rooms, being both anti-bacterial and anti-inflammatory, are a natural alternative treatment for conditions such as asthma, migraines, allergies and even dermatological problems. With a dedicated following in Israel (where Rofé has eight centers) and Europe, it's not surprising that Rofé chose New York to introduce salt rooms to the U.S. And so far, the response has been exceptional - and not only for adults. The spa also has a special children's salt room with kid-sized furniture that's been getting rave reviews since it opened. 133 W. 22nd St. (bet. 6th and 7th Aves.), 646-666-0554; haloair.com.
High-End Extension Course
Courtney Akai, one of Manhattan's premier eyelash specialists, is a winning mix of outgoing personality and professionalism. Intensely focused, she meticulously applies tiny wisps of hair to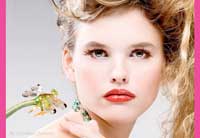 my thinning lashes, turning them from scant to lush. Yet clearly she is all about pleasing her clients, whether that means chilled bottled water, a glass of champagne, background music (her own mix tape or your personal iPod preferences), or arranging private manicures, pedicures and/or hand/arm and foot/leg massages during the two-hour session. And, for a premium, she can also bring her eyelash aesthetic - or makeup expertise -- directly to your hotel room or home. By appointment only. 501 Fifth Ave., Suite 1211 (bet. 41st and 42nd Sts.), 212-867-8469; courtneyakai.com
National Spa Week |
Fall 2010: New York City Edition
October 11th Through October 17th
Central Park's brilliant palette of foliage... the start of a new Broadway season... fall fashions to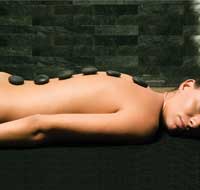 die for... and just when you thought autumn in New York couldn't get any better, Manhattan's most exclusive day spas come along to tempt your seasonal sensors with their most sought-after signature treatments for an irresistible price: $50 per full-service experience.
The Spa at Trump, Clarins Skin Spa and Great Jones Spa will be among the many high-end spas and salons taking part in the fall version of National Spa Week-a bi-annual indulgence fest (there's a spring version as well), designed to imbue patrons with a radiant/rested glow, even when you find yourself reveling lavishly in The City that Never Sleeps.
For up to the moment information on participating spas, services offered and scheduling appointments, visit spaweek.com.
Insider Tip:
Many of the spas signed on for Spa Week extend the special rate beyond a single week - sometimes up to a month - so it's definitely possible to prolong the pampering.