Autumn: when the desire to reinvent oneself turns to obsession -albeit an attractive obsession wrapped in colorful foliage, new fall fashions and apple martinis. Still, attention must be paid to that underlying, unrelenting need to de-stress and renew. Salvation: Manhattan's voluptuous collection of high-end day spas, each striving to bring something unique to the massage table - something "signature" to provide a massive dose of physical well-being laced with euphoria.
Here are a few:
Just Breathe...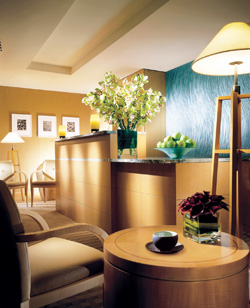 The first thing you notice when stepping into The Spa at the Four Seasons Hotel New York is the inviting citrus-laced blend that sets a lush aromatic tone for this cozy, full-service sanctuary in the heart of the city. Here, the facilities are not expansive, but so beautifully laid out as to carry the luxury aura one expects from the Four Seasons. The relaxation lounge, like the reception area, is dominated by soothing colors and fluid Asian accents; the changing area, with its endless array of high-end grooming products, leads to showers, whirlpool, sauna, steam room and treatment rooms staffed by accomplished therapists, most of whom have been with the spa a decade or longer. For Fall: Spa director Kerry Williams recommends the Thai Ceremony, designed to soothe strained, over-worked muscles. The three-part treatment begins with traditional Thai stretches, moves to the application of heated herbal packs, and concludes with a warm coconut oil massage. 57 East 57th Street (Park and Madison Avenues); 212-350-6420; fourseasons.com/newyorkfs/spa.html




As You Like It...

At Silk Day

Spa they make it a point to get personal with their clients - in a good way. While all spas have menus of treatments to choose from, Silk takes it a step further with a menu of preferences: type and volume of music; aromatherapy: yes? no?; chit-chat boundaries: minimal conversation... convivial interaction... nada, please, while I zone out completely. Meanwhile, Silk's wonderfully indulgent treatments come with irresistible names like Lavender Luminescence Massage, Divine 8 Flower Lifting Facial and Heaven On Earth, employing a trio of signature massage and facial techniques with Darphin complexes and aromatic oils. And, starting in October, this Zen-inspired oasis will be adding customized acupuncture treatments to its menu (available by appointment; check website for specific services as they become available.) 47 West 13th Street (Fifth and Sixth Avenues); 212 255-6457; silkdayspa.com.

Singular Sensations...

For newcomers to New York, the East Village can seem a labyrinth of contradictions: tattoo emporiums, experimental theatre, exclusive boutiques, vintage shops, legendary clubs... but not all that many spas, and certainly not high-profile spas with reputations to match. With one notable exception: Body Beautiful Spa & Laser Center, tucked just below street level on 7th Street off First Avenue. But don't let the modest address fool you: Body Beautiful may well be the city's premiere spa for hair removal, with bonus accolades going to owner/esthetician Richard Cacace for creating a warm, welcoming environment. (The rave reviews on newyork.citysearch.com pretty much say it all.) The spa itself, a study in discreet intimacy, belies the state-of-the-art services available, including the Catiolift - an exclusive non-surgical facelift producing noticeable anti-aging results after a single treatment. The key is the Catiolift machine - imported from Paris and only one of two in the city - which uses electrodes to contract facial muscles for a treatment that is more fascinating than painful (cutting-edge without any cutting-works for me!) 96 East 7th Street, 212-979-5515; bodybeautiful.com.