Guerlain Spa at the Waldorf=Astoria Towers

Shame on me for waiting so long to revisit this handsome French spa with its three-word mantra: Luxury, Exclusivity and Personalization. Since I last crossed the threshold it has been reconfigured and redesigned, and they've added even more to-die-for treatments and perks. Among its most distinctive assets is the all-Baccarat crystal curtain that graces the reception area and a spacious Grand Salon with intimate recessed seating areas where you can socialize and/or curl up with a perfect cappuccino or glass of champagne. And throughout Guerlain's lush labyrinth of beautifully appointed treatment rooms are sublime configurations of red roses and flasks of Guerlain fragrances.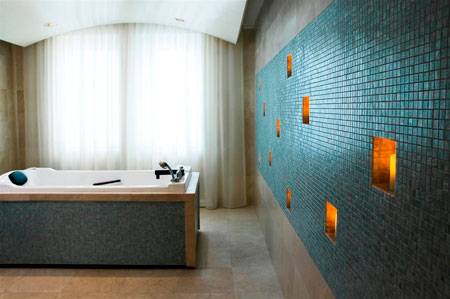 Speaking of treatment rooms, it is here that the Luxury side of the experience morphs into Exclusivity and Personalization as you are met with an en suite environment, complete with bath, shower, vanity and customized background music. (Since each room features an iPod dock, you can either bring your own soundtrack or select from a vast list of musical genres—a pre-arrival consultation ensures your preference is noted beforehand.) As for the treatments themselves, the menu is gourmet, offering a wide range of indulgences, including a wonderful new 20-minute add-on called the Moroccan Melt that combines Guerlain's Hypnotic Hair Treatment with Hydrotherapy.
For me, the ultimate must-try massage is the Imperiale Relaxing Massage, with its "multi-sensorial experience" during which lotion (scented with Guerlain's signature Eau de Cologne Imperiale fragrance, naturally) is incorporated into a treatment the includes both a Swedish massage and a hydrating Super Aqua face mask.
The spa's European heritage is accentuated with complimentary makeup application for women; and for the gentlemen, a shoeshine and jacket steaming. [P.S. In the lobby of the Waldorf you'll find a petite boutique where Guerlain fragrances are beautifully displayed and makeup application is de rigeur.] The Towers @ The Waldorf=Astoria Hotel, 100 E. 50th St., 19th Fl., 212-872-7200; guerlainspas.com
Cornelia Spa at the Surrey

Attention to detail can come off as lip service at some high-end spas but certainly not at the recently resurrected Cornelia Spa where the particulars of pampering are adhered to on every level imaginable. As proof, I offer up my own dead of winter salvation at this intimate boutique spa where serenity and myriad sensory encounters (aka the "Cornelia Touch") elevate a visit to Cornelia to unforgettable.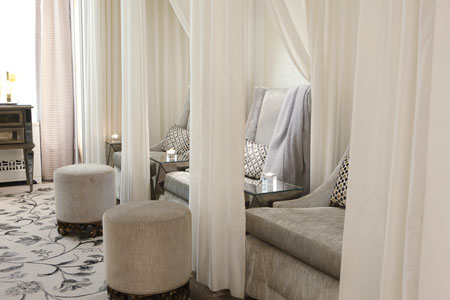 Upon arrival I was seated in a cocoon of a comfy chair with soft curtains surrounding me on three sides. I was facing a bookcase (yes you can help yourself) with titles like "Great Escapes" and "Masterpieces in Detail." Within seconds I was presented with a warm ginger and neroli-infused hand cloth and a heated herbal neck pillow. A few minutes later I was ushered into my private treatment room – spacious and homey – where a spoonful of the artisanal honey awaited me and my street clothes found themselves in a damask-embedded armoire (another stunning detail). For my treatment I chose the two-tiered The Elixirs of Life that begins with a citrus and rose petal bath (the adjoining private bathroom has an ultra-deep tub, vanity and shower). Left to soak – with soft jazz, a flute of Prosecco and tiny cookies – I was in heaven.
The bath was followed by a customized massage from my gifted therapist, Alexandra. (Not surprisingly, this treatment was created for couples… still, solo indulgence is both encouraged and highly recommended.)
Post-treatment, guests are encouraged to linger, enjoy "an amuse bouche" and another glass of Prosecco. As founder of Cornelia, Ellen Sackoff notes, "An intimate setting, understated elegance and a sense of discovery… that's what we strive for. Key is always looking after our guests in kind and thoughtful ways so they become our freinds… our ambassadors."
After being 5th Avenue's red-hot midtown day spa from 2005-2009, Cornelia was reborn uptown last year as a luxe boutique spa at the Surrey Hotel, 20 E. 76th St.; 646-358-3600; corneliaspaatthesurrey.com