Meticulous pampering, soothing environments, health and well-being renewed and refined - these are the elements that draw spa-goers from across the globe to Manhattan's lush network of day spas year-round. Still, it's spring that arrives wrapped in inspiration as many blue-chip spas take this season to debut new treatments and packages. And speaking of debuts, 2010's Indulgence a la Spring bursts onto the scene with two new spas...
Spa Merge...
It arrived within weeks of the new year, poised to become a major player in the upscale league known as W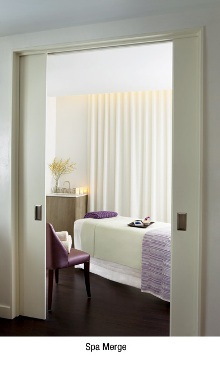 est 57th Street. Stressing the harmonious fusion of science and nature, Spa Merge's distinctive facials - including one 90-minute treatment, dubbed "The Ultimate," involving state-of-the-art micro-current lifting technology, LED light therapy, and a concentrated collagen mask - are generating impressive buzz from the neighborhood spa cognoscenti, as are its signature Organic Massage and B5 Hydrating Paraffin Body Wrap. Part of West 57th Street by Hilton Club (Hilton's new timeshare/hotel development that opened in October), Spa Merge is open to local clients as well, featuring a separate street entrance for a well-defined "stand-alone destination" presence. Spa director Margaret Lora (formerly of Ajune Spa New York) has assembled an amazing staff of therapists and aestheticians. "Our treatment rooms are set up as treatment suites, meaning everything from your locker, shower, vanity and amenities are in your room/suite," explains Lora. "Our team embraced it and I have to say it adds an entirely new dynamic to the 'new' spa experience." In terms of products, Spa Merge has partnered with two prestigious lines: Skin Ceuticals and Naturopathica, and their menu uses a helpful symbol key to indicate 'Nature Treatments,' 'Science Treatments' and 'Merge Exclusives.' 102 West 57th St. (at the corner of Sixth Ave.), 646-484-4104, west57street.com.
The Spa at the Surrey...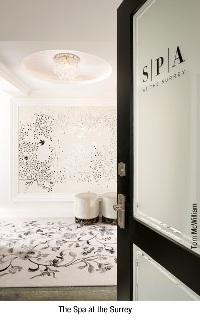 This intimate oasis on the second level of a lovely Beaux-Arts-designed Upper East Side hotel opened just last November and has already built a reputation as a shining jewel of customized services. High on this list are The Spa's treatments honoring ancient Aboriginal healing practices (vis-à-vis its Australian Li'Tya product line and specially schooled therapists). Their Mala Mayi treatment, for instance, includes an Australian Desert Salt and Aromatic Oil scrub and a scalp massage that "prepares the remainder of the body to be cocooned in a layer of warm, mineral-rich Mapi Body Mud" followed by a massage incorporating "pressure-point therapy and rhythmical spiraling techniques to help re-align the body's energy." And for the ultimate in Aussie ambiance, the Mala Mayi begins with the sounds of a didgeridoo playing in the background. "I love introducing people to something new that might make a difference in how they feel and experience their world," notes spa director Cheryl Jacobs. As for the space, The Spa at the Surrey offers a lovely low-key consultation area, treatment rooms and two luxurious spa suites. The Spa at the Surrey offers complete privacy, with everything from changing to multiple services taking place in your personal treatment room. Their other product line is Darphin, which has designated the The Spa at The Surrey their flagship store in New York. 20 East 76th St. (bet. Madison and Fifth Aves.), 646-358-3600, thesurrey.com.
Spa Week, 2010
April 12th through April 18th
Nirvana. Webster's calls it "any place or condition of great peace or bliss." I call it Spa Week in New York - those fabulous seven days when wanton relaxation, sanctuary from stress and the most decadent of spa treatments become, well, the norm.
"Over the years, I cannot tell you how many calls we've gotten from people who want to book their New York City vacation around spa week," reports Cheryl Reid, President/CEO of Spa Week Media Group, Ltd. and founder of Spa Week. "It's a wonderful city to visit and Spa Week is like the icing on the cake."
Reid's concept for creating Spa Week was straightforward: full service treatments - normally costing from $100 to $200 dollars - for $50 dollars.
The stated goal being "to introduce a new generation of consumers to the benefits of a healthy lifestyle and to open up the spa industry to the masses." The first Spa Week launched modestly (24 spas participants) in New York in 2004 only to expand to cover over 800 spas across the United States and Canada. The original two-dozen New York area spas have since expanded to over 200, making spa hopping an affordable citywide event when Spa Week comes around in the spring and again in the fall.
According to Reid, Spa Week in April is attracting more hotel spas, as well as several plastic surgeons and medical spas that can offer things like Botox injections and chemical peels.
"Whatever kind of treatment you're looking for, it's a good idea to book a month in advance," advises Reid. Appointments can be made at the Spa Week website) beginning March 15th. "After Spa Week ends, you can still click on to our directory, as many spas extend the $50 offer for a month."