Furrier Larry Cowit of Henry Cowit Furs has a great eye for spotting the gems among the second-hand furs he looks at day in and day out. He, along with his brother Steve, has managed to establish just about the largest cache of extraordinary gently used furs; their prices are perfect for the first-time fur-buyer looking to make a wise and wonderful purchase, or for the "collector" who just happens to need to add another sable to her wardrobe.
Recently, when he was called in to look over the estate of a 92-year-old dowager (a self-avowed collector and clothes horse, to boot), he was astounded by the breadth and scope of the owner's wardrobe. Many items were scarcely worn—or actually still even had the tags on them. There was clearly much more here than the furs that Cowit was originally scoping; he knew that among the more than 500 pairs of shoes, 200 pocketbooks, and 3,000 items of impressive clothing there were jewels—"impressive" was the word Cowit used. And so he took it all!
As Cowit and his staff catalogued the overflowing closets of designer goods, he knew that these things were not going to fly in any ordinary sale. (Just to get a sense of the volume of goods involved here, it took Cowit and a team of eight men, 13 hours to load (and sort a bit) the garments into three trucks!
And so, the Sale of the Century was planned, for this coming week, October 15th, Tuesday, in Greenwich, at the Greenwich Hyatt (800 Putnam Avenue, Old Greenwich, CT). Hours are 10am-6pm.

What will you find?
Galanos, Galliano, Armani, Valentino, Prada, Missoni, Thierry Mugler, Michael Kors, Versace, Etro, Oscar de la Renta, Oleg Cassini, Christian Dior, Pucci, Dolce & Gabbana, and "stray" pieces from the likes of Chanel and Hermès, among the many...and on and on and on. Is that enough to whet your appetite?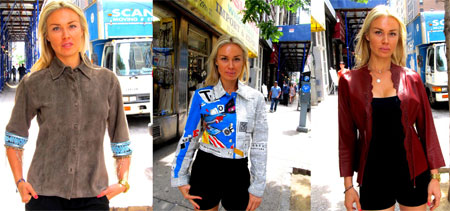 Sizes range from European 38 to 44, roughly a span from 2 to 8 in American sizing. Shoes are between sizes 7 and 8.5; the owner was short, perhaps 5' 4", so there is much that is petite and well designed for a smaller frame. Just about all the items, Cowit noted, were bought as outfits. "There was not one stray skirt in the lot, not one skirt that wasn't a part of a set, or a suit, or an ensemble."
Pricing: From as little as $50 for designer blouses/shirts or pants, things that cost ten times that, up to about $5,000 for extraordinary furs, although there are some furs tagged for as little as $500. In between are items like a Dolce & Gabbana rusty-brown suede blazer and pants outfit for $750; a Thierry Mugler black leather jacket and skirt, $1,500. Prices in general are a pittance of what the original tariffs were...and there is so much here, there is assuredly something for everyone. This is NOT a sale to miss!
For further information, call: 212-594-5744.