Ideally located in New York City's historic Greenwich Village, Devonshire House, an architecturally distinctive pre-war building at 28 East 10th Street, has been transformed into a one-of-a-kind condominium development.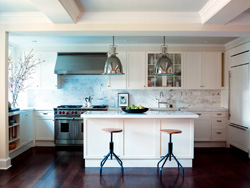 Designed by famed architect Emery Roth in1928, the building draws inspiration from the London home of William Cavendish, the Duke of Devonshire. The unique use of brick and terra cotta, as well as English period details, including the Devonshire family crest, has positioned the building as an architectural gem.
"Devonshire House offers buyers the best of both worlds," said Developer Jenifer Steig, Vice President of Devonshire Associates, LLC. "The building's solid pre-war construction and charming Emery Roth design have been enhanced through the renovation, which has fully modernized the building and created luxury condominium residences that boast spacious layouts and elegant interiors."
The interiors have been thoughtfully redesigned by interior designer Victoria Hagan – who has been recognized as one of the Top 100 Designers by Architectural Digest – to reflect an unmatched attention to detail, livability and understated design. The residences feature sawn oak wood flooring, custom moldings, and ER Butler & Co. hardware.
Devonshire House offers an array of amenities, including a landscaped rooftop terrace and a traditional English courtyard garden, redesigned by landscape architect Edmund Hollander. The building features a fitness center and a children's playroom, as well as bicycle storage, individual storage units and cold storage. According to Stribling Marketing Associates, exclusive sales firm for the building, there are currently 29 residences available for purchase, and being readied for spring 2010 occupancy. Prospective buyers can choose from 806-square-foot one bedrooms to 2,720-square-foot four-bedroom homes, in addition to duplex penthouses with private terraces, starting at 1,321 square feet. Residences at Devonshire House start at $1,050,000.
For more information, call 212-475-2810 or visit DevonshireHouseNYC.com.