These days, the Mexican muralist Diego Rivera may be known in this country less for the art he created than for the company he kept. It is the lush and lacerating self-portraits of Rivera's wife, Frida Kahlo, that seem to speak to contemporary viewers; Rivera, chronicler of Mexico's rich culture and tortured history, can seem overshadowed by the icon Kahlo has become.
But in his own day, R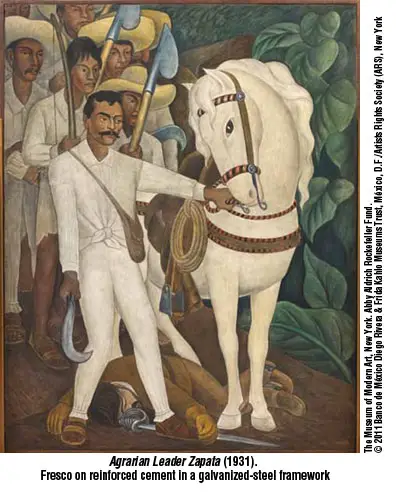 ivera (1886-1957) was a star. The most celebrated figure in the flowering of Mexican muralism in the 1920s and 1930s, he was an international art celebrity.
So much so, in fact, that the then-new Museum of Modern Art, founded in 1929, chose him for its second solo exhibition; a Rivera retrospective was held over the winter of 1931-32, centering on eight large-scale, free-standing murals created for that show.
MoMA's first one-man retrospective had been for none other than Henri Matisse. It says something about Rivera's hold on the public's imagination that his five-week show set attendance records for the museum, easily beating Matisse.
What was so riveting? Modern viewers can judge for themselves with Diego Rivera: Murals for the Museum of Modern Art, on view at MoMA through May 14.
Organized by Leah Dickerman, a curator in the department of painting and sculpture, the exhibition gathers together, for the first time in 80 years, five of the eight "portable murals" highlighted in his 1931 retrospective.
Originally, Rivera completed five frescoes—of sombrero-wearing peasants, sword- and rifle-wielding soldiers, the rebel leader Emiliano Zapata, even a masked Aztec warrior—that were inspired by Mexico's history and recent revolution; to these he added three more murals, at once admiring and critical, of Depression-era New York. The current show includes three of the Mexican-themed frescoes and two of the New York City works.
In addition, there are large-scale working drawings; a prototype mural from 1930, and an array of smaller drawings and watercolors—compact gems from sojourns in Moscow and New York—as well as prints. There's also a section devoted to his ill-fated Rockefeller Center mural commission, notorious in its day, which was being planned as he prepared the MoMA retrospective.
Among the murals Rivera completed for his retrospective, Agrarian Leader Zapata is the only one in the museum's collection. (The others come from public and private collections.) This centerpiece painting shows the rebel hero Zapata dressed not in the flamboyant outfits he favored, but as a saintly white-clad peasant, leading a similarly white horse so beautiful it looks like a mythical unicorn. At Zapata's feet lies a dead hacienda owner.
It was curiosity about this painting that drew Dickerman to propose the exhibition, she said in an e-mail. "What caught my attention was Agrarian Leader Zapata's hybrid nature," the curator said. "On the one hand, it is an independent, free-standing work that, at least in theory, can be moved around to different locations and galleries, much like an oil-on-canvas painting. On the other hand, it is a 1,000-pound object rendered in traditional fresco tec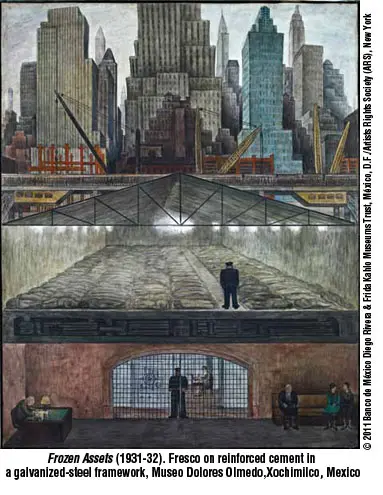 hnique."
Rivera had invented his "hybrid" form for the retrospective at MoMA, where he and three assistants worked frenetically in a studio for six weeks before the opening on Dec. 23, 1931. The problem, of course, was that his prior murals were by definition fixed on site, and not transportable. So Rivera devised his "portable murals," freestanding panels with a reinforced cement and steel backing that allowed him to work in the fresco technique used centuries earlier by Renaissance masters. (Rivera had been sent to study in Italy in 1920 by the Mexican government, which fostered public murals to help unify a country until recently engulfed in revolution and civil strife.)
Rivera added his three city murals, each depicting labor and construction, to the retrospective after it opened. Frozen Assets is indicative of his conflicting sentiments about the city. He was excited by the skyscrapers and ongoing building projects, which dominate the top third of the painting. But the staunch Marxist (though he was thrown out of the Mexican Communist Party for his anti-Stalin stance) was equally appalled at the economic suffering he saw around him in the depths of the Depression: So, a vast shelter for homeless men, overseen by a guard, fills the middle of Frozen Assets, while at the bottom, a well-dressed trio representing the upper class sit outside a bank vault, waiting to examine their riches.
Rivera's politics got him into trouble with the infamous 1933 Rockefeller Center project, when he surprised his patrons, the Rockefellers, by painting a portrait of Lenin into a lobby mural there. Among some reminders of the episode, the show includes an ultra-polite letter from Nelson Rockefeller, asking Rivera to paint over the portrait in his otherwise "thrilling mural." Rivera refused, and was fired. In 1934, the mural was chiseled off the lobby wall.
But by then, the influence of his murals had been felt. They, and Mexican muralism in general, helped spark the idea of a U.S. government-sponsored art program on public or tax-supported buildings, which materialized under the New Deal. As the curator notes in the show catalogue, Rivera's murals helped launch the largest U.S. public art program ever undertaken, before—or since—his work in New York. That, in itself, is a considerable legacy.
To view the pages in pdf form, click here.