Del Frisco's is a st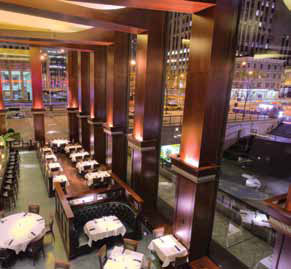 eakhouse with a southern accent, and the crab cake with Cajun lobster sauce is the best-selling appetizer. Part of a group originating in Louisiana, this 400-seat, three-tiered, glass-enclosed restaurant on Sixth Avenue boasts a climate-controlled wine room on the ground floor containing 25,000 bottles.
There is a very serious martini here called "The Professional" with Belevedere vodka and bleu cheese-stuffed olives. Power drinkers often pair this with the gigantic Shellfish Plateau before digging into the best-selling 22-ounce bone-in Rib Eye Steak. Steakhouses sometimes appear to be men's clubs, but here you will find plenty of women dining on a favorite trio of smaller steaks with signature sauces such as foie gras with cognac butter, crab meat béarnaise, and shiitake and merlot demi, compliments of Executive Chef Elvis Inniss.
Sides such as Maque Choux (spicy creamed corn) and Spinach Supreme (smoked bacon bits and au gratin sauce) are generous portions, and the staf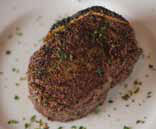 f will advise you that one side dish will do very nicely for two. A southern baker named Fanny comes in every day just to make the signature six-layer lemon cream cake. Be warned: do not attempt to eat this by yourself. It is a huge portion—and really yummy.
While there is no fixed-price menu, this is a popular spot for theatregoers, and the staff will always ask if that is your plan in order to expedite your dinner in time. Lunch is served on weekdays beginning at 11am; dinner daily 5pm to midnight; Sundays to 10pm.
1221 Sixth Avenue at 49th Street • 212-575-5129 • delfriscos.com