Months before she took the stage in The Little Mermaid, enfolded in a humongous cape sprouting the collection of leviathan tentacles that transform her from lovable human into shape-shifting sea witch, Faith Prince was on the receiving end of some serious praise from the life force behind the sea-centric Broadway musical.
"She is t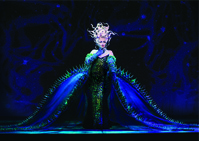 hat glorious creature - a leading lady in the great Broadway tradition," said producer and president of Disney Theatrical Productions, Thomas Shumacher. "She's a perfect match for the role of Ursula, one of Disney's most uproarious villains."
Certainly Prince, who won a Tony Award for her portrayal of Nathan Detroit's matrimonially challenged girlfriend, Miss Adelaide, in the 1992 revival of Guys and Dolls, is everything one could hope for in the role of the glam cephalopod with nothing but revenge and absolute power on her mind.
"I was doing a play in Philadelphia when my agent told me they were looking for a new Ursula and suggested I take a look at it," says Prince. "And I'm so glad I did because it turns out the character is delicious – Cruella De Vil mixed with Judy Dench!"
A gifted musical theatre star with a staunch and ever-growing fan base, Prince's extensive Broadway credits speak for themselves – a list that includes Noises Off, Bells Are Ringing, James Joyce's The Dead, Little Me and The King and I. Yet, she admits, it was a couple of guest spots on TV playing homicidal wives that helped her zero in on what she calls her "bi-polar, good-girl-gone-bad, off-her-medication" Ursula persona. Her first murderous femme was a food stylist who off-ed her husband on the popular 1980s series Remington Steele. More recently she appeared on USA Network's Monk, starring Tony Shaloub as the germophobic detective who nailed her character for electrocuting her oblivious fisherman spouse in the bathtub.
Definitely, Prince is infatuated by the unorthodox – a trait she has passed on to her 14-year old son, Henry, who shares her dry sense of humor, love of music, and formidable comic timing. And while she makes it clear she has no intention of pushing him into the business of show – although she did start taking him to the theatre when he was only one and a half – she won't stand in his way if he decides to follow her trajectory.
And according to Prince, it could happen. "He enjoys sitting backstage – and his taste is incredible. He picks up on things I don't and he does his own thing. He totally loved that I was playing the villain in Little Mermaid," she continues, quoting him as saying, "You're the bad girl and get to die – pretty cool, Mom."
For the record, Ursula, whose plot to undermine Ariel (the lovely red-haired mermaid heroine), fails miserably and she meets her dramatic end by being sucked into an underwater sinkhole. It's Prince's favorite moment in the show: "I love the demise and love dying – it's something I've not done before."
Which, when you do a quick scan of her resume, is probably one of the few things she hasn't tackled. Certainly she's played her share of quirky characters. On Broadway the list ranges from Adelaide to Ella Petersen in Bells are Ringing and Belle in Little Me. Also in that category are her two most iconic TV roles: Claudia (Richard Kind's significant other on Spin City) and a few years later, Kelly Knippers, Oliver Platt's pregnant love interest on Showtime's Huff.
Incidently, Prince's role on Huff started out as a one-shot deal and, thanks to equal parts talent and fate, Kelly turned into a recurring regular. In the spirit of Broadway trivia, Platt is starring as Nathan Detroit in the current Guys and Dolls revival, while Nathan Lane, who played the role opposite Prince, is appearing alongside Bill Irwin in Waiting for Godot.
What Prince calls "a 360 degree difference" for her, however, was her Tony-nominated turn in last season's dramatic musical, A Catered Affair, in which she played Aggie, a working-class housewife and mother determined to give her only daughter an impressive wedding. And while the production received mixed reviews, her performance was pretty much lauded across the board, with the New York Time's Ben Brantley observing, "Ms. Prince… scrubs down to raw-skinned plainness here. Her performance is tight, disciplined and at times quite affecting, never more so than when Aggie looks silently at some distant horizon of missed opportunities."
Regarding this role, Prince herself admits, "It was hard to live there, but at the same time it was wonderful." But then, the actress in her is always on the lookout for a challenge. Hence, Ursula, a bad seed to be sure, but also a voluptuous crowd pleaser. "No matter what you're working on, audiences think you are that person. It's amazing and addicting," she concludes. "I became an actor because I wanted to become different people—I love being diversified."
To view the pages in pdf form, click here.