In a bravado-driven industry where statuettes represent the crème de la validation, Edie Falco is odd woman out. Admittedly. Happily.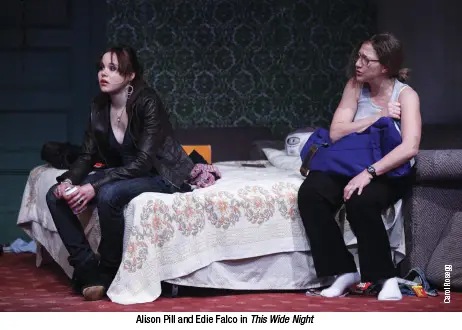 Okay, it's now common knowledge that she was the first actress to sweep the top three television awards in one year, winning the 2000 TV trifecta: Emmy, Golden Globe and SAG awards for Best Actress for her performance as mob boss Tony Soprano's wife, Carmela, on HBO's explosive series The Sopranos. But gold-plated and etched-glass accolades will never be how Falco gauges her success. "When someone stops me on the street and says, 'I enjoy what you do' - that's how I measure success," says Falco. "Ultimately, you want to come face to face with the people you are doing it for."
Born in Brooklyn on July 5th, 1963, Edith Falco (the name she used in the credits of her first film, Sweet Lorraine, in 1987) grew up on Long Island, fell in love with the stage and performing while in grade school, and went on to study acting at SUNY Purchase, where her classmates included Stanley Tucci and Ving Rhames.
Also at SUNY in those years was Falco's close friend, director Eric Mendelsohn, with whom she worked on 3 Backyards, a buzz-worthy film that debuted at Sundance this past January. "I signed on sight-unseen," says Falco, who is remembered - and in some circles revered - for playing the title role in Mendelsohn's 1999 indie classic Judy Berlin.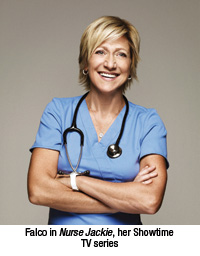 And it's here things get interesting in terms of Falco's career timeline and chameleonic reputation: Judy Berlin was filmed on the cusp of her being cast as Carmela Soprano.
Within roughly a year, Falco delivered both geeky Judy - a sanguine wannabe actress in braces, pinning her hopes on a Hollywood breakthrough - and Carmela - realistic, skeptical, and able to hold her own when slapped in the face with Tony's myriad infidelities and corrupt Mafia shenanigans. Falco breaks the bank when it comes to versatility. Her innate sense of physicality - a slouch, a shrug, a gesture, a facial tic - springs from an intense and sensitive core devoid of ego.
"I'm not all that drawn to the mainstream," she admits, suggesting that the roles she chooses more or less speak to her on a subconscious level. "I guess it's more visceral than anything - I read a script and I get a sense of whether or not it's something I want to do."
So far, her gut instincts haven't failed her, from guest appearances and supporting roles throughout the 1990s on acclaimed TV dramas like Law & Order, Homicide: Life on the Street, and HBO's Oz, to her current starring role on Showtime's edgy hit comedy Nurse Jackie - a show that never ceases to captivate Falco, as it enters its third season at the end of September.
"What makes Nurse Jackie such great fun for me is the work environment," says Falco, citing the handpicked cast and crew and the "never a dull moment" atmosphere as key.
As for the show's storyline, Falco laughs: "I'm surprised as the next person as to what will happen next. Shooting every day the way we do, episodes and plotlines tend to overlap, much like the way they did with The Sopranos."
Falco was nominated for a 2009 Primetime Emmy for Outstanding Lead Actress - Comedy Series for her work on Nurse Jackie.
At the moment, however, Falco, who has a reputation for shying away from roles similar to those she's played in the past, has reconnected with a passion she's put on hold for six years: live theatre.
"I'd been wanting to do a play for a while and was half-looking...nothing too adamant," says Falco, whose prior work on the New York stage includes her stunning 1998 Broadway debut as a club musician's alcoholic wife in Side Man and a lonely, commitment-wary waitress in Frankie and Johnny in the Claire de Lune in 2002 (with Tucci). Two years later she was back playing a heartbreakingly pragmatic suicide-to-be in the Broadway revival of 'night Mother.
The project that succeeded in piquing her interest - Chloe Moss's haunting two-person drama This Wide Night - arrived via longtime friend Geoffrey Nauffts (artistic director of Naked Angels theatre company and author of the play Next Fall, currently running at Broadway's Helen Hayes Theatre).
"I'm not a big planner," says Falco who was in production with Nurse Jackie when she received the script. "But when I started reading, something clicked. I found myself responding in a way I hadn't for a long time."
Basically, the play follows the reuniting of two former cellmates, Marie, a recovering addict in her 20s, and 50-year-old Lorraine, who evidently killed a man (details are sketchy, but based on her release, one assumes extenuating circumstances were involved).
With Naked Angels signed on to produce This Wide Night Off-Broadway, auditions for Falco's costar were becoming a priority, but then something unexpected - and copacetic - happened. Producers of the struggling Broadway revival of The Miracle Worker (starring Tony nominee Alison Pill as Annie Sullivan) decided to pull the plug less than two months into the run. Suddenly Pill, who was at the top of This Wide Night's casting "wish list," was available to play Marie.
"I'll never understand why one show succeeds and another doesn't, but for us it just seemed that the stars aligned," notes Falco, who hadn't actually met Pill prior to their working together. She had, however, seen the talented 24-year-old perform. "So few young actresses have the depth she brings to a role - she seems so other-worldly. I just love working with her."
A prerequisite, one imagines, considering the painful co-dependency their characters simultaneously reject and cling to. Set in Marie's squalid studio apartment in London, the play begins with the arrival of Lorraine: frumpy, obsequious and in need of a place to crash - indefinitely, as it turns out. Meanwhile, Marie, struggling just to keep her shredded random life outside prison intact, has mixed feelings about Lorraine, who she sees as both intrusive and a comfort.
Homing in on Lorraine's every quirk, blemish and insecurity, Falco notes: "She's very tough, very resilient... kind of funny... and definitely caring. A complicated and good person."
In the end, like all of Falco's projects, This Wide Night is about the people - her character, cast, crew, friends, audiences. And if her selective nature keeps her from projecting into her future, she has no regrets about her choices up until now: "At least I can walk away proud of everything I've done so far," she says. n
This Wide Night
Peter Jay Sharp Theatre, 416 W. 42nd Street; 212-279-4200; nakedangels.com
(Wednesday to Sunday schedule through June 20th)
Edie and Friends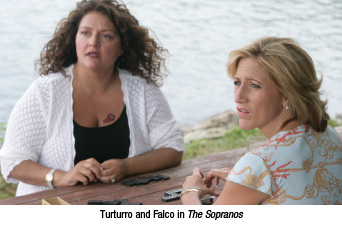 While Falco maintains friendships with several of her former Sopranos costars, she refers to Aida Turturro - who played her feisty sister-in-law Janice on the show - as one of her closest friends: "I will never not love Aida," she says. As for her off-screen relationship with former screen spouse James Gandolfini, it's obvious the two share a long-cultivated fondness and respect. "Of course I was there in the audience for his opening night in God of Carnage," she asserts. "I'm a big fan!"
Edie Trivia

*As a struggling New York actress, Falco helped pay her rent - reluctantly - on the kiddie party circuit playing both a clown and Cookie Monster. "I wasn't very good at it," she admits.
*An animal lover, Falco dotes on her now nearly 12-year-old lab-shepard, Marley. "She's the first love of my life," she says.
*Besides Marley, Falco's Manhattan home life revolves around her two adopted children: five-year-old son Anderson (named after her mother, Judith Anderson); and a two-year-old daughter, Macy.
*Her greatest influence throughout her career has been Meryl Streep, whom she describes as "the pinnacle"- not only as an actor, but as a personality: "She can be very funny."
To view the pages in pdf form, click here.