As poet, essayist, and naturalist Diane Ackerman writes in her absorbing book, The Natural History of the Senses, "One of the real tests of writers is how well they write about smells." A very tricky business, indeed, as smells are extraordinarily evocative-yet, how to translate that emotion and heady experience to a printed page? Scientists calculate that we are capable of differentiating an astonishing 10,000 disparate aromas, each with the power to be the subtle tripwire that detonates explosive memories. (Ah, Proust and those celebrated petits madeleines.) By year's end, according to the Fragrance Foundation, some 200 fragrances will be introduced to the marketplace. Herewith, a few of the newer ones debuting this season, all worthy of a splash or two on the nape of the neck or behind the knee.
Boutique bouquet
Atelier Cologne is a petit boutique fragrance house, but responsible for many grands parfums. "Vanille Insensée" is fiery, but gently tempered with and accented by sweet-scented vanilla, jasmine, fresh lime, and spicy coriander. You will succumb to it-as will your admirers. (It's topped with a discreet, handcrafted leather cap, too.) $170/6.7 fl. oz.
Atelier Cologne at Aedes de Venustas, 9 Christopher Street (Gay Street/
Greenwich Avenue); 212-206-8674; aedes.com; ateliercologne.com
Make them swoon
In 1925, when Raymond Guerlain's wife "test-drove" an in-the-works company fragrance,"Shalimar," on a transatlantic trip on the famed liner Normandie, she caused quite the sensation. Et voilà!
The parfum was marketed in America first, and now that classic is being joined by a brand-new sister scent-Shali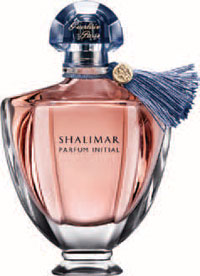 mar Parfum Initial, rich in warm floral notes like iris and rose, with a fairy-dust ingredient known in the biz as hedione, a magical molecule that leaves men defenseless, collapsing in your wake. $119/3.4 fl. oz.
Shalimar Parfum Initial at Saks Fifth Avenue, 611 Fifth Avenue (49th/50th Streets);
877-551-7257; 212-753-4000;
saksfifthavenue.com, guerlain.com
A family of fragrance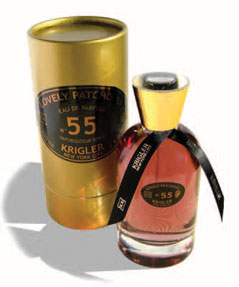 Fifth-generation perfumer Ben Krigler
now heads up the family's fragrance dynasty, whose devoteés have included the likes of John F. Kennedy, Audrey Hepburn, and Princess Grace of Monaco. Expect rich and intoxicating scents here; among the newest is "Lovely
Patchouli No. 55." $185/1.7 fl. oz.
Krigler at The Shops at the Plaza,
1 West 58th Street (Fifth/Sixth Avenues);
theplaza.com, krigler.com
In the luxe tradition
Kilian Hennessy's pedigree reads like the history of luxe personified. The grandson of the founder of the LVMH Group, Hennessy abandoned the world of fine Cognac (yes, that Hennessy) and studied scent. The result? His latest fragrance, the evocative "Sweet Redemption, The End," which will send your pheromones to the stratosphere. $225/1.7 fl. oz.
By Kilian at Bergdorf Goodman,
754 Fifth Avenue (57th/58th Streets);
212-753-7300, 800-558-1855;
bergdorfgoodman.com, bykilian.com