"I'm a theatre baby - it's all I care about...it's the love of my life," says Eric Bogosian of the obsession that has dominated his creative cosmos since high school. No question that this fixation - combined with a desire to deconstruct literary and performance comfort zones - is responsible for the half-dozen solo shows that put him on New York's underground radar in the late '70s/early '80s,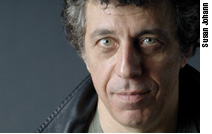 ultimately leading to his breakthrough work, Talk Radio, in 1987.
Twenty-three years later the passion - admittedly laced with experience and maturity - remains. It's what has brought him to Broadway in Donald Margulies' acclaimed drama Time Stands Still and it's what fuels his ability to turn out new plays and novels on a regular basis.
"The world of a writer is different from the world of the actor," says Bogosian, who clearly enjoys straddling the parallel universes of actor and author. "As an actor, you get deeply involved in the gist of a character and the emotion of the guy you're playing; as a writer, you're more caught up in structure and syntax and the use of words. But this is different," he explains, calling his involvement in Margulies' play intriguing on several levels. "Doing Donald's play means I have heard it more than he has - and I'm more intimately involved. As a writer, that's an unusual place to be."
Last October he concluded a successful three-year/60-episode stint on Law & Order: Criminal Intent playing the head of the Major Case Squad, Captain Danny Ross - a gig that, like all his TV and Hollywood endeavors, serves to subsidize his writing and stage work.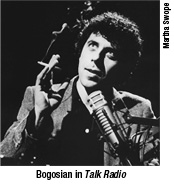 "Law and Order was so damn wonderful and perfect - shooting at Chelsea Piers, living on the Lower West Side," he says. Still, being killed off at the top of season nine did manage to free up the 57-year-old Massachusetts native to move on to the Margulies project alongside Laura Linney, Brian d'Arcy James and Alicia Silverstone. A limited run, the show closed last March, but thanks to its popularity, is now back on Broadway (in a different theatre - The Cort) with three of the four original cast members (Silverstone was unavailable and her role has been taken over by Christina Ricci).
"I think the really exciting thing about this particular play is that it's a drama about people like us - which is a real accomplishment," says Bogosian. "I love my role, which is fascinating and I love that the cast, writer and director [Daniel Sullivan] are not only serious, but bring their best game to the play. When I walk in the door each night my pulse quickens."
As for Bogosian's back-story, he lists his biggest film influences growing up as Dustin Hoffman and Al Pacino. "Ethnic guys with noses got my attention," he laughs. When it came to theatre, however, h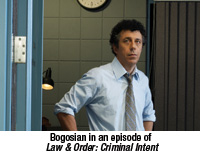 e was drawn to "...guys who could take the stage and really knock you out: Frank Langella... John Wood... Philip Bosco."
After graduating from Oberlin in 1976, Bogosian headed to New York where he cut his performance teeth Off-Off Broadway with solo performances like Sex, Drugs, Rock & Roll and Pounding Nails in the Floor With Forehead as he basked in the counter-culture glow of downtown Manhattan. During this period he was more than once compared to Lenny Bruce for his intensity and ability to deftly stick it to the jugular.
It was 1980 when he met and married Australian graphic designer and director Jo Bonney (currently working with David Duchovny on Neil LaBute's The Break of Noon at MCC Theatre), and then came Talk Radio, the play that would forever identify him as a writer-performer to be reckoned with.
"It all seemed to come together at a very emotional and difficult time for us," says Bogosian, painting a verbal photograph of himself and Jo living as archetypical starving artists as they dealt with the stress that went into "performing and writing and coming out other side of it."
Since then it's been an interesting ride of films, theatre, novels, raising two sons and traveling with Jo whenever possible. Still, the incisive social analyst that drove his early work hasn't left the building. And certainly, he can't resist a poke or two at the inevitable ironies that catch people in the public eye off-guard - himself included.
"I get a lot of 'Where do I know you from,"' he says, recalling that when he told one guy he was an actor he'd probably seen on TV or in the movies, the comeback was: "No, you work behind the deli counter in my neighborhood.' So I said 'yeah.' After a while you learn."
To view the pages in pdf form, click here.