"Verdura chessmen make me smile," chuckles Fiona Druckenmiller, a jewelry and art collector who opened her first bijoux boutique this past month after 20-plus years collecting exquisite vintage jewelry. She was referring, of course, to the charming ivory chessmen from a set made famous by the celebrated Fulco Santostefano della Cerda, Duke of Verdura-or simply, Verdura-when he adorned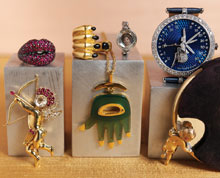 each playing piece from an Indian chess set with golden turbans, pearl necklaces, jeweled pets, enameled accessories, and even used them as jewelry holders for his smashing earrings and brooches. They are rare and they are highly collectible.
It's a sure bet that anyone walking into Druckenmiller's charming emporium already knows just who Verdura is (and will spy some of his signature cuffs with his remarkable Maltese crosses) and it's also likely that clients are there to also savor other treasures Druckenmiller has cherry-picked and is showcasing in her mix of stunning merchandise. The vintage pieces (about 75% is vintage, and it is mostly 20th century, but there are some Georgian and Edwardian jewels) line the pedestal display cases and the wall units-so many gleaming gems, you won't know where to look first. There are also ancient objets adorning the periphery of the shop-Asian sculptures that are from the first century-and as counterpoint, a very fine cache of vintage Hermès and Chanel handbags.
But it is the glittering goods in the vitrines that customers will find riveting-Cartier, Bulgari, Van Cleef & Arpels, René Boivin, Chanel, Yves Saint Laurent...and on and on. In one case there is a staggering collection of sought-after men's Patek Philippe watches and in another case, a display of contemporary, highly collectible jewelry from both Munich's renowned Hemmerle and Indian genius Viran Bhagat. There are surprising items, too, like delicate compacts and purse mirrors, from Tiffany and Cartier.
And if you're curious about pricing (from about $300 to over a million), Druckenmiller has piles of auction catalogues (and even has them online in a huge touch-screen console and linked-in iPads around the store) that will inform and educate, and underscore that these rare treasures are also-in two words-well priced. "We're all about fine merchandise...and transparency." You might say FD also stands for fabulous and discriminating. 21 E. 65th St. (Fifth-Madison Aves.); 212-722-2440; fionasescape.com
To view the pages in pdf form, click here.