Now that Fashion Week is into its third year at the Lincoln Center Campus (after decamping from Bryant Park), the stylistas, designers, and armies of support staff have settled into a pleasant rhythm as they mount the much-a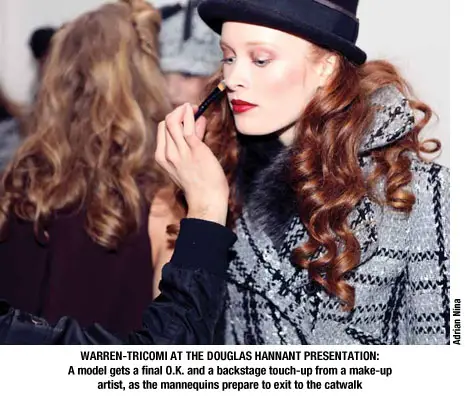 nticipated, twice-yearly fashion shows. If you're seated in the audience, the seamless catwalk presentations can look and feel exhilarating; behind the scenes, however, organized chaos reigns. There may be only 20 models (who may wear 40-plus ensembles) strutting down the stage, but the hairdressers, make-up artists, and dressers—not to mention organizers, hangers-on, backstage photographers, and even dogs—outnumber the mannequins; people seem to be on top of each other everywhere; ironing boards fly by, garment steamers hiss, racks and rails of clothing whiz around; beepers, cellphones, headsets, walkie-talkies all hum; pictures of each model in her outfit are blown up, displayed on hangers next to the matching ensembles in garment bags (with every item needed—from pantyhose to earrings); dressers with aprons bulging with scissors, pin cushions, tape, notions, glue, and what-not, flurry past. "O.K., I need my last two girls out of hair and make-up...N-O-W!!!!" urgently bellows a general with a clipboard!
And, somehow, it all comes off. How it all comes together is a marvel and a miracle. Months of dogged prep and planning are distilled down to these make-or-break 11 minutes in the auditorium.
This past February, Promenade peeked backstage to view first-hand what the hairdressers—two high-profile salons, Ted Gibson at the Lela Rose show and Warren-Tricomi at the Douglas Hannant presentation—do to create fairy-tale looks in those frenzied environments; how they design hairdos that speak to and enhance the clothing; and how they achieve a grandiose result in so little time. Both are veterans of countless catwalks, magazine spreads, and press; both are superstars, with bold face-name clients; and ironically both have salons in Florida in the W Hotels (Gibson in Fort Lauderdale and Warren-Tricomi in Miami Beach).
At the Lela Rose show, Ted Gibson and his pink-shirt-clad troupe created looks inspired by Rosie the Riveter, an up-do that had '40s glamour and a hint of "Botticelli's angels," as Gibson put it. Gibson collaborates with the fashion houses to design hairdos that will compliment the garments, and then voilà! He's got the template and his magicians all work to produce the look on each model. In the space of a mere hour or two, all the models are coiffed in a themed look, and polished to perfection. Edward Tricomi spoke of dr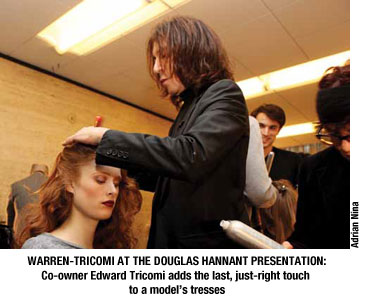 ama and glamour for the looks his salon created for Hannant's exquisitely tailored and lady-like clothing. "English aristocratic," as he called it (Downton Abbey, anyone?), and he and partner Joel Warren also chose a sort of rolled-front hairdo with plenty of old-time movie-star glam.
As you view the behind-the-scenes pandemonium on these pages, you'll be amazed that these pros can pull off such "shear" perfection in so short a time, with so little space, and so much pressure. Abracadabra!