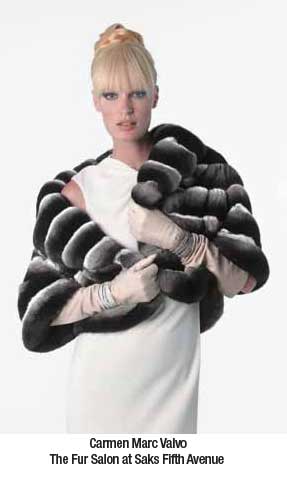 The past several seasons, fur has been all over the fashion magazines-flashy, hot pink fox coats; sedate sheared mink toppers; buttery-soft beaver trims on all-weather coats; and embellishments on handbags, boots, gloves, scarves, and hats. Whether faux or the real deal, designers used fur trims everywhere-on jewelry, hair ornaments, hemlines, necklines, collars, cuffs, and even on the insoles of shoes (not just boots)! According to Daniela Balzano-Hull, the director of the Maximilian Fur Salon at Bloomingdale's at 59th Street (which recently underwent a major renovation and is a stunning destination boutique-salon for fur-shopping), "This year fur is the buzz word for fall fashion and everyone wants to own one...and almost every designer knows this and therefore has created vests (long and short), collars, hats, and chubbies in colorful hues and styles-for everyone. Long-haired furs like fox, Tibetan lamb, lynx, chinchilla, and sable are in high demand-and accessories are all the rage."
Among the innumerable designers who showed fur (again, real or faux)-and we are not just talking coats here, but trims in endless configurations-are Azzedine Alaïa, Akris, Etro, Ralph Lauren, Christian Dior, Oscar de la Renta, Carolina Herrera, Nina Ricci, and Donna Karan, among the many. Derek Lam put beaver sleeves on a jacket; Coach offered rabbit-fur muffs; Louis Vuitton did a checkerboard mink scarf; there was alpaca trim on booties from Gucci; and a pony-hair-and-wool fedora from Dolce & Gabbana-and that is but the tip of the proverbial iceberg.
Animal prints reigned big-time. Larry Cowit, a third-generation furrier and vice president of Henry Cowit Furs, a company that specializes in fur-matching for other furriers and remodeling fur garments for private clients, notes that animal prints "are bigger than even last year. You'll find them on shoes, pocketbooks, and anything else a designer can dream up." In Elle magazine alone, there were many pages of faux tiger-prints, leopard-prints, and even Dalmatian-spotted furs and wools: Sergio Rossi presented tiger-printed, over-the-knee, pony-skin boots; from Casadei, there was a Canadian red-fox bag, printed to look tiger-like; and from Junya Watanabe Comme des Garçons came a faux-fur, oversize "tiger" coat.
Even more popular than prints were vests, which Cowit noted "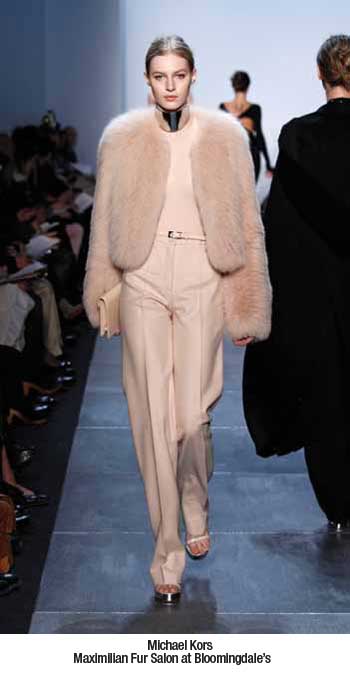 are also even more popular this year than they were last year-long vests, short vests, boleros, tunic-styles. We have converted more old coats to vests than I can count." And the runways were full of them-Etro, Missoni, Tory Burch, Funktional, and countless others. And while accessories are omnipresent, for those wanting a coat, there is something for everyone. At Helen Yarmak International, general manager Sandy Blye underscores that customers come to her salon for the most unusual: "Our furs are about bold colors in unique styling, for the fashionable, independent woman who wants something different, one-of-a-kind...a royal blue Rex Rabbit sweatshirt, a fuchsia lamb fitted dress, a coral mink-and-fox cropped jacket." But for the woman looking for her first-time fur-and the age range of that first-time fur-buyer has dropped dramatically over the past decade-there are classics, like those sold by Alexandros Furs, a company that sells both retail to private clients and wholesale to major departments stores. According to Tommy Alexandros, the second-generation owner of the company, "Our focus is on versatile classics, so we do mostly natural-colored, utilitarian garments...silhouettes that women can put on without thinking...but she'll know that she will be stylish and warm."
And at the end of the day, isn't that what a woman wants? Style, warmth...and glamour.
To view the pages in pdf form, click here.