You might say that what heralded last season's fashion shows was not fanfare, but furfare. Whether faux or the real deal, designers used fur embellishments everywhere, even on the insoles of shoes, on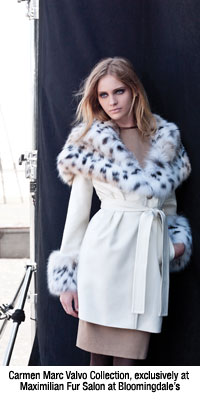 watch straps, and in hair ornaments. Among the innumerable designers who showed fur (again, real or faux)-and we are not just talking coats here, but trims in every form-are Chanel, Carolina Herrera, Juicy Couture, Dries Van Noten, Etro, Nina Ricci, Marc Jacobs, Elie Tahari, Michael Kors, Roberto Cavalli, Fendi, Gucci, Ferragamo, Rebecca Taylor, Christian Dior, and on and on.
And now that the stores are selling the end result of those fashion-forward presentations, you'll see fur in just about every shop window you pass. On a fast trip through the Time Warner Center, we spied leopard-print accessories, body suits, hose, and leggings in the über-chic Wolford hosiery shop! It almost seems like fashion blasphemy to mention so many disparate price points, designers, and shops in one breath when talking about fur, but it simply underscores the omnipresent influence fur and the fur look have in fashion this season-in upmarket boutiques, in mainstream retailers and department stores, and at mass merchandisers. Look who is espousing fur and faux: Louis Vuitton and Talbots, Yves Saint Laurent and J. Crew, Christian Louboutin and Sam Edelman, Reed Krakoff and Ann Taylor, Celine and Jones New York...you get the picture.
Let's not forget about the animal prints. "Leopard prints-in fact all animal prints-are wildly popular this year. We are featuring all kinds of fur printed with animal motifs-kidskins, rabbit, mink, both sheared and unsheared. And, most notably, these fashion-forward looks are available at all price points," comments Daniela Balzano-Hull, the director of the Maximilian Fur Salon at Bloomingdale's. Faux leopard print is the hot look this season. In September, The New York Times' photographer-about-town, Bill Cunningham, offered one of his Sunday pix features highlighting leopard prints alone-and there were more than 50 pictures on his half-page! Everything from tights to sneakers, all leopard prints. Jennifer Lopez graced the September issue of Glamour magazine in a leopard-print bustier, and inside, the publication featured her in a slew of animal prints, including a Rochas coat, with the ubiquitous print appearing in the background on a chair, a tote bag, throw pillows, or ballet flats. In the same issue, there was Molly Sims, Elle Macpherson, Margherita Missoni,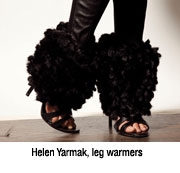 and Victoria Beckham, caught in candids, all decked out in leopard prints. And in October, Glamour reprised animal prints with another six pages. The upscale British design firm Mulberry did a stylish-and pricey-group of leopard-inspired handbags and even created more for its Mulberry for Target line in hot pink leopard, all of which sold out online before the bags even hit the stores in October!
And what about the classic mink coat, which for generations was the aspirational coat of millions of women? There are many things Gotham can boast about, and one is that our fur industry (in and around Seventh Avenue and 28th-30th Streets) is where the best fur coats in the world have traditionally been made. New York furriers taught the world how to make the most exquisitely crafted fur garments. Classic coats, a generation ago, were the always-popular mink. American pelts and American-made-the two de rigueur demands of smart consumers.
Updated mink silhouettes in the '80s, echoing those of generations before them, were slim and ladylike- a wink to Don Draper and the '60s Mad Men era-and paid homage to what our mothers and grandmothers wore. But within a decade, thanks to designers like Ralph Lauren and Perry Ellis, coats got bigger and less prim-all necessary style changes as more women went to work and needed roomy, practical coats to allow for a bulky suit underneath. A decade later, coats got even more stylish, taking a cue from Italian wizards like Guiliano Teso and the Fendis and the American designers who licensed their names and fabulous style to fur houses. Fashion flair in fur was the bywor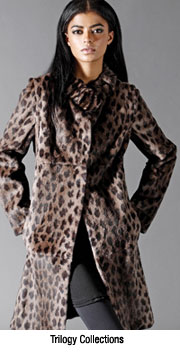 d-marked by swingy seven-eighths lengths, interesting yokes, big sleeves, oversized cuffs, and oodles of fashion-forward details. The let-out mink (a coat with the long "stripes" fur) gave way to skin-on-skin, i.e. large blocks of fur.
And what do women want today in that first mink, still the aspirational coat, but no longer the coat that father is buying for mother? Today women are buying this coat for themselves. "They want that coat to be special, a classic coat that is modern and young, and they consider it an investment piece," notes Nick Pologeorgis, a second-generation furrier, whose 50-year-old family business (pologeorgis.com) makes coats for the likes of Michael Kors and Zandra Rhodes. "They want great quality, great style, and a versatile coat. The floor-sweeping length is out. They want knee-length, that they can wear both sporty and dressy."
Another item very hot this year is the fur vest, according to Tommy Alexandros, the second-generation furrier of Alexandros Furs, who sells both retail to private clients and wholesale to major departments stores throughout the country. "We are making vests at every price point-and in various lengths, too. Short, cropped at the waist, down to long styles, almost tunic-like, and some with short sleeves, too. And we're using a variety of interesting furs, as well-classics like mink, fun furs like Rex rabbit, and dramatic textures, too, like perforated Persian lamb, backed with knitted cashmere."
"Vests this year are crazy-hot," echoes Larry Cowit, a third-generation furrier and vice president of Henry Cowit Furs (cowitfurs.com), a company that specializes in fur-matching for other furriers in the industry and remodeling fur garments for private clients. "We are making more vests from older coats, in addition to all the traditional remodeling jobs we do." With a skillful eye and dexterous hands, Cowit can even bring new life to grandma's old mink (obviously, providing the skins will still hold up), transforming it into a cute jacket, a practical fur-lined raincoat, or fun accessories.
So, whether you opt to update your wardrobe with a leopard-print silk scarf or a Persian lamb bolero, or you go the whole nine yards and indulge in an opulent golden sable wrap, this is the season where fur and fur lookalikes are taking center stage. With so much available in every price range, it's easy to catch the trend and flaunt it.