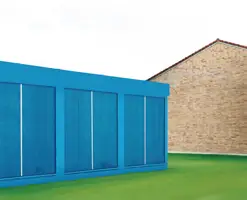 Whether you're a chronic collector, a careful browser, or a newcomer with a sudden passion for Pre-Columbian artifacts, New York's cornucopia of art galleries can be daunting. Any distillation is bound to reflect the distiller's personal taste, but this list offers a soupçon of the city's spectacular variety. It includes a couple of enclaves of photography—one of today's most saleable media—a bastion of experimentalism, a blue-chip contemporary gallery (with prices to match), and a gathering point for an assortment Eastern objets.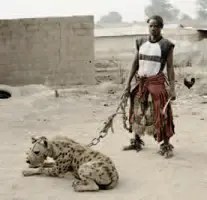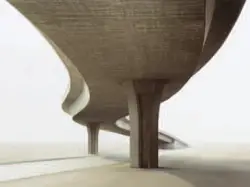 Photography is the sole focus of the Yossi Milo Gallery, around the corner on West 25th Street. Milo has a keen eye and has gathered together a stable of artists who push boundaries but stay strictly within the confines of their medium. You won't find pretentious conceptualism or art-world blather here — just the goods, and they are really good. Last fall, the gallery made a splash with Kohei Yoshiyuki's grainy photos from the 1970s –– taken with infrared film and a filtered flash — of people having sex in Tokyo's parks along with the peeping toms who gathered to watch. Part voyeur, part ethnographer and part formalist, he stalked the nocturnal fauna of an urban habitat. The leading light of Milo's gallery is Loretta Lux, whose eerie photos of children with freakishly large heads and solemn steady gazes are potent metaphors for innocence lost. The next show, opening December 11th, is devoted to Josef Schulz. 525 West 25th St., 212.414.0370; yossimilo.com.





If you have a penchant for superstars, check out Metro Pictures Gallery in Chelsea, whose queen bee, Cindy Sherman, is having her first solo show in four years. Sherman is best known for her black-and-white "Film Stills" in which she manipulated makeup, wigs, and a jumble of props to impersonate the heroines of ambiguous fictional dramas. She subsequently broadened her scope, playing off a seemingly endless range of female stereotypes. In her last round of pictures, she posed as a bevy of clowns whose faces were frozen into grimaces of false joy. Females, she insists, have become preposterous creatures, lacquering themselves in thick layers of ridiculous falsity. Sherman's relationship with Metro Pictures goes back to the gallery's founding, in 1980, but she is by no means the only star in its firmament. Metro also represents Tony Oursler, who projects video footage of hideous faces onto oddly shaped objects to create grotesque bobbly-eyed hybrids, and Mike Kelley, whose media of choice have included stuffed animals arranged into abstract shapes, wallsized scrawlings and installations that unfurl through manifold rooms and explore nostalgia's wistful joy. 519 West 24th St., 212 206 7100; gallery@metropicturesgallery.com.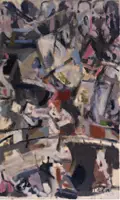 If experimentation isn't your thing, consider a trip to the Tibor de Nagy Gallery on Fifth Avenue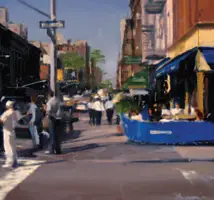 just off 57th Street, where artists take a rigorous approach to beauty. The gallery has been around since 1950, when the former Hungarian banker, Tibor de Nagy, fashioned a showcase for Helen Frankenthaler, Grace Hartigan, and other abstract expressionists. It has continued to champion what might be called decorative modernism, representational work that veers toward visual poetry. The gallery's roster highlights the refined sensibility of its current directors, Andrew Arnot and Eric Brown. On any given wall, you might find one of Joe Brainard's collages, which range from matchbook-tiny to wall-sized and are as fine as anything ever done with pasted papers and urban junk. Or you might see a painting by Jane Freilicher, who has been transcribing the views out her windows for over 50 years, always concentrating on the fleeting loveliness of now. "Hers is a nostalgia that seems like the crystallization of experience," said her friend, the poet John Ashbery, who last month exhibited 30 years' worth of his own collages at the gallery. 724 Fifth Avenue, 12th floor; 212.262.5050; tibordenagy.com.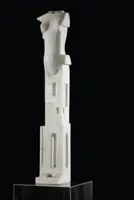 There is no objective reason why Biedermeier and art nouveau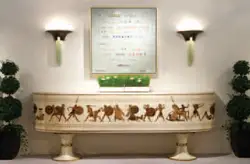 furniture, Hungarian and Czech modernist paintings, and Asian decorative objects should all share a single display space, except that they all happen to be among the idiosyncratic passions of Andrea Zemel and Adam Brown. The two gallerists run Iliad Antik, on East 58th Street, and the peculiar assortment of specialties reflect their exquisite taste. They don't just wait for the auction season to stock up on inventory; they make regular scouting expeditions, hunting for works of obscure masters and bringing Eastern Europe to the East Side. 237 East 58th St., 212-935-4382; iliadantik.com.




Just a few blocks south from the Chelsea gallery maze, the not-for-profit White Columns showcases young artists on the rise. The 38-year old gallery, at the crossroads of the West Village and the Meatpacking district, relishes its hallowed history as New York's oldest alternative art establishment. It has long served as a springboard for young unknowns, launching the careers of such current topbillers as William Wegman, John Currin, and Jeff Koons. White Columns' mandate is to get the work of emerging artists, many of whom don't yet have gallery representation, out before the public. Four contiguous light-filled spaces can host simultaneous solo shows or group exhibits organized around a single theme. But you don't even have to venture to the gallery to partake of its riches, since it also hosts an online registry selected by gallery director, Matthew Higgs. You can browse the digital catalog and then, if you fall in love long distance, make an appointment to see the work face to face. 320 W. 13th Street, btw. Eighth Ave. and Hudson St., 212.924.4212; whitecolumns.org.