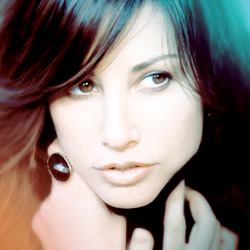 On an incredibly soggy Thursday afternoon in late July, I dry off inside SoHo's City Hall restaurant awaiting the arrival of Gina Gershon. Thanks to the heavy rain, retro light fixtures, ceiling fans and ferns, the place has a vaguely Key Largo feel to it – sans the melodrama, Bogie, Bacall and Edward G. Filling their void is a couple lost in conversation and a yuppie or two. It's still too early for the after-work crowd.
Gershon arrives, umbrella in tow and, except for mine, no heads swivel as she slides into our booth. She's wearing a dark blue jumpsuit, long scarf and fedora. As expected, she looks amazing even though she is without makeup and claims to have been racing around all day. "I might have to get a snack," she says.
Born in Los Angeles – the San Fernando Valley, to be exact – Gershon is in New York to star as Rose Alvarez in the first Broadway revival of Bye Bye Birdie, the hit 1960 musical comedy about a rock 'n' roll icon who gets caught up in a coast-to-coast publicity scheme after being drafted into the Army.
"It's definitely a time capsule piece," says Gershon who played the same role once before in junior high school. "It was the very first musical I was ever cast in, and I wanted to play Conrad Birdie. But they gave me Rosie," she adds, a wisp of regret in her voice.
Chances are, she would have made a memorable Conrad Birdie (an Elvis knock-off with an out-of-control teeny-bopper following), particularly at a point in her life when she describes herself as "a little bit of a juvenile delinquent."
"I guess you'd say I was a product of my environment. 'The Valley' at that time was not a great place to be." So her parents opted to move to Beverly Hills. "It was either going to be an all-girls school or Beverly High – but not to 90210 – that was a little too upscale," she says. "I sort of lived in the slums of Beverly Hills," she says
After graduating high school, Gershon headed east, first to Boston and eventually to New York, where she attended NYU (studying both drama and, to keep things interesting, the psychology of dreams).
During this early period in Manhattan, she became one of the founding members of the intensely star-infused theatre group Naked Angels (other original founders from 1986 include current artistic director Geoffrey Nauffts, Nancy Travis, Rob Morrow and Mary Stuart Masterson; the list of celebrated names who have added their creative voices to the mix include Kenneth Lonergan, Matthew Broderick, Sarah Jessica Parker, Fisher Stevens, and Marisa Tomei).
According to her website (ginagershon.com), where she stresses her dislike for "unofficial" sites and bios that are known for turning fiction into fact, "Those were the innocent days. Playing baseball, doing plays, and drinking all night. Eventually I had to start doing films to support my theatre habit, so, I went on some auditions, began landing jobs, and started paying my rent."
Among her first films were Cocktail (with Tom Cruise) and Red Heat (with Arnold Schwarzenegger). "They both came out around the same time and I was doing this interview for Red Heat, during which the interviewer actually said, ' You-know, there's a girl in this movie Cocktail who looks a lot like you – but you're a much better actress.' And I loved that he didn't know it was me," she laughs.
Interestingly,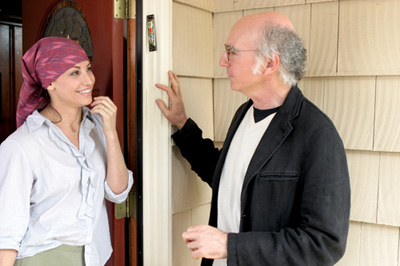 that brief blip on the journalistic faux pas-o-meter served as kind of a foreshadowing of her chameleonic career, which includes every sort of role imaginable, from teenaged (Pretty In Pink); camp (Showgirls); poignant (Sinatra); quirky and lovable (P.S. I Love You); to off-the-wall (Curb Your Enthusiasm, where she played an Orthodox Jewish dry cleaner considering an adulterous fling with Larry David). And this doesn't even begin to mine the depths of her film and TV career.
As for her previous Broadway outings – that of nightclub chanteuse Sally Bowles in the Sam Mendes' revival of Cabaret and last year's disarmingly funny turn as an Italian sex goddess stewardess in the hit farce Boeing-Boeing – well, let's just say Bye Bye Birdie marks a serious change of pace for Gershon who had no intention of returning to the Great White Way so soon after Boeing-Boeing. "I just imagined I'd be doing something different for awhile. But when Birdie came along it seemed like a really nice opportunity…I thought this should be fun."
One thing that attracted her to the role of Rosie was from things she'd done in the past. And she liked the era as well – that '60s ideal of mom and apple pie and teenage innocence. "This is sort of the first 'Americana' musical I've ever done," she recalls, "except for when I did it in the 9th grade, that is."
Since she started work on the Broadway production she's come to realize just how much fun the production is turning out to be, from the music and orchestrations ("amazing") to her costars, including her leading man John Stamos, Jane Houdyshell and Tony-winner Bill Irwin.
Still as much as she's enjoying working with the grown-ups, her aunt/godmother gene (two nieces, two nephews, two godchildren) is working overtime when it comes to the teenagers who make up a good portion on the Birdie cast. "The kids kill me they look so great. They're really 15- and 16- year olds, but they look like they're 12 – all cute and innocent looking, which is really nice to see."
We are winding down now, Gina having finished as much of her lump crab cocktail and tea as she is likely to, and me scanning my notes for any last questions.
And then, in a sudden and bizarre flash it hits me: Gina Gershon, Renaissance Woman, Can Do It All: film, TV, musicals, straight plays – plus, a one-woman nightclub show based on her CD "In Search of Cleo." She's written a children's book – Camp Creepytime – with her brother Dann and she'll be releasing an album for kids, The Good, The Bad, and The Hungry, early this fall. Did I mention she also illustrated her CD, is bi-coastal and blogs on her website (okay, not on a regular basis… but still)? Oh, and before the year is out you'll be able to see her play a sociopath who thinks she's Scarlett O'Hara in the Lifetime mini-series Everything She Ever Wanted with Victor Garber.
"I think I like mixing it up," she says, simply, preparing to exit.
And this time as she walks through the restaurant – which has become rather crowded – every head turns.
A FEW INTERESTING GINA FACTS
- The Jew's-harp: A distinctly twangy musical instrument she has been known to play on more than one occasion. Always a surprise.
- Lenny Kravitz: She appeared on Kravitz's Again video, but their friendship dates back to their high school days at Beverly Hills High.
- Flamenco lessons: For fun, in her spare time.
- Jellyfish: Her all-time favorite Halloween costume. It involved a bubble umbrella.
- Tom Waits. "I have so much respect for him as an artist – he's so innovative. He's such a great musician and actor. I'd work with him on a project in a heartbeat."
- Comedy: Her favorite outlet.
To view the pages in pdf form, click here.