Luxurious, mysterious, mythic, and rare, the pearl is one of nature's wonders: a perfect orb of iridescent beauty. Just as amazing is the process that creates each gleaming gem — an alchemist's brew of art, science, and luck.
The lore of the pearl, the most ancient gem on the planet, is legendary and cross-cultural. That it comes from the sea makes it all the more mysterious and magical. Countless primitive societies have likened them to the tears of mermaids or angels. Cleopatra is said to have created the most lavish repast ever, by crushing pearls into nectar. Legend has it that Pierre Cartier purchased the jeweler's present home at 653 Fifth Avenue by plunking down $100 in cash and surrendering a million-dollar, double-strand, natural-pearl necklace. One thing, though, is undeniable: Pearls are always in vogue, always the correct statement, perennially elegant — just the thing to don when meeting a prospective mother-in-law, the new boss, or the Queen.

Installation image of 'Pearls' © Victoria and Albert Museum

And, indeed, how appropriate that this remarkable exhibition of pearls has opened at the Victoria & Albert Museum, in the very city where one can meet a queen (and we mean royalty), i.e., The Queen. The exhibit features some rare pieces well worth the trip to South Kensington and the few hours you should devote to the exhibition: a pearl-drop earring worn by Charles I at his execution in 1649; magnificent pearl tiaras worn by European nobility; and a necklace of cultured pearls given to Marilyn Monroe by Joe DiMaggio in 1954. These are among the incredible array of jewels and other objects in this stellar amalgam of bijoux, organized in partnership with the Qatar Museums Authority. The exhibition explores the history of pearls from the early Roman Empire to the present.

Installation image of 'Pearls' © Victoria and Albert Museum

On display are over 200 pieces of jewelry and works of art showcasing the extraordinary variety of color and shape of both the natural and cultured pearl. The exhibition examines how pearls have been employed over centuries, in both the East and West, as a symbol of status and wealth; how tastes vary in different cultures; and the changing designs of jewelry with pearls. As a corollary to the interesting objets on view are the vitrines used throughout to showcase the jewelry: They are old home safes, built like pieces of furniture, and they add to the fascinating elements of the exhibition.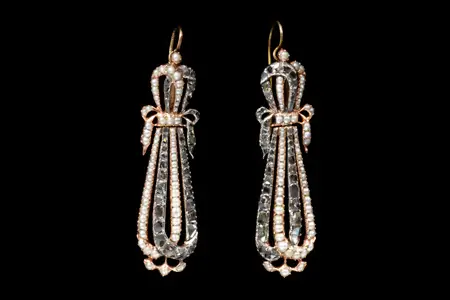 Earrings, gold with natural seed pearls and diamonds. France, 1795-1810. © Victoria and Albert Museum, London
The exhibition's focus chronicles pearls in jewelry through history, starting with ancient Roman jewels, fabricated as early as the 1st century AD; contemporary work made by designers practicing today brings the exhibition to the present. Through antiquity, myths and legends surrounded the pearl and early examples of Roman and Byzantine jewelry illustrate how they were used as a sign of power and a gauge of rank in society. In Medieval times, pearls were transformed from a symbol of luxury and ostentation into a Christian symbol representing purity and chastity, as represented by the Hylle Jewel with the scene of the Annunciation. During the Renaissance, as Europe experienced a period of affluence, pearls began to be used extravagantly in jewelry and featured prominently in a new genre of portrait painting as a mark of extreme authority and wealth. On display are paintings and portrait miniatures featuring nobles, courtiers, and affluent merchants of society, all adorned with pearls. Other highlights from the 1600s include 'Queen Mary II' pearls (1662-1694) as well as examples of irregular and unusual-shaped Baroque pearls forming striking jewelry designs.

Brooch, natural brown pearls set in platinum and diamonds. France, 1900. © Albion Art
The fascination with pearls continued in the 18th century. Celebrities of the day, including Marie-Antoinette, her mother, the Empress Maria Theresa, Empress Catherine the Great of Russia, and Queen Charlotte, wore opulent pearls either in luxurious swags or as multiple strands and chokers, as seen in the portrait miniature of Queen Charlotte (1781). Donning opulent and showy jewelry was not, however, restricted to the fashion statements of women; men of distinction also wore jewels and accessories. On view are buttons finely enameled and framed with pearls worn by George III (1780). In Victorian times, pearls often had symbolic meanings and were found in sentimental jewels, or as naturalistic motifs with allegorical content. Examples featured include the so-called "Dagmar necklace" gifted to Princess Alexandra when she married the Prince of Wales, the future King Edward VII, in 1863, and a pendant locket with black pearl, commemorating Prince Albert (1862).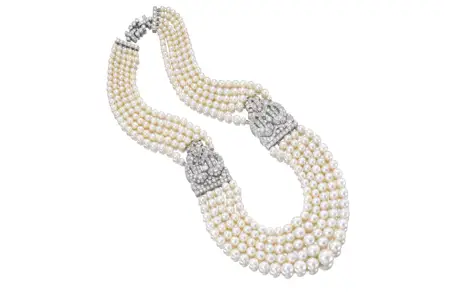 Necklace, natural pearls from the Gulf with platinum and diamond clasps. The Qatar Museums Authority Collection. 1930s by Cartier. Photo © Sotheby's
Delicate compositions of Art Nouveau jewels sparsely decorated with pearls contrast with the opulent application of pearls in fashionable sautoirs of the 1920s and a three-stranded Cartier necklace with Gulf pearls designed in the 1930s. An Art Deco brooch by Jean Fouquet (1937) was, at the time it was fabricated, as innovative as the contemporary designs of the Munich jeweler Stefan Hemmerle are today, as shown in the exhibition by Hemmerle's rare melo pearls (2011). The figurative creations of Geoffrey Rowlandson (1999) and the complex use of pearls in Sam Tho Duong's necklace (2011) illustrate the diversity of contemporary jewelry designs with pearls.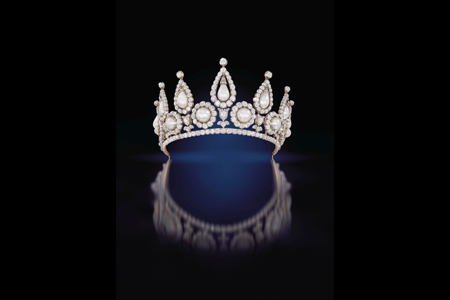 Lady Rosebery's pearl and diamond tiara. The Qatar Museums Authority Collection. London c.1878. Photo © Christie's Images
A sensational Maharaja's coat — it will take your breath away! — from India, richly embroidered with pearls (1870), defies description; it, along with a pearl-studded Imperial robe from China and a Chinese wedding head-dress, examine the significance of pearls in the Far East. They are showcased alongside tiaras formerly belonging to British and European high nobility. There are also pieces from the collections of celebrities, such as Elizabeth Taylor's Bulgari pearl-drop pendant earrings.
The exhibition also touches on (but, to my mind, not thoroughly enough) the extraordinarily brilliant Kokichi Mikimoto, who "invented," after years of dogged trial-and-error, the cultured pearl and its production on an industrial scale. Mikimoto developed the necessary technology to establish ways of "tricking" oysters onto producing pearls so that every woman today can own a necklace...
...and in my humble opinion, who would not want to own a pearl necklace? To me, they are among the most cherished bounty of the sea.
The exhibition opened September 21 and will continue through January 19, 2014; the museum is open daily from 10am-5:45pm daily and until 10pm on Friday nights.
"Pearls" has been co-curated by independent jewelry historian and curator Beatriz Chadour-Sampson and Hubert Bari, Director of the Pearl and Jewellery Museum at Qatar Museums Authority. (Pearls is part of the events programmed for Qatar UK 2013 Year of Culture.)