Attention Miss Marple, Sherlock Holmes, and Hercule Poirot! I need a crack British gumshoe on this case: Somewhere, buried deep in the English Netherworld, is a chlorophyll-production factory. No country in a Rand McNally gazetteer could be this impossibly verdant without elves ratcheting up the production of all things botanically emerald. The landscapes in both the Lake District (in Cumbria County, in the Northwest, an Olympic shot-put toss from Scotland) and in southern, coastal Dorset County (and its neighbor, Hampshire) are so hypnotic and heartbreakingly picturesque that the saturated tones in your snaps will appear to be suspicious, the result of an alchemic amalgam of Merlin and Photoshop.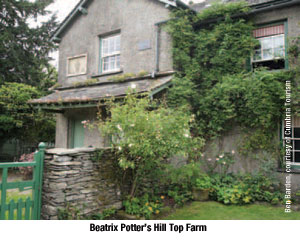 Although home to a half-dozen majestic mountains, or fells, that all hover around 3,000 feet high, it is, however, the "water, water everywhere" that bestows the take-your-breath-away vistas in the Lake District. My knowledgeable guide from The Mountain Goat touring company tells me that you could gamely claim that there are anywhere from 14 to 18 proper lakes, depending on how you define "lake"-250 named tarns (even a small "pool" qualifies), and at least another 200 unnamed. The deepest, Wastwater, soars down 243 feet, and the longest, Windermere, measures 10-1/2 miles long. It is no wonder that the 900-or-so square miles of the Lake District National Park are a magnet to some 8 million annual visitors.
As deep and wide as its lakes are, that is how rich its literary heritage is. It's true that most people come for the outdoor activities, and the well-traveled hiking trails do not disappoint: Dungeon Ghyll means "no way out" and there is another killer known simply as The Struggle. But it's literature that provides an emotional touchstone for those who devoured the idylls of the Lake Poets-William Wordsworth, Samuel Taylor Coleridge, and Robert Southey. Wordsworth spent about 60 of his 80 years here, some of that time in the cherished Dove Cottage (now a museum; you can also visit his grammar school in Hawkshead) in the picture-postcard-perfect hamlet of Grasmere, where he was frequently joined by other colleagues. Countless literary Goliaths visited and waxed, er, poetic, about the Lake District: Sir Walter Scott recounted the death of Charles Gough on Helvellyn Fell; Alfred, Lord Tennyson wrote about the Lakes, as did John Ruskin; and Thomas de Quincey (Confessions of an English Opium-Eater) was in residence in Dove Cottage when he was felled by...well, opium.
Perhaps the most visited literary draw, though, is the sweet little cottage, Hill Top, where Beatrix Potter lived and penned frolicking life into the universally treasured Peter Rabbit and his mischievous crew, Flopsy, Mopsy, and Cottontail. As per Potter's request, Hill Top has been left precisely the way she maintained it; as visitors walk through the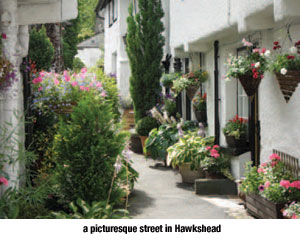 cozy cottage, they are politely cautioned: "Please try not to touch." (My home base while here was the delightful Gilpin Lodge, which I cannot recommend highly enough-handsomely appointed garden cottages with patios with hot tubs, huge indoor soaking tubs, fireplaces, striking décor, and savory, tempting fare in the dining room.)
There is much to see besides Potter's home, like Sarah Nelson's shop in Grasmere, which has been enticing customers with "her" scrumptious gingerbread since 1850, and in movie-set-perfect Cartmel, do not forget to buy the legendary sticky toffee pudding; Levens Hall boasts some of the most magnificent and inventive topiaries you'll ever see, dating from 1694; Holker House is yet another grand old dame of a historic home. And 14th-century Muncaster Castle promises not one, but two ghosts, one of whom is the 16th-century court jester, Tom Fool; also at Muncaster is the World Owl Trust, a habitat/refuge for dozens of species of extraordinary owls, and the only one of its kind in the world-and that is no tomfoolery. Amble through "twin" villages with dottily descriptive names like Far Sawrey and Near Sawrey, and High Newton and Low Newton. In charming Keswick, I was heartsick (seriously) that I didn't have time to visit the James Bond Museum and the Cumberland Pencil Museum. Alas.
But, there was time to at least learn about the county's most famous (albeit tongue-in-cheek, literally) annual event: The World's Biggest Liar Contest. Its amusing renown is so widespread that it was even reported on the farflung china
daily.com site, where a seminal canon of the verbal jousting competition was recapped: "Politicians and lawyers are barred from entering as they are judged to be too skilled at telling porkies."
Not to be outdone by Cumbria's literary heritage, Dorset has its own literary intelligentsia-led by native son Thomas Hardy, born in Higher Brockhampton, in a home just off one Cuckoo Lane. To read Hardy is to walk the vales and heaths of Dorset, one of England's three counties with no super highway. Jane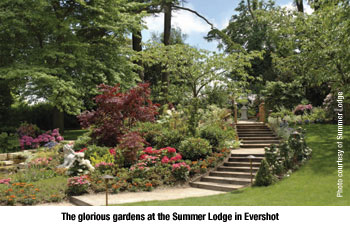 Austen, no slouch when it comes to spinning a captivating yarn, was also born here; Henry Fielding visited often and John Fowles also called it home. Both Austen and Fowles made The Cobb, the dramatic harbor wall in Lyme Regis, famous-she in Persuasion, and he in The French Lieutenant's Woman. Parenthetically, T. E. Lawrence (as in, of Arabia) also hung his keffiyeh here.
But literature is not the only Mecca here or in the neighboring New Forest in Hampshire; it's the astonishing topography and the pleasures of the seaside that keep towns like Bournemouth, Poole, Bridport, and Weymouth bustling with vacationers; in 2012, Weymouth will be awash with world-class mariners, as the host site of the Olympic sailing events.
Farther inland, both Shaftesbury and Sherborne (home to Hardy's Giles Winterborne and Grace Melbury in the The Woodlanders) are probably two of the most charming villages you'll ever see; Sherborne-with its magnificent Abbey Church of St. Mary the Virgin, rooted in the eighth century-is simply dreamy (cinema location scouts discovered this fact long ago). Walk the High Street and drink in the eccentric Conduit structure, the picturesque Almshouses, and the town's famous Sherborne School, which can brag about grads John le Carré, Chris Martin, and Jeremy Irons, among others. Shaftesbury can arguably boast to being home to England's most photographed street-the flawless, out-of-a-storybook Gold Hill, a steep, cobbled lane dotted with thatched-roof cottages.
The coastline is drop-dead gorgeous: There are 110 miles to mosey around, including 95 miles comprising a World Heritage Coastline, with 185 million years of geology compressed into its rock formations. This, the Jurassic Coast, is fabled for its fossils, and while fossil-hunting is not exactly an extreme sport, thrill-seekers hunt for dinosaur footprints and other exotica. The coast lays claim to countless, striking natural wonders: Lulworth Cove (considered one of the world's best landforms); the salt-bitten Durdle Door (a natural, Titanic-size archway, thrust upwards from the very sea that sculpted it); Chesil Beach (Europe's largest barrier beach); Poole Harbor (the second-largest natural harbor in the world, after Sydney); and the chic village of Sandbanks (where some of the world's most expensive real estate is found). Also visit Tyneham, an incongruous "ghost town" abandoned during World War II.
To boot, the area has one of England's most mild climates, helping nurture the Abbotsbury Subtropical Gardens and the Abbotsbury Swannery. The former is less than a mile inland from Chesil Beach, and is sheltered by northern hills, so its climate is ideal for riots of colorful foliage that explode with the gusto of flora in a rain-forest jungle. The Swannery is over 600 years old, and is home to some 600 regal swans. General feeding times are noon and 4:30, when you can see an undulating cloud of fluttering snowy wings descend with grace. It is no wonder that Anna Pavlova and a corps of ballerinas visited here in the 1920s to perfect their swan fluttering for-what else?-Swan Lake. (Tip: Signets hatch in May/June.)
No trip to Dorset is complete without crossing the border into Hampshire County to visit the 220 square miles of the New Forest, William the Conqueror's "new" hunting ground, created in 1079. It offers a rich tapestry of topography-bogs, moorlands, and dense forest; in fact, five ecosystems co-exist Still governed by arcane Royal Laws, the forest is peppered with villages, towns, country inns, castles, and amazing hotels. (Two that should not be missed are the Rhinefield House Hotel and the brand-new Lime Wood Hotel and Spa, one of the most sumptuous hotels I have ever seen). Wildlife abounds-3,500 deer, 3,500 cattle, and 3,400 New Forest Ponies. The latter are a native, mongrel breed standing a mere 50" tall; they are gentle creatures, often sauntering up to visitors for hand-outs and petting (discouraged).
I ended my trip with a night at the cosseting Summer Lodge, in Evershot, and I can honestly say it's one of the world's most romantic hotels, with a world-class restaurant, blissful gardens, and an elegant spa. But there are other places that will also charm you, including the Eastbury Hotel in Sherborne and the Fleur de Lys in Shaftesbury, both of which are known as "restaurants with rooms." But do not be deceived by that appellation; they are top-flight all around.
And so is the entire county, along with Cumbria-that is to say, tops in my proverbial playbook-for escapes, scenery, activities, food, and leisure. Both counties are simply not to be omitted from anyone's bucket list.
[ more information ]
Cumbria:
cumbriatourism.org; golakes.co.uk; mountain-goat.com; gilpin-lodge.co.uk; visitengland.us
Dorset:
dorset-newforest.com, thenewforest.co.uk, jurassicjaunts.co.uk, nationaltrust.org.uk , abbotsbury-tourism.co.uk, shaftesburyabbey.org.uk, summerlodge.co.uk, theeastburyhotel.co.uk