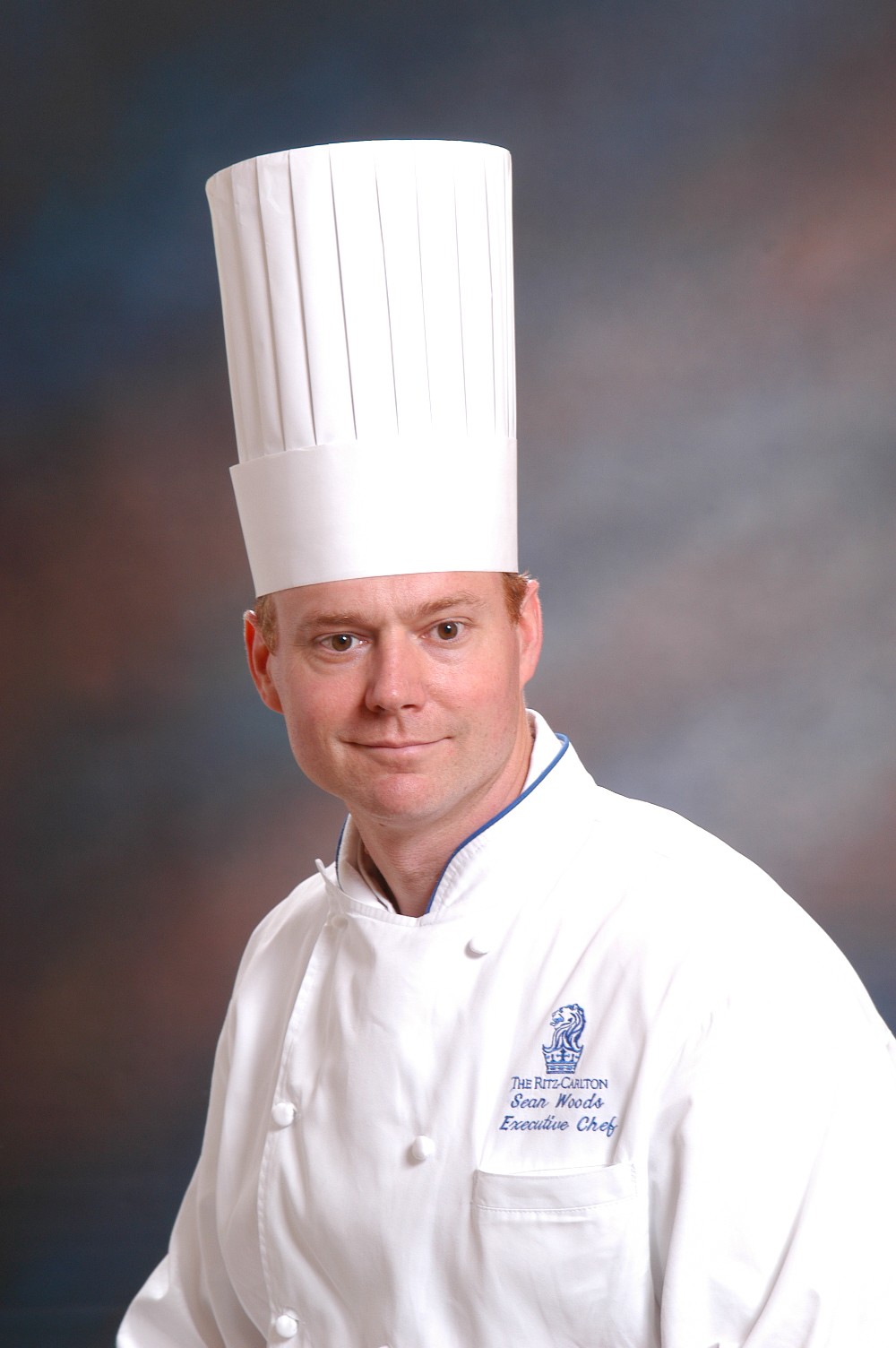 The day after a four course meal, brought to the New York City press by the Orlando Convention and Visitors Bureau, it was quelling their collective shivering, in a conference room at 1440 Broadway in New York City, that two of Orlando's premiere chefs found themselves. The pair was Sean Woods (left), Executive Chef of The Ritz-Carlton Orlando, Grande Lakes, and his colleague Chef Mark Beaupre (below-right), Executive Chef at the JW Marriott, Grande Lakes Orlando. They had come to tell me and a little more about the delectable meal I had eaten the night before.
The press dinner the night before had been hosted at the Institute of Culinary Education on 23rd Street and had billed itself as a re-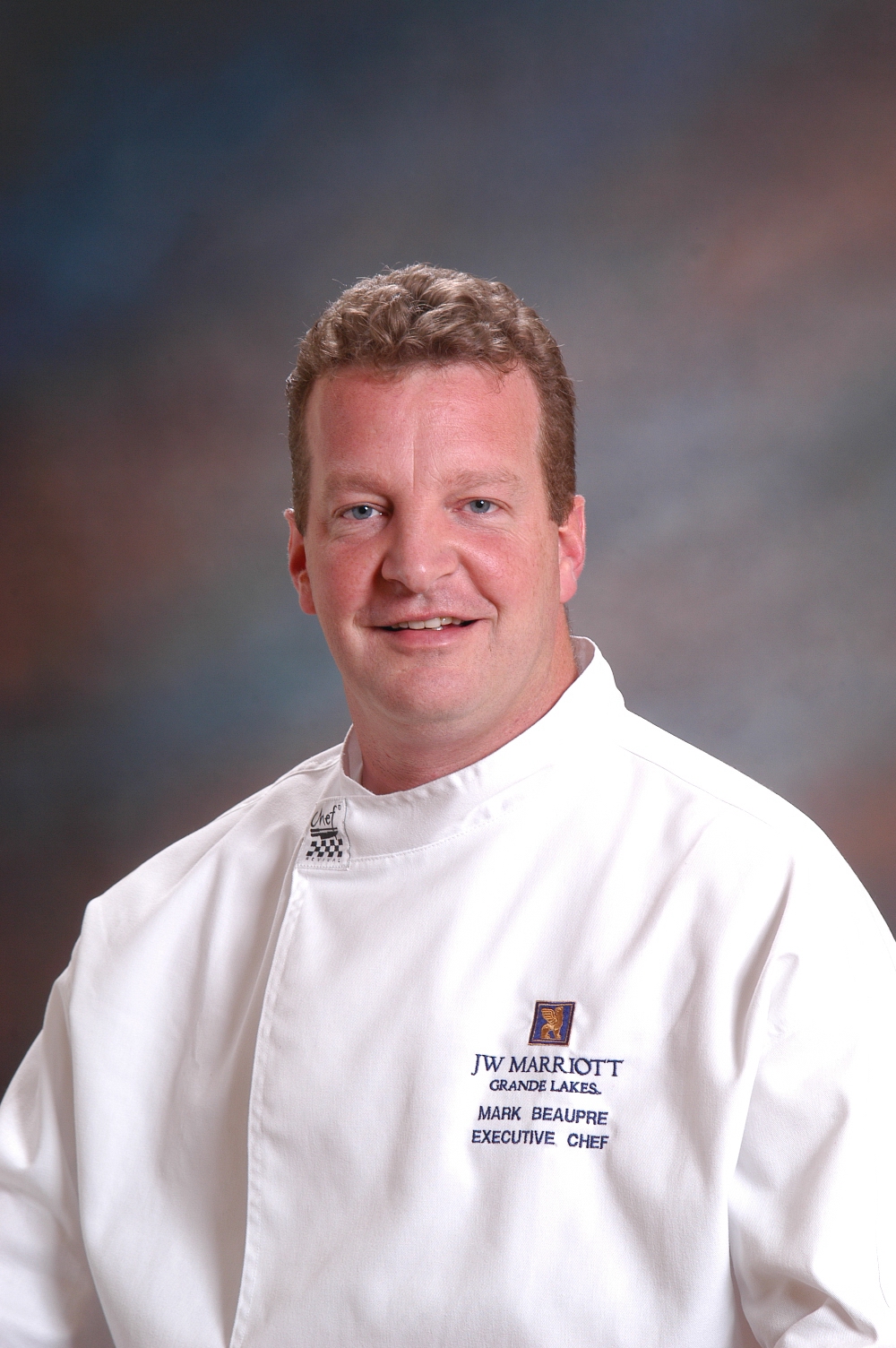 discovery of the dining landscape in Orlando with now and then pairings to the tune of "Now: International Fine Dining Scene. Then: Chain Restaurant Capital." It seemed that they were out to impress New York City eaters, I felt a healthy amount of skepticism was warranted. Of the two gentlemen before me, Chef Mark had been the representative who participated in the demo/dinner the night before and thank goodness, had brought the only wine fit for consumption - a Pinot Noir from Santa Barbara County if memory serves. (The other two, options an incredibly sour Chardonnay and a gritty Multipulciano made water a better accompaniment for the first course.) Chef Mark's food offering, briefly demoed for the laypersons in the crowd, paired the deep, flavorful, Cali vino with a pomegranate duck confit salad, with wilted brussels sprouts, parsnips, and house cured palmetto farms bacon. Suddenly, just two courses in, there were cracks in my Manhattan superiority complex.
Bringing a New York state of mind to the table, upon hearing the words "Orlando dining" your faithful reviewer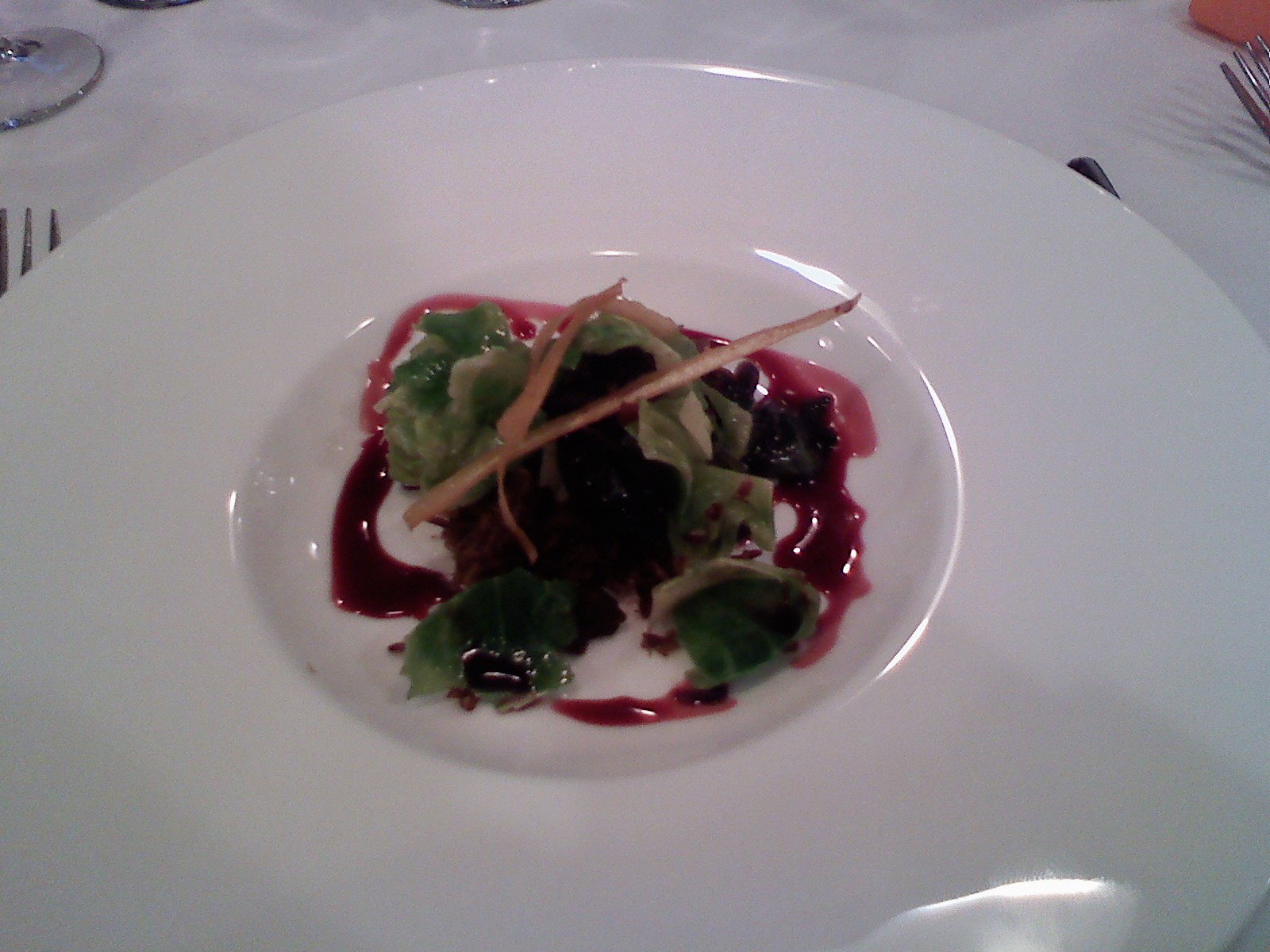 had immediate visions of a 2001 trip to the Gloria Estefan endorsed, Bongos Cuban Café in the area known as "Downtown Disney." Neither yet a food writer, nor a New Yorker, that frighteningly loud megaplex of a restaurant-meets-dance-club, complete with swirling multi-colored spotlights, was as far from fine dining as I can possibly imagine, and an excruciating experience I'll never forget. However, the meal at the Institute of Culinary Education continued at an impressive level after Chef Mark Beaupre's duck dish, with back to back beef offerings. The first, a cold-smoked "cote de boef" from Chef Robert Ciborowski (Executive Chef at the Walt Disney World Swan & Dolphin Resort) and the second, an even more impressive mushroom dusted filet mignon, cut from a roast at the hands of Chef Kevin Fonzo, owner of K Restaurant & Wine Bar. The duck confit salad and the filet outshined the cote de boef, but only slightly and because of their simplicity. (Although the giant helping of black truffles shaved onto the filet may have helped its impression be a lasting one.) The first course, a tuna "kanpaccio" from John Mooney of Highland Manor was too fatty, the flavors were flat, and it was exactly what was expected from the demoed ingredients.
Three out of four is a pretty good average, and the duck and filet mignon dishes were honestly unforgettable. In short this meal, not even cooked in their respective kitchens, had effectively pushed all thoughts of Bongos from my mind. So it was time to talk about this supposed Orlando dining renaissance with a couple of its major purveyors.
Orlando has a few easily recognizable aces up its sleeve, fresh local fish is obviously one of them, and among Mark and Sean's favorites to serve up are grouper, local oysters, pompano, cedar key clams, and stone crabs. But fed-ex can deliver Buri to Masa just hours after they're hauled out of the ocean off the coast of Japan. So what does Grande Lakes Orlando have that we don't? A 500-acre resort with 584 rooms at The Ritz-Carlton, 1,000 at the JW Marriott, an 18-hole Greg Norman golf course, a 40,000-square-foot Spa, and two main pools to facilitate enjoyment of the warm weather.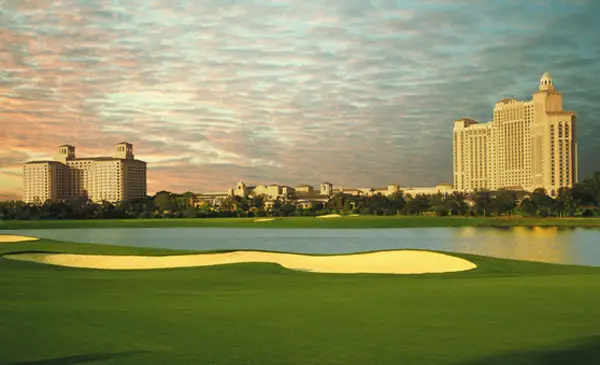 Ok. But from a food standpoint, possibly the most impressive thing is that everything for the entire 1,600 room compound is made from scratch. Grande Lakes employs an executive pastry chef, as well as a chef for their bread program so that every type of bread, ice cream, tart shell, and chocolate is homemade. "Except for the bagels because you can't beat a New York bagel, so we ship those in." Said Chef Sean. Every stock and sauce is made from scratch, and both Chefs do their own butchering on premises from locally raised and grown, sustainable products. Locally sourced ingredients used at Grande Lakes include Winter Park Honey, boutique cheese producers, Palmetto Creek farms who raises their pigs, and "A guy about 20 minutes down the road handles our eggs." Said Chef Mark. (All of this should sound familiar if you're a New York "foodie.") Chef Mark added that it has been remarkable to see Orlando embrace these types of culinary practices, and after coming from New Orleans, to see it mature into a great food city in its own right. "We're a reverse growing season, so we're getting all of our stuff in right now, [winter] and the array of citrus ingredients that we have at our fingertips allows us to be very creative with them. The variety of grapefruits, limes, lemons and oranges that we stock, changes almost every week." Said Chef Mark. Mellissa Kelly also has a restaurant on the premises; a champion of the local sourced green-market movement since the early 90's which has allowed the entire resort increased access to the best local purveyors.
To be honest, this was all news to me, I had no idea that Orlando had undergone such a transformation from my evening at Bongos in '01 but it's good to know that if the cold of New York City winter has chilled your last nerve, there is formidable cuisine in a less formidable climate. Given that the temperature dial in NYC is reading 13 degrees Fahrenheit right now, and the one in Orlando says 70 – a trip to the Grande Lakes resort in Orlando for some pampering, sun, golf, and a little culinary TLC from Chefs Sean and Mark looks pretty good from here.
Training:
Both graduates of the Culinary Institute of America
Favorite NYC Restaurant and Dish:
Sean Woods : Madelines at Daniel.
Mark Beaupre : Homemade Country Pate at Blue Ribbon Café.