In the last ten or fifteen years, the spa business has boomed—nay, erupted!—around the world, and I have certainly seen my fair share of these sybarites' dreams. No matter where the spa is, it has to be a five-star "event" to compete in the high-end market. And, if you are building a hotel today, you can no longer allocate a tiny spot in an out-of-the-way part of the facility for the occasional massage; you've got to have a lot of va-va-va-voom in the spa, especially if it's located in a posh, five-star hotel. So, allow me to tell you that the newly refurbished Guerlain Spa at the Waldorf-Astoria sure fits the bill. And, having seen glamorous spas, back-to-the-earth spas, hotel spas, health club spas, and then some--here in the States and around the globe--I can tell you that this spa is every bit among the very best and most dazzling I have ever laid eyes on.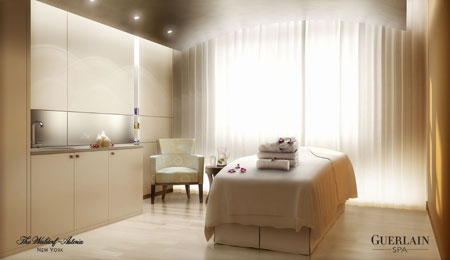 And it was also among the most impressive of spas in 2008 when it opened, with appropriate fanfare. When I wrote about it then, I said that it looked more like a movie locale, a Hollywood set designer's dream spa. Diaphanous fabrics floated from the ceiling; downy frosty-white towels were stacked like obliging totems; velvet-damask benches beckoned; handmade crystal sconces glimmered; white-washed oak floors begged for pedicured and polished tiptoes to grace them; and the marble walls, along with the tiny-Italian-tiled walls, both flecked with bits of shimmery silver, belonged in the firmament, not on terra firma. In short, it was a peaceful Nirvana: 14,000 square feet of glamour and pampering.

And since a renovation and reconfiguration -- to keep up with the times and changing tastes and needs of customers -- it is even more dramatic, more cossetting, and more opulent, if that is even possible. There are 14 capacious, tranquil treatment rooms, plenty of restful lounging areas (you'll be offered champagne, mineral waters, teas, you-name-it, whatever your pleasure) in the waiting area. Each treatment suite is fitted with a private bathing lounge, signature Guerlain amenities, and personalized music selections. Guests of Guerlain leave each treatment refreshed and refined from the inside out. There is also a fitness center and the nail treatment rooms are separate, as well.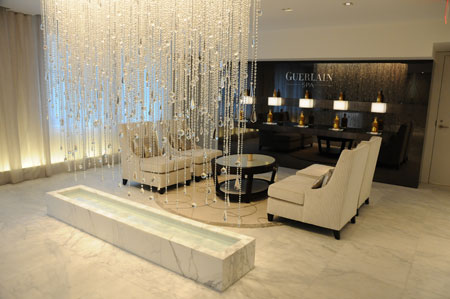 I took advantage of the pedicure area to get a wonderful, luxury, spa-pedicure treatment (with the lovely Rodica Constantin, Lead Nail Technician), with salt scrub and paraffin booties. It was dreamy and I can only say my toes have not looked better! But, before that, I fell into a trance during a reflexology treatment, which (I swear) took the pain out of my shoulder, eased the muscle aches in my back, and left me feeing as if I were floating. The magician in charge of that treatment was Cynde Montilla, Lead Massage Therapist.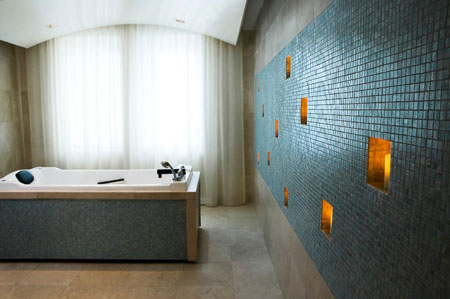 Just in case you are wondering about Guerlain's roots: Trained as a doctor and chemist, Pierre-Francois-Pascal Guerlain opened his first boutique in Paris in 1828. He was sought after almost immediately, as he did groundbreaking research, which included he creation and invention of scientifically based skincare; and he was responsible for many firsts—the creation of kohl eyeliner, mascara, and lipstick! Since its establishment, Guerlain has continually built on its pioneering tradition through the introduction of Terracotta, the benchmark for all bronzers, and Meteorites (I love this product), the first powdery-blush-like product that evens out skin tones, incorporating mother-of-pearl. Guerlain's legacy encompasses more than 700 celebrated fragrances and it commands international recognition as a symbol of artistry, superlative quality, impeccable style, and ultimate grace.

The spa is open daily, Monday through Saturday, fro, 9 a.m. to 9 p.m., and on Sundays, from 10 a.m. t 7 p.m. The Guerlain Spa at the Waldorf Towers, 100 East 50th Street (Park/Lexington Avenues), 19th floor; 212-872-7200; guerlainspas.com