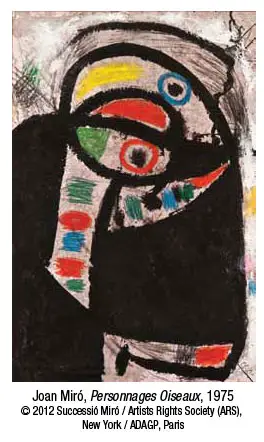 A year and a half after opening their beautiful new Park Avenue gallery and following major exhibitions by Impressionist and Modern Masters, Hammer Galleries now presents a new exhibition titled On Paper, on view through August 31. Featuring an international selection of artists, On Paper includes over 40 significant pastels, watercolors, pencil drawings and collages from Impressionist, Modern and Post War Masters.
The exhibition begins with several drawings from the Impressionist era, including a beautiful watercolor by Honoré Daumier, as well as an ethereal sanguine drawing by Pierre-August Renoir from circa 1897-98; also included is a charming 1893 mother and child pastel composition by Mary Cassatt.
Continuing into the 20th century, On Paper showcases important works by Modern Masters such as Alexander Calder, Marc Chagall, Henri Matisse, Joan Miró and Kees van Dongen, as well as Surrealist works by Paul Delvaux and Yves Tanguy. The exhibition also features several works on paper by Pop Art icons Andy Warhol and Tom Wesselmann as well as three lyrical watercolors by the Abstract Expressionist artist Sam Francis.
A selection of seven drawings by Pablo Picasso, ranging in date from 1905 to 1972, traces Picasso's career as a master draftsman. Picasso's extraordinary 1932 work on paper titled Le joueur de clarinette is inspired by Picasso's young mistress Marie-Thérèse Walter and is an exhibition highlight. Picasso's association with Marie-Thérèse began in 1927 when she was a teenager living with her mother. Many years later she told Life magazine, "I was 17 years old. I was an innocent young girl. I knew nothing—neither of life or of Picasso. I had gone to do some shopping at the Galeries Lafayette, and Picasso saw me leaving the Metro. He simply took me by the arm and said: 'I am Picasso! You and I are going to do great things together.'"
In addition to their On Paper exhibition, Hammer Galleries will have a selection of major oil paintings by Picasso, Chagall, Leger and Miró on display as well as a spectacular mobile by Alexander Calder and sculpture by Jean Dubuffet.
The exhibition is accompanied by a virtual tour, accessible via www.hammergalleries.com as well as a full-color catalogue.
Hammer Galleries
475 Park Avenue; 212-644-4400;
View a virtual tour of the exhibition at www.hammergalleries.com