Boasting floor-to-ceiling double doors and a sleek steel façade, Hasted Kraeutler sits on 24th Street in Chelsea, a gallery space highly coveted by some of the best artists from all corners of the world—not necessarily for its large ground floor viewing-room with high ceilings, beams and skylight,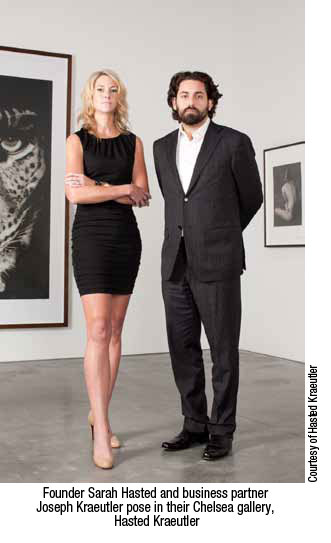 but mainly for the skills that founding partner Sarah Hasted and her business partner, Joseph Kraeutler, bring to the table.
Hasted, who founded the gallery in 2005, and Kraeutler, the former head of the photographs department at world-renowned auction house Phillips de Pury & Company, attract a high caliber of artist—a testament to more than 25 years combined of successfully curating and promoting artists throughout the city and beyond. Yet another tribute to the duo's keen art sense is the gallery's prime location in Chelsea, known as New York's "Gold Coast" of the art world.
Not confined to any one specific genre or style, the gallery specializes in photography but also exhibits paintings, sculptures, and artworks of all media.
"We want to have interesting shows of work that people may not have seen before; or, if they have seen them before, it's a reminder of how amazing it is," Hasted says. "We represent artists that we truly like, that we not only collect ourselves, but that we can represent with great pride."
From emerging to established artists in the U.S., Hasted and Kraeutler also seek to discover artists worldwide who have never been exhibited in the States. The gallery is the exclusive exhibitor for a few such artists, debuting important artwork to the U.S. market.
With a range of artists represented, Hasted and Kraeutler also consult new and seasoned collectors. "You buy what you love. Don't be shy about asking questions," Hasted says. "Feel free to utilize our experience and our knowledge to help you find a piece for your collection or to begin your collection."
Currently on view are what Hasted describes as "epic photographs taken exclusively in Africa" by Nick Brandt. The upcoming exhibit includes notable names such as Ansel Adams, James Casebere, Joel Sternfeld, Lewis Baltz, Henri-Cartier Bresson, Elger Esser, Richard Misrach, and Clifford Ross. For more information, visit hastedkraeutler.com or call 212-627-0006.