TIME: End of winter/cusp of spring
PLACE: New York, New York
SCENARIO: Super-stressed writer, dry of skin and weary of body, seeks serenity and rejuvenation.
SALVATION: Three supremely unique urban spas
THE SPA AT MANDARIN ORIENTAL NEW YORK
80 Columbus Circle (at 60th St.);
212-805-8880; www.mandarinoriental.com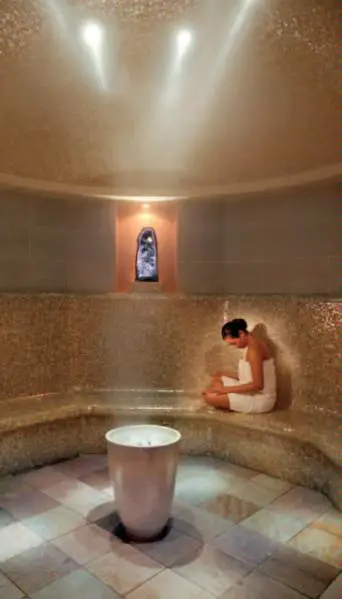 My husband and I were introduced to the alchemy of Mandarin Oriental spas during a 2004 stay at their Washington, D.C. property. It was his virgin voyage into hydrotherapy, body wraps and designer robes that actually fit his 6'4" frame. He still speaks of the experience with reverence.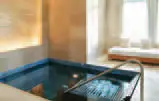 Since that time, Mandarin Oriental spas have continued to expand and fine-tune their décor and services to reach a crescendo in spa luxury, a fact that is patently clear in New York City where they've created a breathtaking Nuevo-Asian sanctuary.
   Spa aficionados acknowledge that even by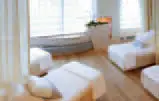 Manhattan standards, The Spa at Mandarin Oriental New York is at the apex of high end, which explains its popularity among people with a passion for the best.
   The spa's expansive menu includes such innovative offerings as a Vitamin Infusion Facial, targeting damaged and/or aging skin and a Thai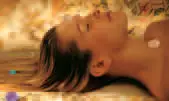 Yoga Experience, their virtuoso three-hour retreat in a custom-designed Thai Yoga Suite. 
   I opted for one of their signature Time Rituals, a personalized tour-de-pampering that started with a foot-cleansing ritual and morphed into a lavish adventure in aromatic oils, massage, and decompression (both mental and physical). Highly recommended.
Unique to The Spa at Mandarin Oriental New York:
Triple hydrotherapy area: Amethyst Crystal Room, Experience Shower and Vitality Pool; pre- and après-treatment perks like a satin-lined spaessentials kit; relaxation room neck-pillows and smoothies (hand delivered); and panoramic views to die for.



HOMME SPA
465 Lexington Ave. (bet. 45th & 46th Sts.);
212-983-0033; www.hommespa.com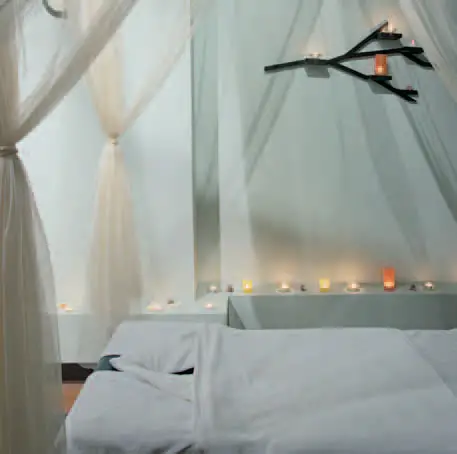 Three blocks from Grand Central, Lexington Avenue is the site of Homme Spa, an off-the-radar oasis that astonishes first-time visitors like myself, who enter through a storefront only to be transported by escalator into a subterranean spa utopia.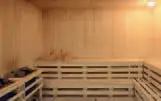 As its name suggests, Homme caters to the male of the species (when it opened mid-2007, the ratio was 70/30 men-to-women). Guy appeal is certainly part of its metro-chic charisma: large lounge

area with beyond-ample chairs and overhead plasma TVs; treatment names like Homme Signature Hot Towel Massage, Men's Purifying Facial, and Vitamin Power Pack Body Treatment.


   Which is not to say women feel out of place here. As a woman, I felt completely at home exploring the cozy warren of mosquito-net draped treatment rooms and changing areas. And my deep tissue massage was amazing: intense, relaxing – perfect!
   Afterwards, sipping a complimentary cappuccino, I made a mental note to add a pedicure next time.

Unique to Homme:
Facial aesthetician to stars like Nicole Kidman, Jackie Chan (no martial arts involved); plush futon beds inspired by nightspots like NYC's "dining boudoir" Duvet in Homme's intimate couples lounge; and night owl hours (til 3 a.m. weeknights.)




DELLUVA VINOTHERAPY DAY SPA
152 Franklin St. (ground floor);
212-937-7757; www.delluvaspa.com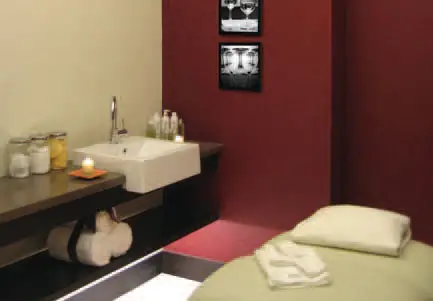 In TriBeCa, a neighborhood known for its art galleries and designer eateries, sits Delluva (pronounced "dell ooo va"), New York's first and only spa dedicated to the pleasures and holistic powers of wine.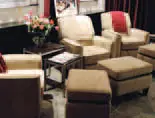 The Italian name, handpicked by owner Diane Hanson, means "of the grape"—an apt description for this singular cocoon of a spa with
its boutique/concierge

area lined with wine-cask display shelves and illuminated by a chandelier made of wine glasses.
   Here, Vinotherapy rules thanks to products and treatments "derived from the by-products of grapes and the winemaking process." Delluva carries three celebrated lines of international wine-based

skincare products: Theravine, from South Africa; d'vine, boasting the highest concentration of wine extracts available today; and Davi, created by California winery heir Carlo Cesare Robert Mondavi.
   Ms. Hanson's oenological fervor also manifests itself in the spa's décor: massage rooms named after wine regions; cork floors in large treatment rooms; and a burgundy and brown color scheme that's carried through in the spa's decadently plush chocolate-colored robes. And in Delluva's cozy relaxation room, the candle holders are wine glasses and the refreshment counter includes both wine and champagne.

Unique to Delluva:
Tauleto Wine Fragrance, a divine new scent just introduced in the U.S. (select product line exclusive to Delluva in NYC), and a new tie-in treatment: Tauleto Red Wine Wrap.